AppCoins (APPC)
AppCoin tokens ("APPC Tokens") are ERC-20 compatible tokens distributed on the Ethereum blockchain pursuant to a related ERC-20 smart contract. AppCoins is meant for use in the AppCoins blockchain platform to perform transactions in the app store ecosystem. AppCoins is an open and distributed protocol for app stores based on the Ethereum blockchain and smart contracts. It redesigns app advertising, in-app purchases (IAP) and app approval flows through a circular model. As a higher share of the advertising and IAP revenue is kept within the app ecosystem, more value is rooted back into the app economy. Being an open protocol, it also provides more transparency and trust. Multiple app stores can implement and benefit from this and stakeholders will contribute to its development and adoption. Furthermore, simple API integration will allow easy implementation.
Market Capitalization
$
4,390,812
24 Hours Volume
$
359,969
Available Supply
100,054,312 APPC
Total Supply
246,203,093 APPC
News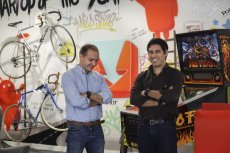 Its common knowledge that direct purchases present higher benefits than deals that are closed through intermediaries in any given marketplace – that is why Blockchain takes Apps marketplace in hand now.
Advertisement