Datawallet (DXT)
Datawallet provides users with a self-sovereign wallet that puts them in charge of their data, and allows them to monetize as well as utilize an asset that is rightfully theirs. It empowers developers to leverage a completely new data universe to build the most advanced applications ever. And it provides companies with insights that will boost their operations on a never before seen scale.
Market Capitalization
$
1,244,413
Available Supply
390,222,225 DXT DXT
Total Supply
1,000,000,000 DXT DXT
Datawallet News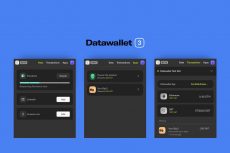 While US politicians debate introducing backdoors into encryption software, a number of Web3 companies are kicking back against the move to weaken data standards and one company leading the charge is Datawallet.
Aiming to solve the problem of fraud, DATA, a blockchain based digital data authentication protocol, has built a Data Trust Alliance with crucial partners in the crypto industry.