Fluz Fluz (FLUZ)
The app will provide an intuitive toolbox for users, or "influencers," to build their own associations with new users through referrals. As a users influence grows, so does their capacity to earn from the connections they have made. This connection can be direct (user A invites user B), or indirect (user A invites user B, who then invites user C, and so on), however, the influence that any one user can have is capped at 65,536 people in their specific co-op. This brings us to the second primary purpose of the Fluz app. Earning! Any purchase made through the app will generate cash back, but unlike traditional retail saving platforms where you receive rewards based only on your own personal consumption, with Fluz Fluz users will earn rewards from all of the 65,536 people that they have directly or indirectly influenced to join. 50% of the cash back is retained by the Fluzzer making the purchase, and the other 50% is split fairly by a portion of the other users within the co-op. Through this mathematically superior distribution of rewards, influencers can generate substantial income by the simple virtue of the added value they have engendered within the overall platform. It is important to take note that Fluz Fluz itself will also be a heavy influencer. Those less inclined to spread the word about the project will not be left out. When Fluz runs advertisements, any users downloading the app (for free) will automatically be placed into the co-op in a fair and even manner, benefiting everyone by adding influence with zero effort from those who have already joined.
Market Capitalization
$1 182 065
Available Supply
204 780 000 FLUZ
Fluz Fluz News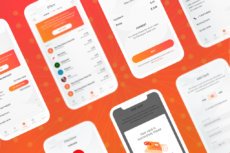 A new network Fluz Fluz enables consumers to earn an instant return on their purchase when shopping online, in-store, by purchasing digital gift cards and through a built-in Cash Back Network.
Advertisement