X8X Token (X8X)
X8X is an Ethereum utility token that functions as a key for issuing X8Currency. X8currency is the pioneer of a unique class of stable tokens, and for the first time in the traditional and digital currency market establishes the principle of proactively managing funds through the use of financial Artificial Intelligence ("AI") to preserve value and create price stability. Simultaneously combining AAA grade Fiat currencies and gold  together with best-in-class risk management software creates the world's first value preservation payment token capable of enduring black swan market event scenarios to keep users safe from any currency devaluation risk.
Market Capitalization
$
690,532
Available Supply
78,507,341 X8X X8X
Total Supply
85,240,628 X8X X8X
X8X Token News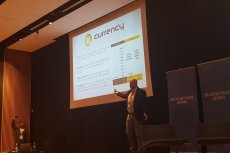 Cryptocurrency portfolio risk management solutions provider X8Currency creates as a bridge between the crypto and fiat worlds, introducing stable cryptocurrencies – key to the growth of crypto economy and investment.