ALAX (ALX)
ALAX is the new system for mobile gaming. Bringing better Distribution, Easier Payments, and Integrated User Rewards by utilizing the latest Blockchain Technology. ALAX aims to improve the distribution lifecycle of mobile games and offer a faster, more efficient and secure system to improve the experience for developers, players and distributors alike. ALAX will leverage DECENT's success in launching an innovative and customizable adoption of blockchain technology and Dragonfly's influence as a well-established mobile game distributor to build the biggest global marketplace for mobile games.
Market Capitalization
$
612,126
Available Supply
502,909,380 ALX ALX
Total Supply
1,000,000,000 ALX ALX
ALAX News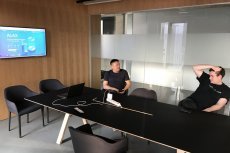 Focusing on emerging markets and 'unbanked' consumers, ALAX aims to bring fresh air to the gaming industry and merge mobile game experience with blockchain innovation.