Aphelion (APH)
Aphelion is a P2P trading platform (DEX) built on the NEO blockchain that brings a wallet based peer-to-peer trading experience to cryptocurrency traders worldwide. Built to solve the inherent problems of the crypto exchanges and trading platforms, Aphelion advances distributed ledger technology (DLT) as an open source, peer-to-peer (P2P), decentralized asset distribution application protocol built on the NEO blockchain. Aphelion is designed to power a tokenized transaction called a Distributed Exchange Asset Ledger or DEAL. Aphelion DEAL transactions are facilitated through smart contracts as set forth by users and are independent of exchanges or trading platforms and the constraints they inherently create. An Aphelion token is the Liquidity Verification Device (LVD) powering the DEAL directly between users: instantly, securely and freely.
Market Capitalization
$612 793
Available Supply
50 000 000 APH
Total Supply
70 188 440 APH
Aphelion News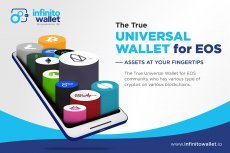 Infinito Wallet, a fintech startup part of R&D company Infinity Blockchain Labs, announced it would integrate the EOS native blockchain to support the EOS coin, allowing its holders store all their coins in one place.
Advertisement