Havven (HAV)
Havven is an open source protocol designed to act as a public good. The promise of crypto is to enable fair and open economic systems, Havven was designed with this goal in mind. Tokens allow us to create new types of economic entities, and while tokens can function as funding mechanisms for private companies, this limits their potential. It is no surprise that Bitcoin, with its open approach to distribution, has been so successful. Had Satoshi tried to crowdfund Bitcoin to create a private company to compete with banks it is unlikely Bitcoin would exist today. Havven, like other successful crypto projects, will generate support from the community through demonstrating alignment with these principles. In accordance with this the sale will be open to any interested party, and we will not offer volume-based discounts.
Market Capitalization
$3 526 875
News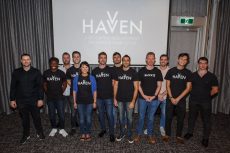 The Australia-based project called Havven is going to issue its already existing nUSD stablecoin on EOS by the end of the current year.
Coin
Price
$

3,989.69

$

137.73

$

0.313100

$

3.70

$

59.30

$

158.87

$

15.45

$

0.114348

$

0.999946

$

0.049755