OriginTrail (TRAC)
OriginTrail is the first purpose-built protocol for supply chain based on the blockchain. Trace (TRAC) is a utility token that enables data operations on the OriginTrail Decentralized Network. OriginTrail is a unique solution allowing IT providers in supply chains to set up blockchain supported data sharing in multi-organizational environment. It helps them build transparency beyond the "one step down, one step up" traceability principle. Furthermore, it improves the integrity of product data and drives efficiencies for stakeholders. The first version of the OriginTrail solution is proven and currently deployed in the food industry. The upcoming open source version will be suitable to any product supply chain such as automotive, consumer goods, pharmaceutical etc.
Market Capitalization
$ 11,976,703
Available Supply
285,429,820 TRAC
Total Supply
500,000,000 TRAC
OriginTrail News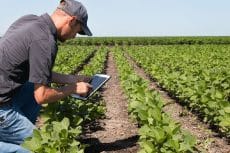 In this article, Sonal Mehta, a Content Lead at SoluLab, discusses how blockchain will benefit farming and what are the agriculture blockchain startups working on those benefits.