Aeternity (AE)
Aeternity is an open-source decentralized apps platform utilizing next generation, highly scalable, public blockchain technology. Its off-chain smart contracts use real-world and real-time data by interacting with built-in oracles. Aeternity coin is envisioned to be an open-source, distributed computing platform that builds upon public blockchain technology. æternity's primary goals are to deliver unmatched efficiency, transparent governance, and global scalability. Its decentralized consensus mechanism is being developed considering cost-efficiency.
Market Capitalization
$79 668 591
24 Hours Volume
$4 269 535
Available Supply
233 020 472 AE
Total Supply
273 685 830 AE
Aeternity News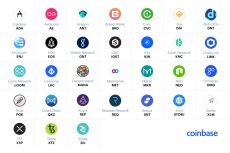 Coinbase is exploring a possibility to add support for a list of 31 coins, including XRP that is currently the second-largest cryptocurrency by market cap.
Advertisement