Dent (DENT)
DENT Coin is a new cryptocurrency that promises to disrupt the mobile data industry in the world. The company Dentcoin is called DENT Wireless Limited. The company's goal is to liberate mobile data by allowing anyone to buy, sell, and donate data through the Ethereum blockchain. The dent coin lies at the center of this market. It is a universal currency for data markets. This is the goal of the DENT project developers to ensure that in the future they can influence mobile service providers in order to obtain better conditions than they have now. Obviously, mobile data has become a valuable necessity over the past few years. It is an important commodity for people in developed and underdeveloped parts of the world. Through the DENT ecosystem, users can connect to each other on a blockchain-based platform to buy, sell, and donate their unused mobile data. ICO start date: 2017-07-26.
Market Capitalization
$ 77,858,137
24 Hours Volume
$ 799,946
Available Supply
69,212,917,185 DENT
Total Supply
100,000,000,000 DENT
Dent News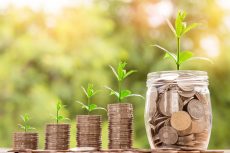 ICOWatchList desighned a new infographic that illustrates 11 of the most lucrative ICO ROIs of 2018 that up to date provided hefty returns on investment.