Mainframe (MFT)
Mainframe  is a completely decentralized platform that offers reliable, confidential and secure messaging that is resistant to censorship, surveillance and disruptions.  Resistant to censorship, surveillance, and disruption, the Mainframe network enables any application to send data, store files, manage payments, run tasks, and more. With the exception of a catastrophic asteroid event or an aggressive alien invasion, the Mainframe network is simply unstoppable.
Market Capitalization
$11 291 358
Available Supply
4 431 254 116 MFT
Total Supply
10 000 000 000 MFT
Change (24 Hours)
-11.71%
Mainframe News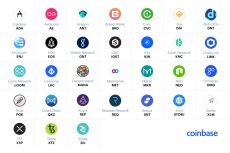 Coinbase is exploring a possibility to add support for a list of 31 coins, including XRP that is currently the second-largest cryptocurrency by market cap.
Advertisement