QuarkChain (QKC)
QuarkChain is a high-capacity peer-to-peer transactional system. Source tokens QuarkChain (QKC) are ERC-20 type. The number of operations that will be performed on QuarkChain, depends on their value. The total volume of tokens is 10 billion, while only 2 billion are available for purchase - this is 20% of the total volume.
Market Capitalization
$30 270 375
24 Hours Volume
$137 970 454
Available Supply
801 649 919 QKC
Total Supply
10 000 000 000 QKC
QuarkChain News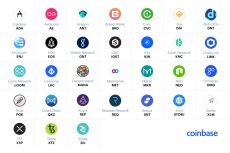 Coinbase is exploring a possibility to add support for a list of 31 coins, including XRP that is currently the second-largest cryptocurrency by market cap.
Advertisement