Covesting, a new and powerful trading solution for cryptocurrency traders and investors, launched its first ever cryptocurrency trading competition on the 25th of September, allowing a lucky 200 traders to test the platform's features while competing for generous prizes over a four-week period.
Despite the cryptocurrency markets being sideways throughout the duration of the competition, traders have shown just how profitable trading on the Covesting platform can be. The competition concluded on October 23, with the number one trader up 58% in a mere one-month period.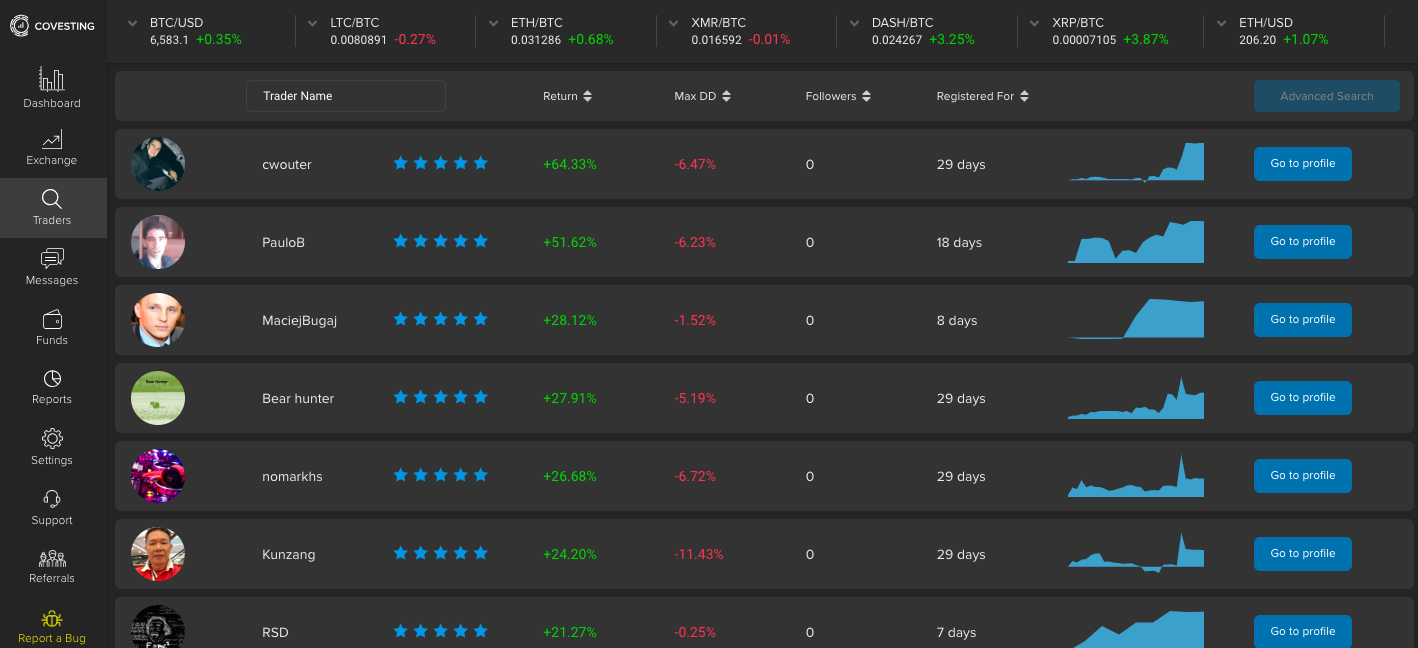 The competition also allowed prospective traders to better understand how Covesting's copy-trading feature will work, allowing them to gain a thorough understanding of the trading habits and principles of the competition's top traders. The copy-trading feature will be available to verified users following the platform's full launch.
The competitors were all credited with $100 to trade with, courtesy of the Covesting team, and many of them saw unprecedented return on investments over the duration of the competition. These gains prove how profitable the Covesting platform, and the copy-trading feature, can be for cryptocurrency traders, no matter which direction the markets are trending.
The trading competition was the first opportunity that users had to actively trade on the Covesting platform and to utilize many of the unique features offered on the exchange, including aggregated liquidity, multiple fiat trading pairs, instant order execution, and best in the industry charts.
Covesting prides themselves on being fully compliant with global regulators and are operating under the watchful oversight of the Gibraltar Financial Services Commission (GFSC) with the recent receipt of their DLT license.
The company officially received their DLT License on October 19, just one day before the project's first birthday, marking an incredibly productive and successful year for the young and ambitious project.
In addition to being necessary to protect clients, being fully compliant with global regulations is becoming a critical practice necessary for continued industry growth and success, as many financial providers are restricting customers from using unregulated offshore platforms.
A recent report from Finance Magnates found that major companies, like Visa and Mastercard, are banning users from industries perceived as being "high risk," which includes unregistered offshore brokerages.
The report notes that both Visa and Mastercard are "considering brokers, which are not licensed in the country where they are operating, as gambling providers."
Many of the world's cryptocurrency exchanges have neglected to receive licensing due to the scrutiny it subjects their practices to, but Covesting ardently believes that being fully licensed and compliant is paramount for leading the cryptocurrency markets to new highs and increasing the public's perception of the nascent industry.
The Covesting team is currently hard at work preparing their exchange for its imminent public launch, and just recently announced the release of their mobile trading application on the Apple App Store. Covesting's team is excited to show the world a new standard for cryptocurrency investing platforms.