Thanks to raising substantial capital in the IDO, the GameZone team can continue building its ecosystem, attracting game developers, and help enhance the world of play-to-earn blockchain gaming.
The BlueZilla team continues to put a spotlight on blockchain ecosystems and industries that deserve more attention. After bringing launchpad solutions to five prominent blockchains, the group now aims to disrupt the blockchain gaming industry. Overwhelming interest in the #$GZONE IDO confirms there is a significant market waiting to be tapped.
BlueZilla Keeps Building Its Empire
Crypto enthusiasts who have kept an eye on the various launchpad launches recently may notice a similar pattern. The likes of ETHPad, TRONPad, BSCPad, ADAPad, and VelasPad are all developed by the Bluezilla team. But, more importantly, all of these launchpads' native token sales have noted incredibly high ROIs as they provide access to future projects built on these blockchains. It is a simple yet effective system to attract investors, projects seeking funding and fuel ongoing ecosystem development.
The most recent token sale – for VelasPad on the Velas blockchain – netted early investors over 150x in ROI during the first three days. It is essential to find worthwhile projects to invest in, preferably by a team with a proven track record. GameZone, developed by Bluezilla, seems to fall into that category. That bodes well for $GZONE, which already notes over 100x ROI today.
That cross-chain presence of BlueZilla now culminates in the GameZone project. It, too, is a launchpad, but one that is dedicated to the blockchain gaming industry. Token hodlers will gain access to cross-chain games early on, and developers from multiple ecosystems can secure funding or even apply to the Grants Program. Another sign of how Bluezilla wants to leverage its existing network of solutions and partners to focus on one of the hottest blockchain trends: the gaming and play-to-earn segment.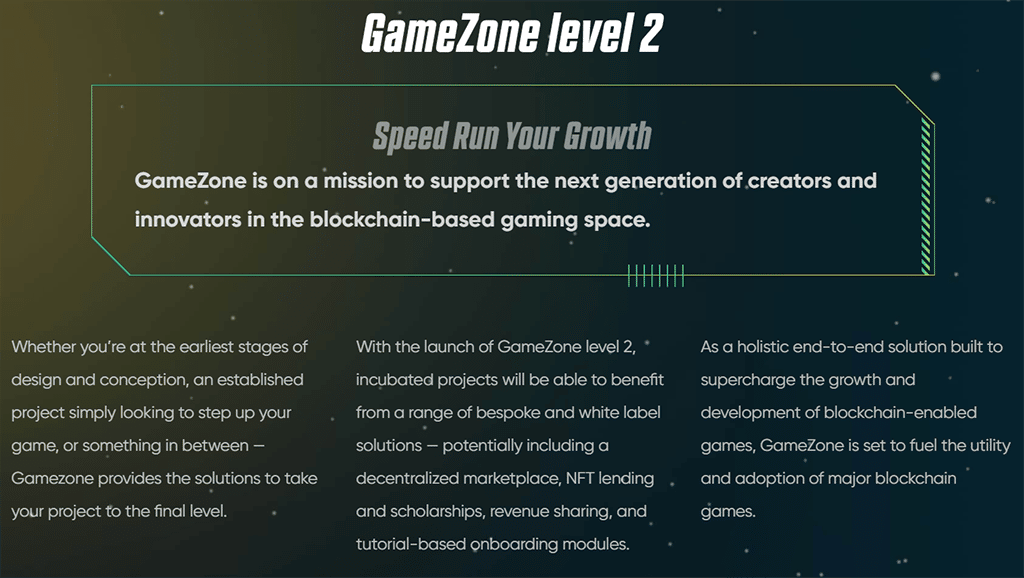 Thanks to a suite of tools – to be expanded upon during GameZone Level 2 – the team can support all verticals for developers and teams. Incubation, funding rounds, and the Grants program for fast-tracking financial and technical support are all core pillars of the GameZone ecosystem. Moreover, teams can benefit from legal help and other services that come into play during the development and launch of a blockchain game.
$GZONE IDO Sells Out in a Flash
As the GameZone platform provides support for developers, holders of its native token gain perks too. Through the $GZONE asset, holders can gain early access to new games or expansions for existing projects. Moreover, they can tap into a growing selection of play-to-earn titles across different blockchains, earn free gaming NFT airdrops, and participate in future Initial Game Offerings (IGOs). There are three different tiers of $GZONE token, but more details will be announced shortly.
During the IDO, the GameZone team sold a share of the token supply at an ultra-low initial market cap of $155,000. However, demand for this token was overwhelming, and even after the sale concluded, many remained eager to pick it up on exchanges. Currently, $GZONE trades on Uniswap and Pancakeswap, and notes a trading volume of $8.5 million today alone. The current 100x ROI is merely a sign of what the future may hold for this new asset.
Contrary to what one may think, it is rather unwise to look at $GZONE as a token to flip for a quick profit. The 7% sales tax on all transactions and early unstaking fee of up to 25% will eat into one's potential profits. Moreover, the long-term benefits, such as exclusive early access to new play-to-earn games, expansions, NFTs, and IGOs, are ample incentives to obtain $GZONE for the long haul.
Thanks to raising substantial capital in the IDO, the GameZone team can continue building its ecosystem, attracting game developers, and help enhance the world of play-to-earn blockchain gaming. Moreover, the BlueZilla group is committed to this project and helps expand the development of these games capable of empowering the players like never before. All of this will ensure the current $GZONE ROI of 100x is only the beginning.
Keep tabs on the official GameZone Twitter, Telegram, Telegram Announcements, and Medium channels for the latest updates!

Please check out latest news, expert comments and industry insights from Coinspeaker's contributors.