With Gate.io, traders can achieve up to 34% daily profits trading leveraged ETFs.
More products are developed to enhance investor profitability by maximizing market exposure and minimizing the potential risks as the crypto markets continue to mature. One such product is the leveraged exchange-traded funds (ETFs).
Leveraged ETFs (also called leveraged tokens) are crypto-assets tradable on the spot market that allows you to take a leveraged position in a cryptocurrency without being exposed to liquidation risk. They eliminate the complexities of normal leveraged positions, as users do not have to use collateral and maintain margin.
Gaining 34% Daily with Leveraged ETFs
34% daily gain might seem excessive to most investors. However, trading leveraged ETFs increases your exposure in the market hence magnifying small market fluctuations. Here's how it works.
Gate.io leveraged ETFs have a leverage of up to 5x. For example, XRP5S is a leveraged ETF that is 5x bearish on XRP. That means if the price of XRP drops by 1%, the price of XRP5S drops by 5% – hence higher profits. Similarly, XRP5S is a leveraged token that's five times bullish on XRP. When you buy it, and the price of XRP increases by 1%, you earn five times in return.
It is common knowledge that the crypto market is highly volatile, and daily price fluctuations of up to 10% are normal. Consider a trader who has bought a DOT5S ETF. In this case, if DOT's price has dropped by about 7.8% over the past 24 hours that leads to a 39% gain in their portfolio in only a day.
Traders can also diversify their portfolios. Suppose a trader chooses to split their investment into two leveraged ETFs. Let's say that in the past 24 hours ADA has dropped about 10.6%, while SOL has dropped about 12%. That means your ADA3S ETF and SOL3S ETF would have gained 31.8% and 36%, respectively.
How Does Low Leverage Bring High Income?
We've already mentioned that leveraged ETFs are the ultimate products to enhance your short-term profitability. However, leverage can be a double-edged sword that may lead to huge losses. But with Gate.io, you have the option to trade with low leverage and achieve high income.
Gate.io provides ETFs that are leveraged 3X or 5X, and as we have demonstrated above, you can attain up to 34% daily returns. The leverage offered by Gate.io in this regard is conservative compared to the leverage most futures traders use, up to 250X. Let's now discuss a few reasons why leveraged ETFs could be a better choice for you.
Firstly, traders do not face the threat of liquidation because, with leveraged ETFs, no margin is used. Leveraged tokens allow you to engage in leveraged trading positions without maintaining margin, collateral, manual management, and the risk of liquidation. And since the leveraged ETFs are perpetual, you can hold them indefinitely as you prefer, although this is not advisable.
Secondly, they are automatically rebalanced to maintain the leverage level in times of higher market volatility. Gate.io uses the position adjustment mechanism daily at midnight UTC+8. Here's how it works. Say you have bought XRP5S ETF, the exchange will rebalance your position daily to maintain the leverage of the underlying XRP at 5X. The trader's positions are managed based on the order placed by them and the profits made or the losses incurred entirely depend on the trader/investor's position and the market prices.
Rebalancing is done so that the correlation with the underlying asset is maximum and that the timing of a rebalancing is unpredictable to prevent front-running. This rebalancing hinges on the net value of the asset. The Net Asset Value (NAV) indicates the price of a leveraged ETF by reflecting the change in the nominal value of the perpetual contracts comprising the ETF multiplied by the leverage. The ETFs' price is determined by the combination of the underlying fund and the corresponding leverage.
Net Asset Value (NAV) = ((1 / Actual leverage) × positions in the basket × price of the underlying cryptocurrency) / Issued tokens.

After rebalancing, the final leverage is determined by algorithms, and the leverage is often displayed on the leveraged ETF information on Gate.io.
Risk management on leverage positions can be a daunting task. You don't have to worry about Margins, collateral, liquidation prices, and financing rates with leveraged tokens. You can buy the tokens, and everything is done. More so, portfolio diversification with leveraged tokens is very simple.
However, as mentioned earlier, leveraged ETFs are not recommended for beginner traders, nor are they meant to be held long-term. Thanks to the rebalancing process and the management fee incurred, buying and holding leveraged ETFs accrue a lot of cost in the long run. The daily management fee is 0.3%.
How to Trade Leveraged ETFs on Gate.io?
Trading leveraged ETFs on Gate.io is similar to any other type of trading. Create a trading account with Gate.io and deposit funds into your account.
Click on the 'Trade' tab on the dashboard, then select 'ETF' from the drop-down menu.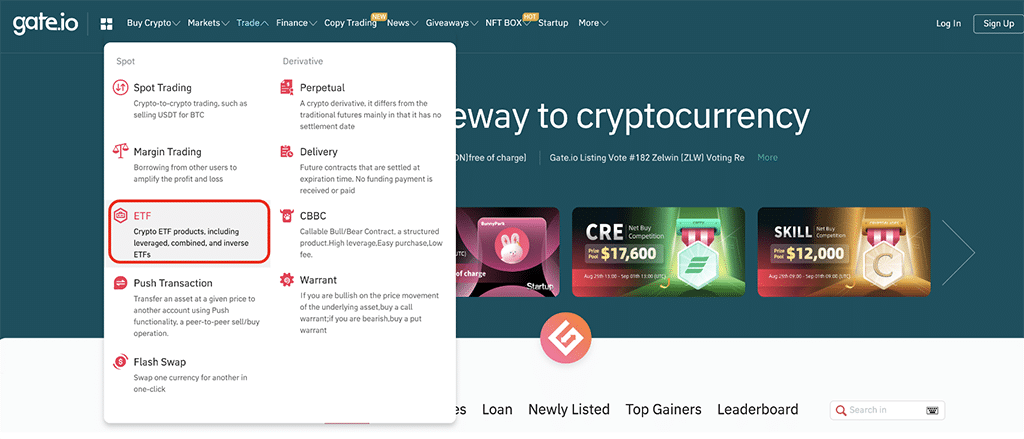 Here, you can choose between 3X and 5X ETFs. Please scroll down and review a list of all the ETFs available on the exchange.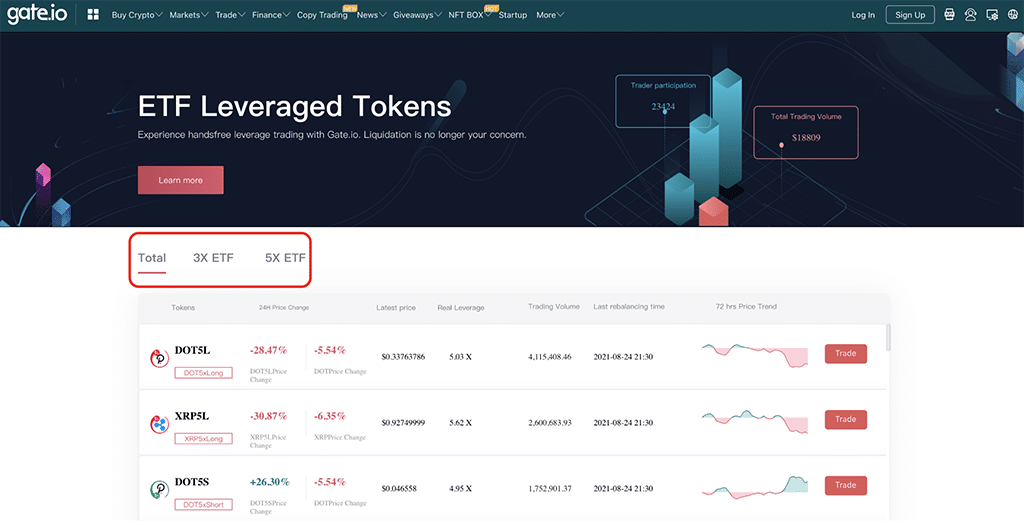 After you've made your selection, click 'Trade.' Here, you'll view the TradingView price chart of the leveraged ETF you selected, along with the underlying asset. In this case, DOT5S, whose underlying asset is DOT.
Notably, trading leveraged ETFs is reserved for experienced traders. That's because it involves rigorous technical analysis and in-depth knowledge of the underlying assets. To this end, traders can add various technical indicators on the charts to aid in their analyses.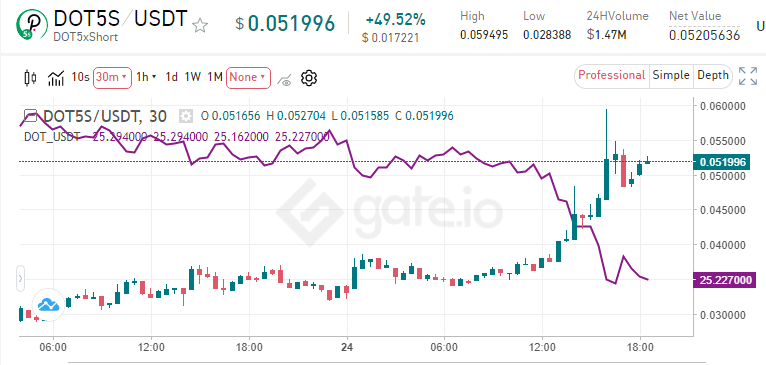 Just below the chart is the window where you can place your trades. There are three primary ways to trade on Gate.io – Limit Order, Grid Trading, or Time condition Trading.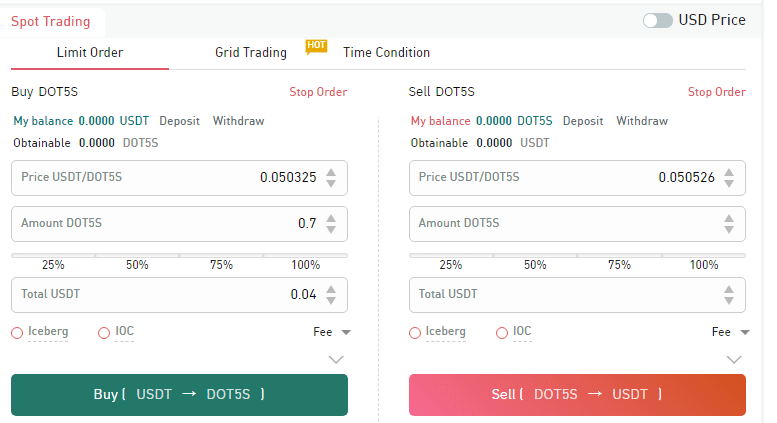 After you've placed your trades, you can review them in the order section. You can also view the active trades, your pending orders, or your entire trading history.
Bottom Line
With Gate.io, traders can achieve up to 34% daily profits trading leveraged ETFs. The primary benefits of trading them are that traders enjoy all the benefits of trading perpetual futures contracts without the downside of maintaining margin and the looming threat of potential liquidation.

Please check out latest news, expert comments and industry insights from Coinspeaker's contributors.