Tracking investment portfolios is essential for anyone involved in trading and we have reviewed the top 4 services that offer valuable features to crypto investors.
People from all walks of life invest in cryptocurrencies: casual retail traders and institutional investors that work on behalf of huge corporations are trading crypto. With thousands of assets available in the crypto market, any portfolio needs to be diversified in proportion to achieve maximum potential. Keeping track of every asset in your portfolio and how well your investments do can be a time-consuming and tiring task.
As with any investment, it's important to find a way to track your crypto portfolio and make informed decisions based on previous trades. For these purposes, crypto investors use portfolio trackers. It's an essential tool for any serious trader that makes managing investments more straight-forward and easy.
What Is a Crypto Portfolio Tracker?
A cryptocurrency portfolio tracker is a tool that allows crypto investors to manage their assets, transactions and trades. It can connect to various wallets. exchanges. and pools to compile all the portfolio data in one place.
This tool helps traders analyze their trades to adjust their strategy as needed and tracks the returns of each asset. It also usually displays live market data to keep traders in the loop.
Choosing the right portfolio tracking app can be a hassle since there are so many different options. This is why we have compiled our top choices in this article. We will discuss the most important features and services that they provide so you can choose the right one for you.
Cointracker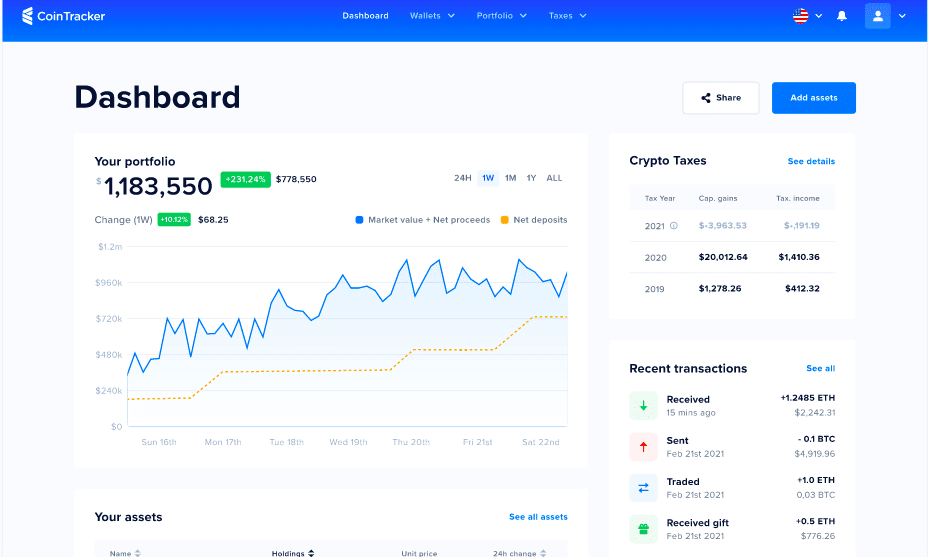 CoinTracker is an app that allows users to track their crypto portfolio, investment performance and taxes. Currently, it supports over 8,000 crypto assets. To monitor assets, you need to connect your exchange and wallet accounts and all the trading activity will automatically sync in the CoinTracker app. Users can choose from over 300 crypto platforms including DeFi apps that can be synced.
Along with ROI, balances, transaction details, and asset price changes, users can also calculate their cost basis and capital gains. CoinTracker also makes it easy to file for taxes providing a transaction and tax report in one click.
The app is available Web, iOS, and Android. Pricing on CoinTracker starts at a free account that allows users to track up to 25 transactions and download tax reports for free. To access more features like margin trading, DeFi and email support, there are paid plans: $56 per year for Hobbyist, $199 for Premium, and custom pricing for Unlimited accounts.
CoinGecko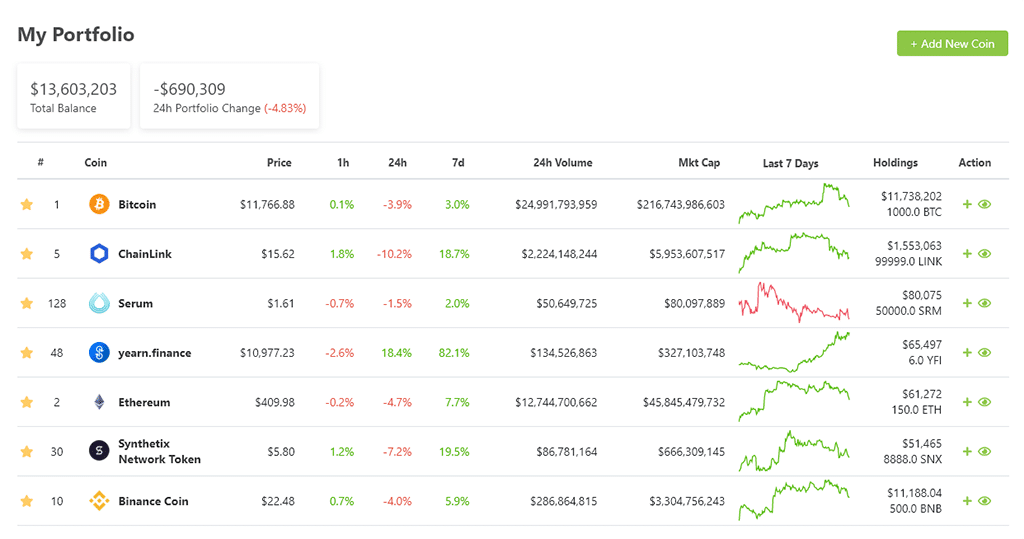 CoinGecko is an independent cryptocurrency data aggregator. Besides providing information on crypto assets like price changes, market cap, and news,  CoinGecko portfolio tracker also allows traders to manage their crypto portfolios. It supports over 6,000 crypto assets. Assets and transactions are added into your portfolio manually and then the value is calculated.
The app provides data and metrics that can aid in investment decision-making. The prices are evaluated on a number of factors including developer backing, liquidity, rank based on web traffic, and market cap. Besides this data, CoinGecko also shows the project's social media following and the price of 51% attack.
The ConGecko app is available on Web, iOS and Android. It's easy to access with a simple free registration.
Delta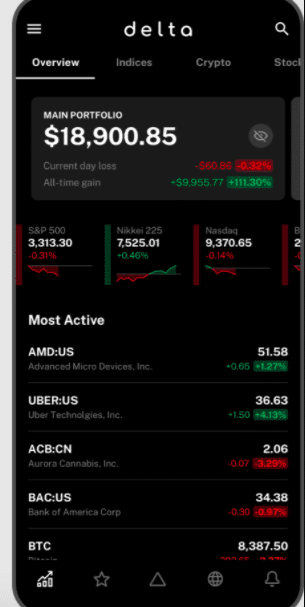 Delta is multi-asset portfolio tracker that supports over 7,000 cryptocurrencies as well as stocks, ETFs, indices, forex, mutual funds, bonds, futures and options. The Delta investment app is available on iOS, Android, MacOS, Windows, and Linux.
The app allows investors to customize their watchlists and set up unlimited crypto portfolios. Detailed data like value of your investments and profit/loss calculations can be synced to Delta app from 300 wallets and exchanges.
Basic Delta accounts are free and paid versions include Android and iOS PRO accounts that cost around $70 annually.
NOWTracker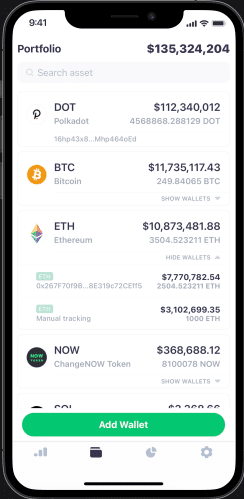 NOWTracker is a crypto portfolio tracking app from the ChangeNOW team. It supports over 7,000 crypto assets.
The portfolio data is synced via public wallet address and balance is updated using block explorers. Balances can also be updated manually and reflected in a preferred fiat currency. Portfolio distribution is displayed in illustrative graphs and pie-charts which makes it easier to track fund allocation and identify the most profitable assets.
The NOWTracker app is available on iOS and Android for free without registration. The best thing about NOWTracker is the fact that it follows ChangeNOW's mission of prioritizing privacy so none of the user data is stored on the company's servers.
Conclusion
Tracking investment portfolios is essential for anyone involved in trading and we have reviewed the top 4 services that offer valuable features to crypto investors. These crypto portfolio tracking apps have a proven record of satisfaction, trustworthy reputation, and deserve the attention of users. They provide important services mostly for free to help crypto traders refine their investing strategy and keep track of their progress.
Author:

Dan Stavras
Dan is a fintech and blockchain evangelist that came to crypto from the traditional financial sector. He practices day trading while being most passionate about long-term investments. He relies on fundamental research and keens on statistics while picking up investment opportunities.
Subscribe to our telegram channel.
Join