In order to facilitate the searching process for you, we've prepared a list of the best-paid crypto signals groups that we can recommend.
Crypto signals are predictions for the potential increases or losses of cryptocurrencies. They are usually provided via specially prepared channels on Telegram, a messaging service app. Thanks to that platform it is possible for the best experts in the industry to build their own groups of recipients for whom they prepare tips. Interestingly, it is not easy as you may think to find the right supplier that will fulfill all our expectations. It is particularly difficult due to the ubiquitous scam that is spreading in the world of cryptocurrencies. In order to ease the searching process to you all, we prepared a list of the best-paid crypto signals groups that we can recommend with a clear conscience.
How Should Good Crypto Signal Look Like?
The schemes particular traders offer us may vary in the form of the message as well as its content. It is obvious to say that the perfect signal will most definitely offer us the name of the cryptocurrency recommended to buy as well as sale targets that define us when to close the given position. There is also the issue of stop-loss, which should indicate the threshold of the maximum loss we are willing to suffer in case something goes wrong. This is also something we are not certain to get in most cases. There are groups that believe Stop Loss value is necessary information and they do not send an alert without giving it. However, it is not difficult to find channels that do not provide us with this threshold. In this way, we need to calculate how much we are willing to lose on a given trade. Once we figure this out, we set the Stop Loss value.
It often happens that some groups specify the category of the signal by attaching them special exchange labels (e.g. "Binance Signals", "Bitmex Signals", "KuCoin Signals", etc.). Thanks to this data, the user can easily understand which exchange is best to use in order to open the trade. It is very useful, especially for beginning crypto traders.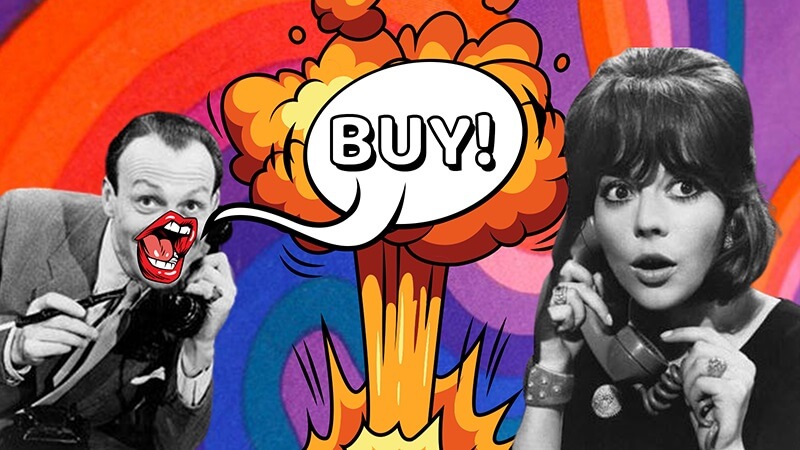 Why is it worth to use Telegram Crypto Signals?
Most of all, the use of ready crypto calls allow you to save a lot of time you would spend on in-depth analysis of charts, various events, twitter entries, or Reddit posts. If you access the payable channel, you will receive all the information at once. The experts that are responsible for sending tips have to observe the market very closely and draw appropriate conclusions from the current situation. You, as the user, receive the final effect in the form of the alert. Thanks to that, you just enter the selected exchange and begin trading.
The second, equally important reason why it is a good idea to use cryptocurrency signals, is the fact that we are never going to possess such a large knowledge as the best crypto traders. It is simply impossible for us to indicate better positions to trade in a selected moment.
Are There Any Free Crypto Signals?
All the signals said to be free are simply inaccurate and quite often people who share them do not possess enough knowledge about trading. You need to know that if someone knows his stuff, he will never provide services for free. Why would he or she give you information that can potentially bring huge profits without earning on that?
Bear in mind that some free channels are also the source of scam. There are groups that will do everything in their power to force you into purchasing a subscription. To meet their goal, they apply a lot of unfair tricks. That is why you should be careful.
How Much Can We Earn by Using Trading Crypto Signals?
This is certainly the most difficult question one can ask. There are a lot of variables that influence the potential gain as far as crypto trading is concerned. Very important is the choice of service. You simply need to find the channel that offers high accuracy. Thanks to that, you will be able to generate profits. And there are plenty of groups that can offer that.
Equally important is the right management of your capital. You cannot allow a situation in which all your funds are spent in one position. It is illogical and irresponsible. As you know, the crypto market is susceptible to all types of news that can boost the cryptocurrency 2moon or dump its price by several dozen percents. The perfect solution will be to divide your investment funds onto 10-15 alerts. So, if you have a budget of 1 BTC, it is a good idea to divide it onto 10 altcoin signals 0.1 BTC each. Such diversification will allow you to operate smoothly.
Let us finally introduce the best telegram groups with crypto signals.
Signals Blue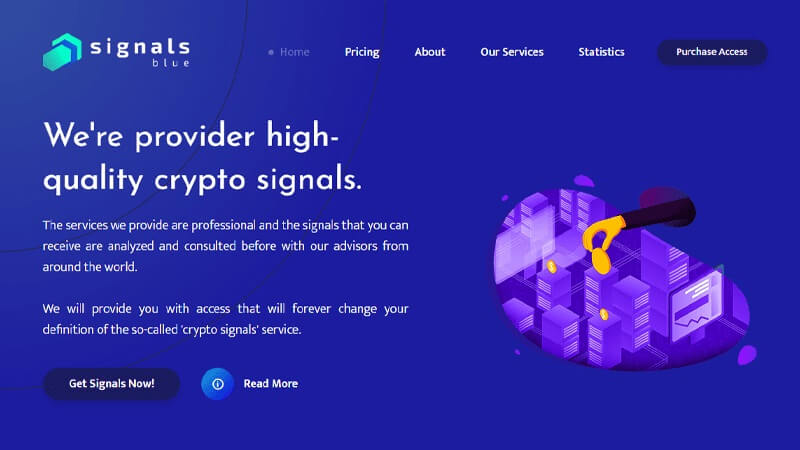 Signals Blue is a channel with activity noticed by many users. Day after day it is becoming more and more popular. It is definitely one of the most interesting and one of the quickest developing projects on the market. You can see a lot of reviews which confirm that. According to users, this is the best crypto signals group.
The group provides us with at least several altcoin signals a day. They are prepared for the most popular exchanges such as Binance, KuCoin, Poloniex, etc. The accuracy of Signals Blue is quite often higher than 90% in the scope of a month. It means that throughout 30 days, 90% of the provided signals reach at least the third target goal. Each alert offers us three fixed targets and one "open" target, which is closed with a profit dependent on the fluctuations of the market. Very often we can observe a profit of at least 30% from the fourth target.
The supplier provides us with Bitcoin Signals, which we can open and close via BitMEX exchange. The predictions for Bitcoin price are provided not as often as for altcoin signals. However, they appear and are equally efficient.
Signals Blue developed its own system of generating dedicated channels for each user. According to them, this is an attempt to avoid copying shared alerts.
Signals Blue is the supplier that operates in English.
Fat Pig Signals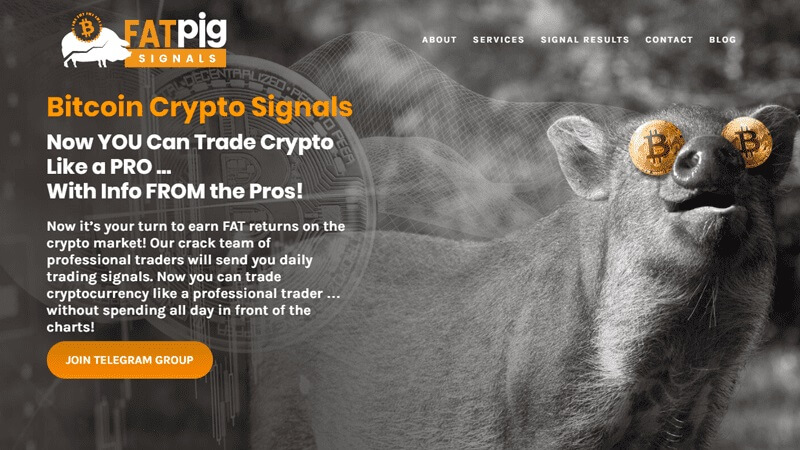 Fat Pig Signals is a group of traders that share predictions for Binance exchange alone. Their signals are great and quite often people can profit a lot from them.
Every day we receive at least one signal, and the maximum number is 3. As you can guess, the owners of the group care about the quality and accuracy of the signals, and not their quantity. Sometimes it is better to receive less.
Unfortunately, the lack of Bitmex Signals means that we limit our trading solely to alt season period.
The channel is available in English.
CryptoAlarm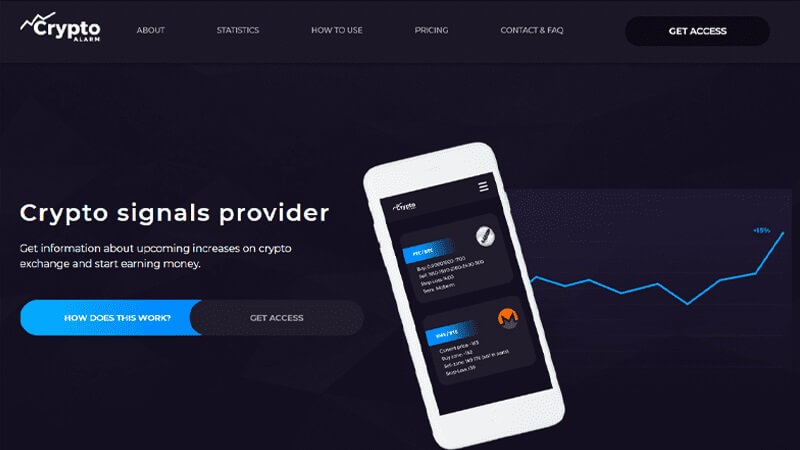 CryptoAlarm is the service destined for the users who have accounts on exchanges offering BTC/ALTS trading. Their crypto signals concentrate solely on alternative currencies. However, their accuracy and performance allow them to successively increase the wallet without depending on increases and losses of BTC prices.
We receive several signals a day on this channel. Each signal provides us with sales targets as well as stop-loss value thanks to which we can secure our funds. After reaching the target level, they provide us with immediate information that may work as a reminder to close the selected position.
No signals as far as increases and losses of Bitcoin prices are concerned.
The owners of CryptoAlarm channel offer us good quality to price of the service ratio.
They provide their signals with two languages – English and Polish.
Onward BTC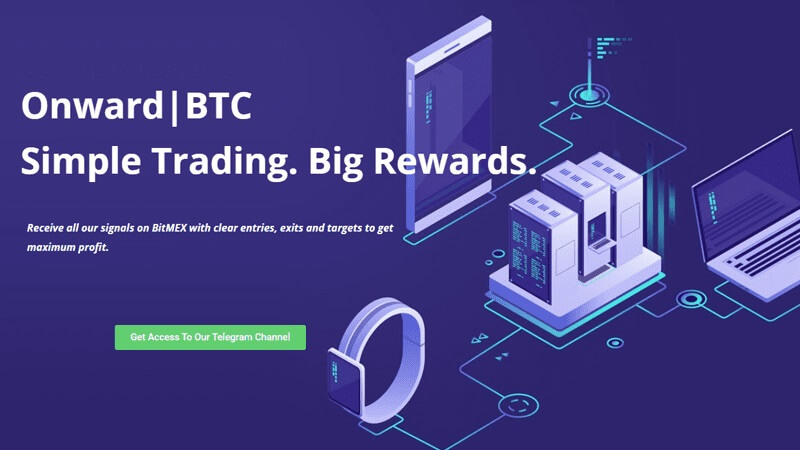 Onward is the group that shares signals for BitMEX exchange only. Their results are accurate and provide us with the chance to earn. However, potential profits are far lesser than the ones presented on their page. Calculating percentage incomes by summing all the months is incorrect and does not reflect the actual earnings.
We receive 2 Bitmex signals a day, and that's the maximum number we will get. Every signal offers us two fixed target goals and the predicted level of maximum loss. The real accuracy of Onward BTC is between the scope of 50 – 60% in the scope of a month. Since these are signals that operate solely on the price of Bitcoin, we may not receive a signal for several days due to the lack of any BTC fluctuations.
The channel is available in two languages – English and German.
Whaletank Trade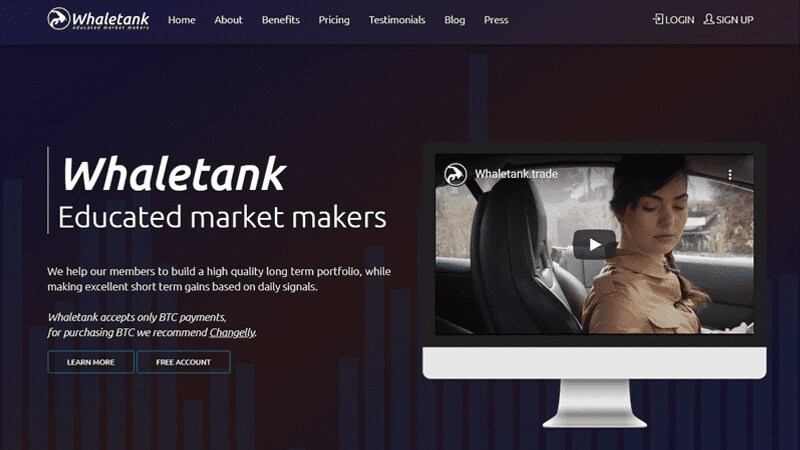 Whaletank Trade is another group that made it to our list hence it is worth recommending. The results achieved by these traders are quite satisfactory. Unfortunately, the group does not offer full support for new users that want to gather necessary knowledge regarding crypto trading. Whaletank offers us crypto signals for altcoins that we can purchase on such exchanges as Binance or Poloniex.
Altsignals provided offer us an accuracy of 65%. It means that 65% of provided alerts are closed at least after 3 targets. It is a good score. Sadly, the drawback of the channel is quite frequent lack of stop-loss values that each and every one of us has to determine according to our own calculations. It may be a problem for the laymen.
The lack of stop-loss makes it impossible for us to apply auto trading;
English is the language in which the channel operates.
Summary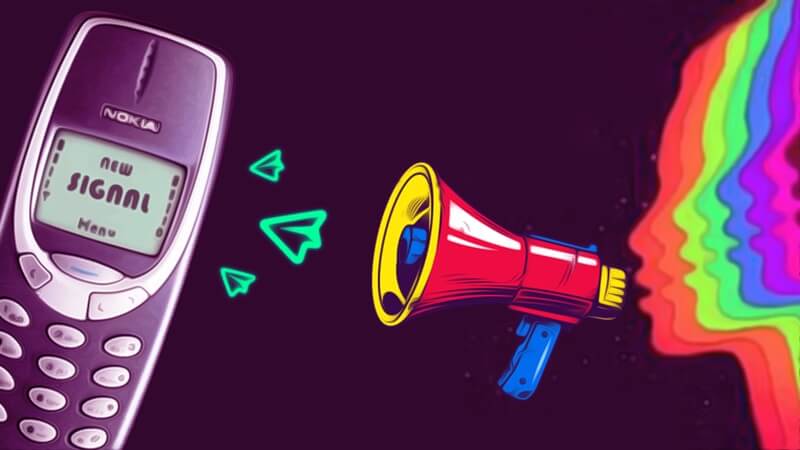 Crypto signals that you can get on the Internet allow us to generate profits. However, we should look for services that suit our expectations. It wouldn't be a good idea to, for example, use BitMEX signals if we don't know anything about leveraging. It would be tragic as far as our funds are concerned.
It is a good idea to think twice before we make a decision we are going to regret later on. Anyway – the market provides us with acceptable conditions to consistently use top crypto signals.
Sources: CoinTelegraph, CoinDesk, and Crypto Informator. Author:

Ákos Benedek
Ákos is living near Balaton, Hungary. He is passionate about new technologies, including crypto. Freelance writer for various publications. Also trading on the crypto market.
Subscribe to our telegram channel.
Join