Greg Waisman, the co-founder and COO of the fintech company Mercuryo, shares his insights about the Bitcoin (BTC) and Ethereum (ETH) daily price movements.
As Q1 2021 comes to an end, the leading cryptocurrencies – Bitcoin and Ethereum – started seeing a significant price drop. The drop has affected the entire market, as all coins seem to be following the two top ones.
Bitcoin and Ethereum Drop Despite Positive Forecasts
Bitcoin and Ethereum have started seeing a significant price drop over the past several days, ever since Saturday, March 20th. This comes as an interesting development, especially given all the positive predictions and institutional interest that has been awakened recently.
There were some notable negative developments, however, such as Norway recently saying that people should not turn to BTC as an alternative for traditional currencies. This came from the country's central bank governor, Oystein Olsen, who said that it is inconceivable that BTC will ever replace the money controlled by the banks, as it is far too resource-intensive, costly, and volatile.
Another thing worth mentioning is that India proposed a cryptocurrency ban once again, although this took place nearly 10 days ago, on March 14th. The proposal was criticized, advised against, and there were numerous reports and analyses saying why it is a bad idea. But, despite this, it seems to have had a big impact on both, Bitcoin and Ethereum prices.
BTC and ETH Prices Drop in the Last 24 Hours
Over the last 24 hours, Bitcoin price has dropped by around 7%, going from $58,387 to $53,476. BTC drop encountered several resistances that attempted to soften it up and maybe hold the coin up, but so far, they have all failed. The first one was at $57k, followed by the one at $56k, and finally, the one at $54,500. The one that seems to have stopped the coin – at least for now – is at $53,500, although it may only be a matter of time before it drops.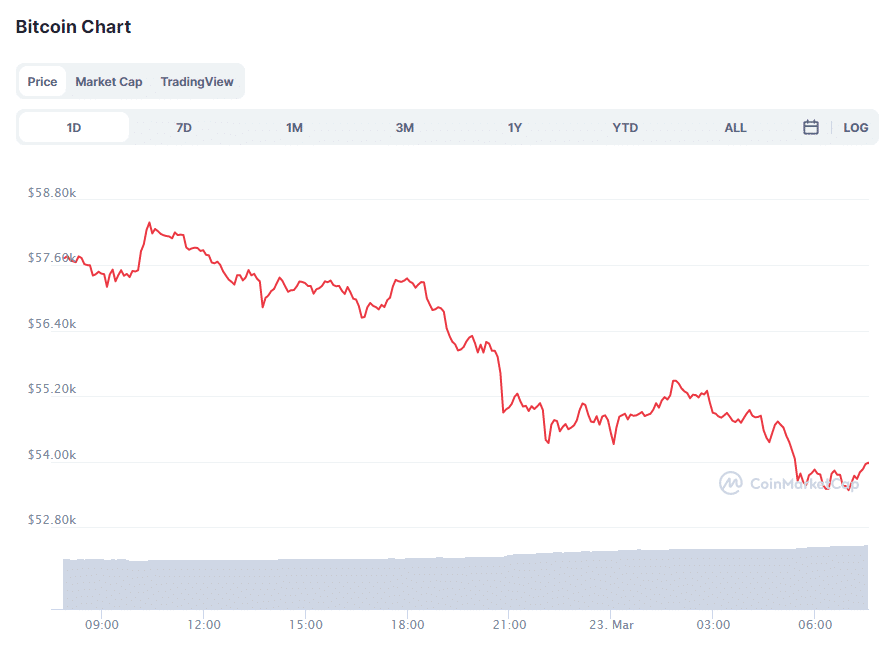 Given the predictions, the coin's stock-to-flow model, and raging interest from institutions and retail investors alike, this is likely not the end of Bitcoin's rallies. However, it does represent a sharp correction that should be taken as a reminder that BTC could see a drop at any time, and that there are no guarantees in the crypto sector.
Ethereum itself, which recently did not see a lot of mentions, also experienced a price drop, as the world's largest altcoin continues to follow Bitcoin's lead. In the last 24 hours, ETH was mostly trading sideways at around $1785, with slight fluctuations up and down.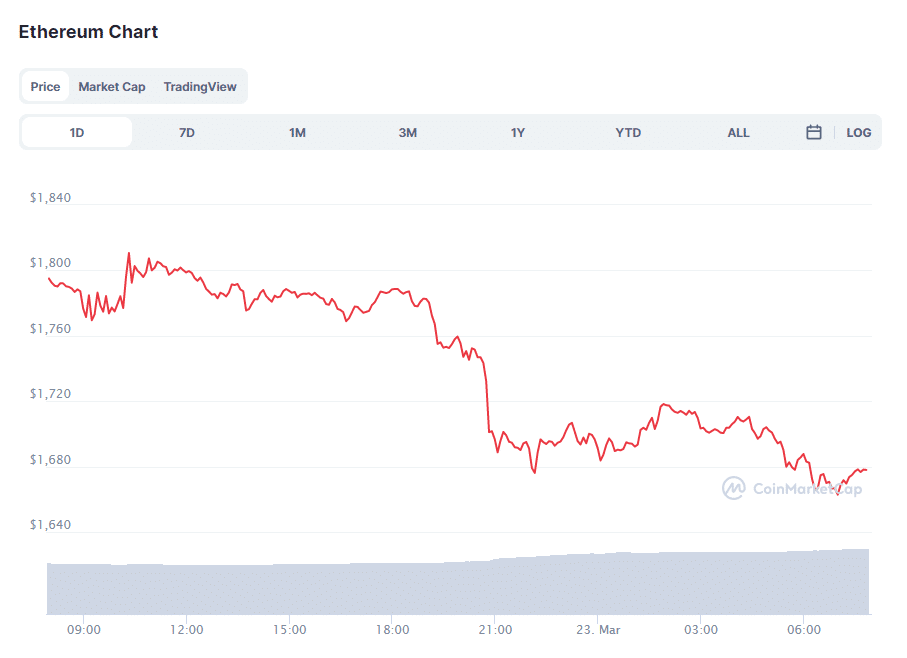 However, it then saw a major drop to $1,676, which came rather suddenly. It also ended quickly. And the coin has since tried to go back up, only to be stopped by a resistance at $1,720, and then rejected to $1,660. At the time of writing, it sits at $1,682, unable to go beyond $1,700.

Author:

Greg Waisman
Co-founder and COO of the fintech company Mercuryo. His responsibilities involve overseeing the internal work of different departments in the company and managing communication between them. He has deep expertise in the field of finances and technology. Possesses knowledge and practical expertise in the field of fintech and blockchain.
Subscribe to our telegram channel.
Join