The BXR token sale is set to launch on BlockFunder, the Digitex IEO token launch platform on Monday, June 7th.
Blockster, the Internet's first all-encompassing social network for crypto die-hards, is hitting the ground running with an immersive investment platform that is content-rich and packed with exciting features.
Blockchain hustlers around the world: If someone told you there is a ground-breaking social network built just for crypto that lets you create a profile, invest, trade, and message friends, all while staking tokens, you'd signup in a flash – right?
Blockster does all that and more. The innovative platform is a breath of fresh air because frankly, this is exactly the kind of home base the crypto community is missing. With the platform being launched in testnet mode this month, the full version is expected for updated release following the BXR Token sale.
Blockster is redefining how crypto-traders allocate valuable time. Rather than spending a vast portion of your day sifting through multiple crypto news sites and exchanges, Blockster consolidates everything for you.
Let's face it, time is money, and the cryptocurrency market doesn't wait for anyone. It is certainly intuitive to have one platform to source reliable news from before investing or executing trades. On Blockster, you can even join groups and engage in real-time crypto discussions while doing all of the above.
A Social Network Built to Thrive
Blockster is sharing some key insights about its current progress as well as its future plans. A social network built on the foothold of compelling crypto content, users can discover, share, educate and promote relevant material.
The Blockster ecosystem was thoughtfully crafted to provide earning opportunities for crypto enthusiasts. It aims to become one of the biggest names in blockchain by providing solutions that will allow anyone to earn profits simply by using its current and upcoming services.
As if that's not enough, Blockster has created its own utility token, BXR, on Ethereum, which will power the robust ecosystem around its network. When users sign up, BXR tokens can be used within the network to pay for services such as advertising or to buy NFT tokens and games (these features will become available later this year.) Users can also monetize by staking BXR tokens in exchange for income earned from ads.
It's pretty evident; the team behind Blockster has been working diligently for the last year and a half, creating a platform that is sure to impress even the most discerning of traders. Their commitment and relentless passion for sharing a platform dedicated to crypto hustlers can be felt within each built-in feature.
Blockster Platform – Fun at Your Fingertips
Encompassing so many of the impressive elements of the Blockster environment, the platform itself delivers on every single level. High-quality crypto content? Check. User-friendly interface? Check. Newsfeeds, live chat crypto market tracking? Blockster knocked it out of the park.
Let's take a look at some of the key elements of the Blockster platform, with this immersive visual guide that is sure to impress:
Newsfeed – All the latest posts from who you're following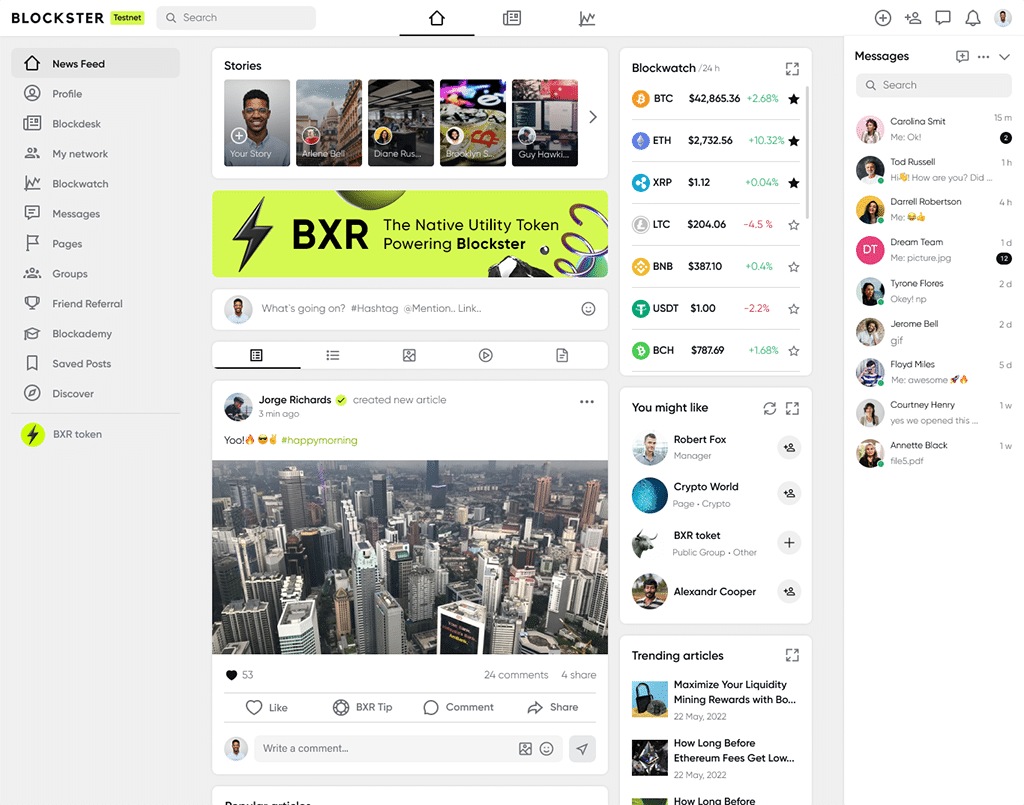 Blockdesk – User-generated crypto blog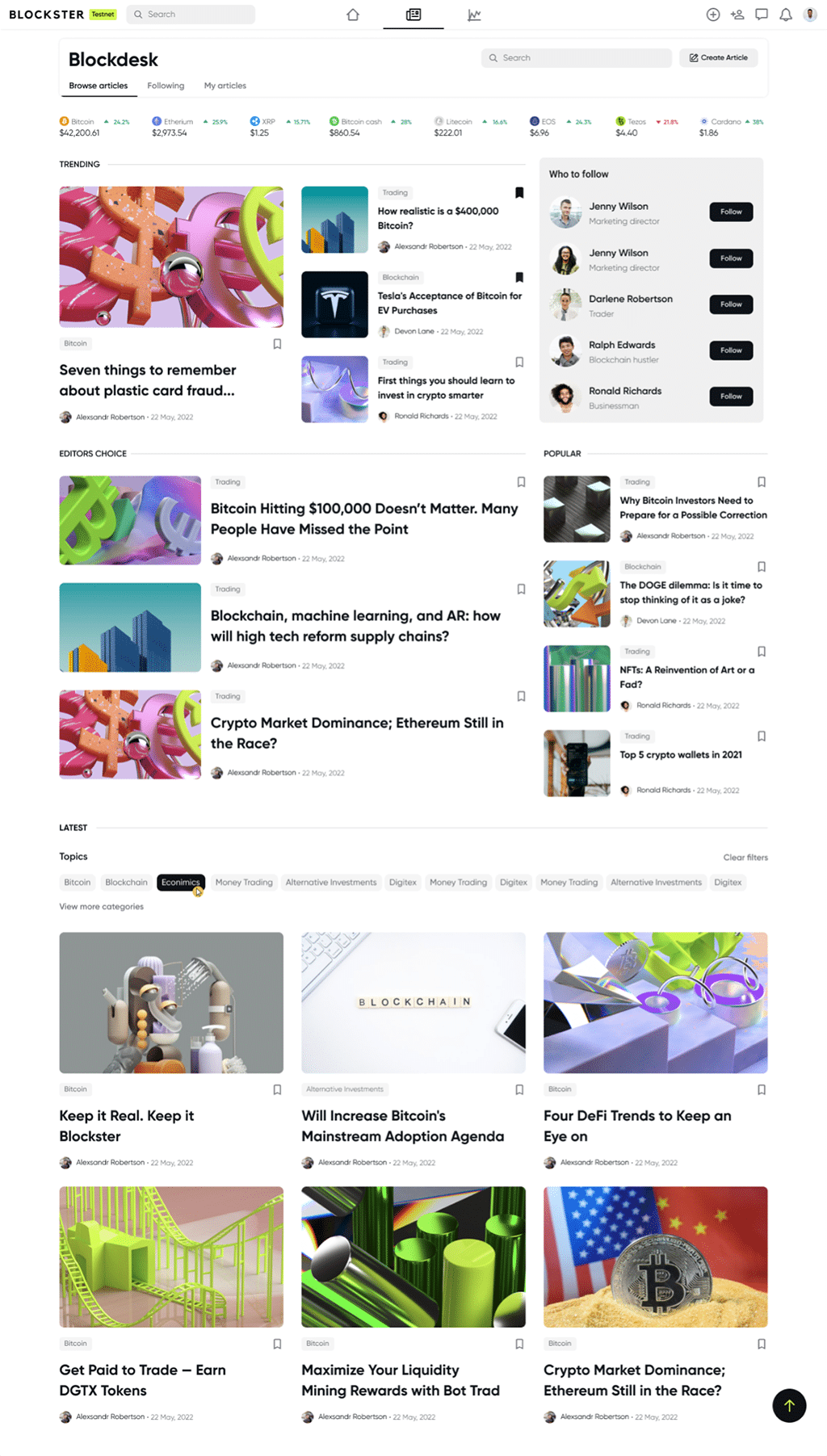 Blockwatch – Cryptocurrency ranking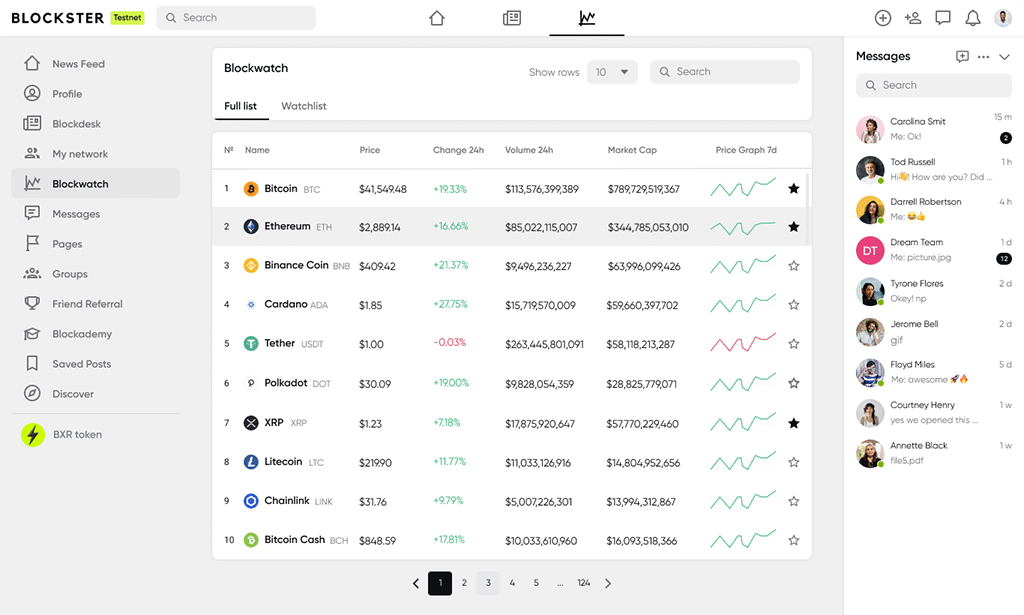 Let's Talk Tokenomics
The BXR token sale is set to launch on BlockFunder, the Digitex IEO token launch platform on Monday, June 7th. In anticipation of that, BlockFunder debuts Blockster – its very first IEO.
The sale will be divided into 6 phases, where 10 million BXR tokens are expected to be sold. This accounts for 10% of the 100 million BXR total market cap. To clarify, no more BXR tokens will be minted beyond that amount. Token distributions will take place immediately following the close of the Phase 6 sale.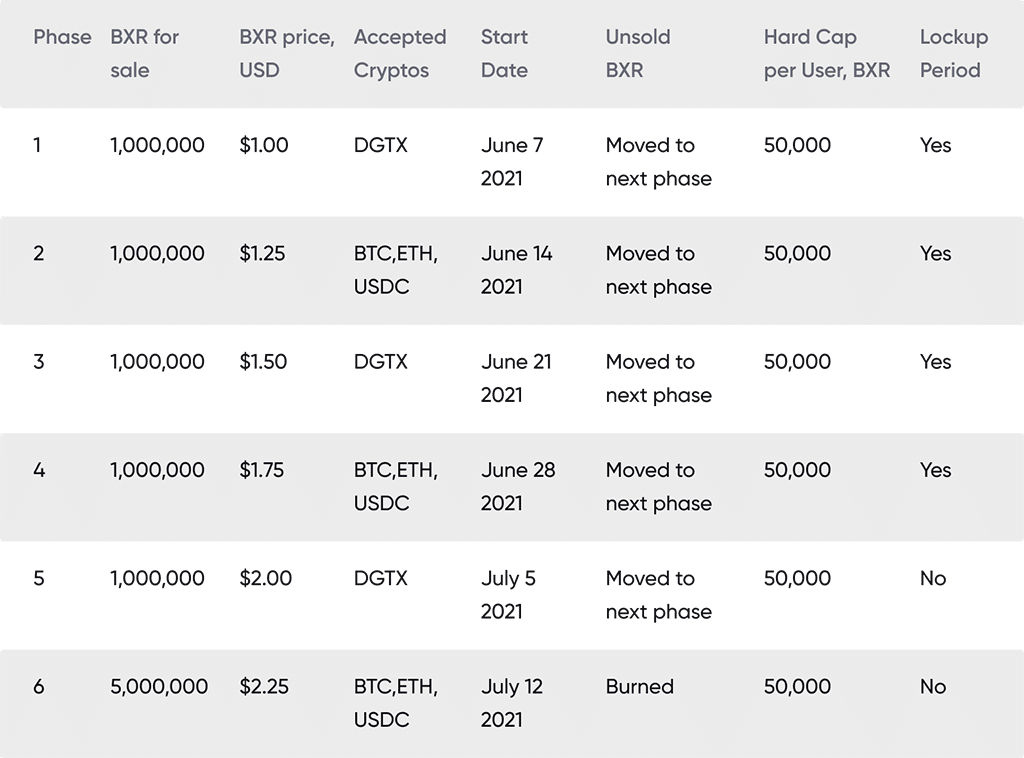 If everything above gets realized, Blockster will become one of the most valuable assets in the crypto universe, and Blockster will be among the biggest blockchain names in the industry.
For more information, and to keep up with the latest developments, follow Blockster social media pages.

Author:

Andrey Sergeenkov
Founder and editor at BTC PEERS. Andrey writes about financial experiments, DeFi, cryptocurrency, and blockchain.
Subscribe to our telegram channel.
Join