Bloom announced the launch of its new tool called OnRamp that helps DeFi companies comply with AML and KYC requirements while still allowing their users to maintain data privacy.
In the last few years, decentralized finance (DeFi) has become one of the most popular sectors of the blockchain industry. With DeFi, consumers can access loans, trade tokens, play lotteries, earn interest on their money and also tap into many other financial services.
With billions locked on DeFi platforms and no signs of stopping, it seems the sector is bound to go mainstream. Even as this happens, there is one hurdle that must be overcome before DeFi can reach its full potential and this is regulation. Everywhere in the world, companies have to adhere to regulatory requirements in order to operate and the crypto industry is no different. It has been found that too few DeFi firms are currently compliant with regulations and this can go on to affect their growth in the long run.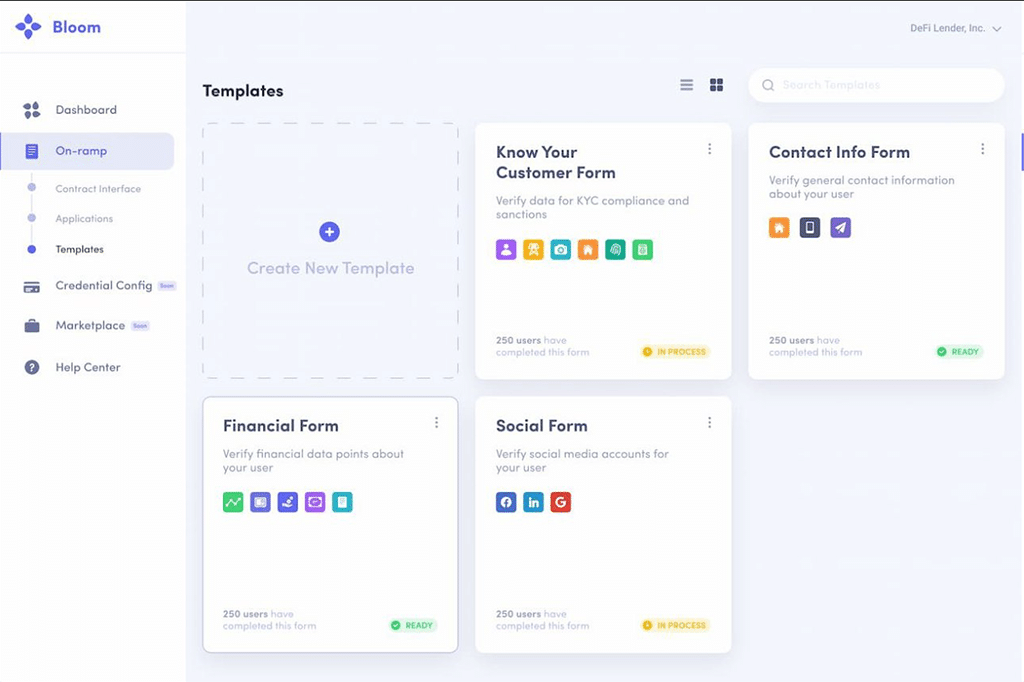 Why Is Compliance Lacking?
While it is clear that compliance is needed for the DeFi industry to grow, it is believed that some of the firms in DeFi are reluctant to commit due to concerns about privacy. One of the biggest strengths of DeFi is the privacy that it offers customers and complying with regulations such as KYC could compromise this.
This is the issue that Bloom, a blockchain solutions company, is looking to solve. Bloom announced, on October 14, 2021, the launch of its new tool called OnRamp that helps DeFi companies comply with AML and KYC requirements while still allowing their users to maintain data privacy.
This is done by allowing firms using Bloom to access customers' reusable, verifiable credentials (VCs) without requiring the customers to reveal this sensitive information directly to the firms. For example, customers can confirm their ownership of phone numbers, email addresses, and social accounts without revealing them to the companies. With Bloom, the companies can also conduct  KYC & AML compliance, OnRamp offers ID verification, sanction screening and PEP Screening.
This is a remarkable development because getting around this major roadblock means that DeFi firms in mass can pursue regulatory compliance and properly expand all over the world.
"We are excited to give enterprises the ability to leverage verifiable credentials for identity verification and risk assessment, all while respecting user privacy and mitigating the risk of data leaks" said Jace Hensley, Head of Platform at Bloom.
Beyond this, OnRamp also offers tools for risk assessment. One of the major features of DeFi is the giving out of loans to customers and risk assessment is an essential part of this. OnRamp allows its users to access customers' bank account activity, balances and other financial signals. With this information, a creditworthiness decision can be made regarding things like loans.
In the future, there are plans to allow the access of traditional credit scores and OnRamp also helps third party credentials to enter the OnRamp platform via the WACI specification.
DeFi to the World
With this announcement from Bloom, it seems a critical issue for the DeFi industry can finally be put to rest and a new era of growth can be ushered in.

Please check out latest news, expert comments and industry insights from Coinspeaker's contributors.