Coinbase has recently announced that stop orders are available on Coinbase Exchange. According to the company, stop orders allow customers to buy or sell bitcoin at a specified price. This order type helps traders protect profits, limit losses, and even initiate new positions when the market breaks out.
More specifically, Coinbase stop orders allow customers to determine the amount of bitcoin they would like to buy when bitcoin price rises to or above a particular point. Selling a predetermined amount of bitcoins once the price falls to or below a certain indicated level is the second option. Once created, the stop order will be memorized by the system and automatically executed when the chosen "stop price" is reached.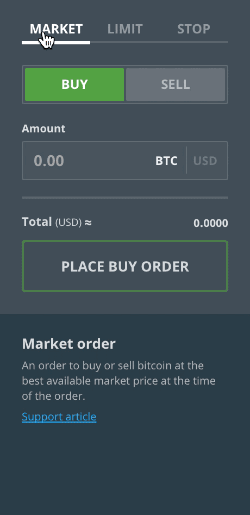 It's easy to place a stop order on Coinbase Exchange:
Sign in to Coinbase Exchange
Select the STOP tab on the orders panel
Choose whether you want to place a "Buy" or "Sell" stop order
Enter the amount of bitcoin you want to buy or sell
Set the price at which you want to trigger the order
Click the "Place Buy Stop" or "Place Sell Stop" to place the order.
Coinbase is not the first bitcoin exchange to make stop orders available. Bitstamp, another large digital currency market, introduced a similar service in September 2014.
Aссording to the official Coinbase Community Forum, stop contracts have been the most popular request from customers since the very launch of Coinbase Exchange. The introduction of stop orders can be aimed at attracting more customers to Coinbase as well at securing against the further instability of bitcoin price in the light of the ongoing block size debate.
Coinbase is an active participant of bitcoin advancement and of the debate over the future of the cryptocurrency. After the hard fork timeline agreement of 21 February, which led to a split in bitcoin community, Coinbase adopted Bitcoin Classic protocol. Answering to critics, Coinbase CEO, Brian Armstrong proposed to bet $5,000 that bitcoin's first hard fork will succeed.