MyCointainer added its own built-in exchange in 2019, so since then, users can swap coins on the website or in a mobile app much faster.
MyCointainer crypto platform was founded in Q4 of 2018 and since then has significantly expanded the range of functionalities and the list of crypto assets supported. Its main goal is to become a go-to platform for learning about and earning crypto using various tools. Staking (both online and offline options), buying and selling, hodling, crypto cashback, and airdrops – overall, the platform seems to be a great starting point for everyone who wants to find out what the crypto world is like. Let's dive into the platform to take a look at what it offers in detail.
Earn More Crypto with MyCointainer – Try a Variety of Tools in one Place
What I personally liked about MyCointainer is a balance between a range of features and a user experience that doesn't overwhelm you. You get to try different ways of earning crypto without getting snowed under a bunch of tools. Beginners, you'll enjoy the possibility of finally investing and making money without putting all of your free time into it.
Staking. Have you ever felt like staking is something too hard to grasp? At first, it sounds understandable but the more you read, the more complicated it seems. To be honest, when I first tried it with MyCointainer, I thought I did something wrong, or I needed to do something else. Because it seemed too simple. I deposited cash and bought crypto. The end. I guess it was only when I got my first generated rewards that I realized that was really it and I don't need to do anything else. Try it, you'll enjoy it.
Cold staking. This one is a bit more complex but still as straightforward as possible. You'll need to get a hardware wallet if you still don't have one. You can buy a solid version for up to $100 and deposit some crypto of your preference on it. Delegate your coins to MyCointainer using detailed instructions and start earning money. Again, no hustle.
Cashback in crypto. Install a Google Chrome EarnBack extension to earn additional rewards while shopping online. Honestly, I think cashback is one of the greatest inventions. To earn money while spending money – what can be more pleasing?
Additional bonuses. Airdrops, giveaways, and referrals all give you a chance to increase your earnings, and why not use an opportunity? MyCointainer is all about incremental rewards – sign up and watch your passive income grow like a snowball over time.
MyCointainer gives users the possibility to delegate and earn from their own wallets, so you won't need to spend your rewards on medicine to heal your nervous system. Deposit, invest, relax and let your wallet grow naturally.
Track and Make Money Wherever You Are with the Mobile App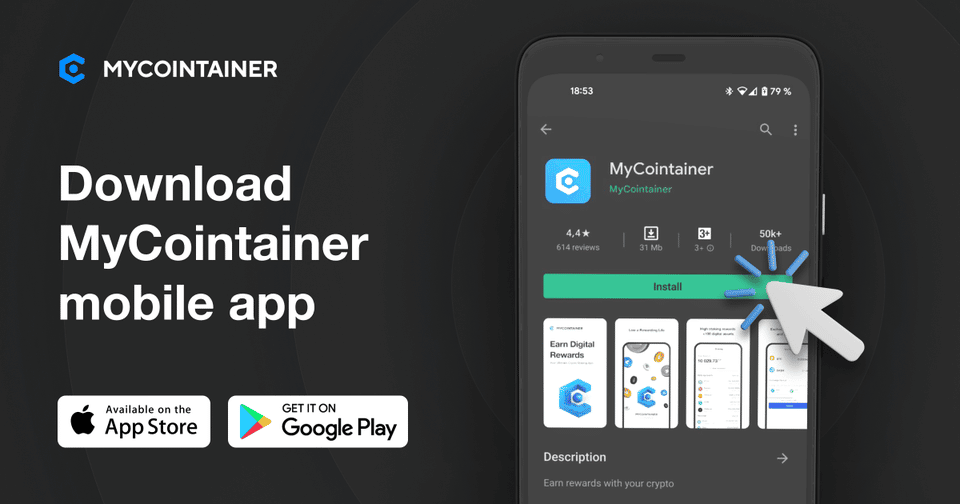 No solid crypto platform is complete without a mobile app these days. MyCointainer has apps for Android and iOS users and both versions look valid right as you start using them. The mobile app follows the platform's no-frill UX and provides access to the most important tools available in the desktop version.
With the MyCointainer app (iOS, Android), packed in a user-friendly design are your Online Wallet, the Exchange, and Buy/Sell features, Staking, Report of the rewards generated each day, and even Airdrops. If you don't like being confused and getting lost in a myriad of features that are hidden somewhere in the app, this simple, beginner-friendly app is for you. Yes, we're being a bit sarcastic, but mobile apps are really meant to be straightforward and not overloaded with too much information. So we appreciate MyCointainer's good work on that.
Keep Your Assets in a Digital Wallet and Earn Crypto Rewards – No Lockup Periods
A beautiful thing about MyCointainer online wallet is that you get to earn additional rewards by simply keeping the assets in the wallet. As the asset grows, you get to earn additional interest. However, if for some reason the coin starts losing value, and you want to invest in something more stable or just decide to exchange it for some other cryptocurrency, you don't have to wait until the lockup period ends. Because there's no such thing on MyCointainer. Buy when you want, sell when you want, withdraw when you need.
Cryptocurrency Exchange with Some of the Best Prices on the Market
MyCointainer added its own built-in exchange in 2019, so since then, users can swap coins on the website or in a mobile app much faster. The easiest way is to deposit cash into your bank account using one of the payment methods available. Over 15 payment methods are implemented on the platform to receive FIAT payments, from the most popular bank deposits and Visa/Mastercard to Revolut, ING, N26, and iDeal.
With 150+ assets, MyCointainer is a competitive provider on the market-beating even on some of the best-known platforms. Check out their assets page to explore great tokens with the highest yearly rewards.
MyCointainer Customer Reviews – 4,3 or "Excellent" on Trustpilot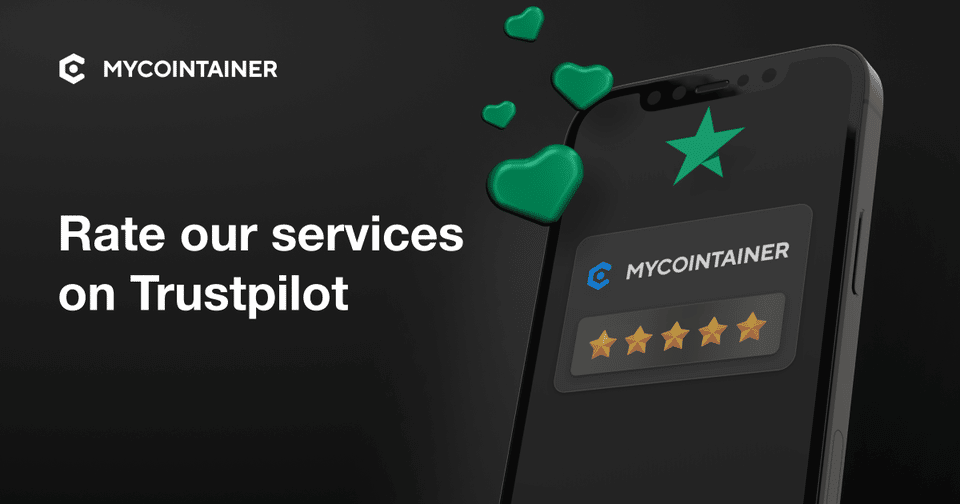 There are numerous MyCointainer reviews and comparisons to other similar platforms, so if you still have doubts, go read some more. One of the most distinctive features of this platform (and the most important ones these days) was no lockup periods neither for any kind of staking (even cold ones) nor for holding coins in your wallet. With the crypto frenzy on the market we see now, it's crucial to be able to withdraw your assets whenever you need. MyCointainer offers safe and flexible withdrawals, allowing you to relax when you stake your funds.
Security Should Be a Priority when It Comes to Money
When you invest your funds, it definitely should be a platform you can trust, so no wonder you want to know "Is MyCointainer legit?" Since the launch of MyCointainer in 2018, it has remained a regulated platform by the Financial Intelligence Unit in Estonia. Such development carries more opportunities for them to provide FIAT payment deposits, AMUKYC solutions, crypto custody, CeFi solutions, and more.
Despite the regulations, MyCointainer is not constrained to expand the range of tools and features since many solutions will not require a financial license. MyCointainer has obtained a license and renewed it with success in late 2020.

Please check out latest news, expert comments and industry insights from Coinspeaker's contributors.