Currently trading at $825, Ether price is likely to be pushed straight away, breaking through $1,000 to as high as $1,500 in Q1 2018.
It took Ether just a single week to reach the target we outlined on Dec 14, within the range of $820-$850, with the digital currency now trading at $825. Looks like, technically, the overall scenario has been confirmed, as an ascending trend gains momentum despite the latest correction.
For now, one should watch the price moving around $815 in the short term (within a week), which is an important support level. Nonetheless, the market may push the price straight away, with the target being $925 – quite near the very important level of $1,000.
There also could be a negative scenario, with Ether falling to $815 and, if the support breakout occurs, it is likely to fall all the way to $685. In an even worse case, Ether may sink to $534, which is a trend line.
However, the most likely story is that Ether will continue rising and gaining more market cap. Once it hits $1,000 and remains there, there will be many more Ether fans around. Still, a good liquidity rise may only occur in case Ether derivative (like those of Bitcoin) are announced. The investors do not like the story currently happening at CME, perhaps because Bitcoin looks overvalued now, with the growth rate over the last 10 weeks too high even for the most optimistic traders. Ether is a different story: there's no 'bubble' about it, but there are some state-of-the-art technologies and, perhaps, an unlimited potential of those instead.
Ether cost $8.04 on Jan 1, 2017, while the current price is $820.91, and this is stunning. The digital currency exploded in growth after Sep 15; there had been some demand peaks even before, but the growth was moderate because of the lack of liquidity. The great ascending trend was triggered by Bitcoin rally, which helped Ether as its major competition.
One cannot exclude that Ether rally would calm down next year, but in Q1 2018 the current trend will most likely continue. After Ether breaks through $1,000, its next target will be $1,280, and then $1,500.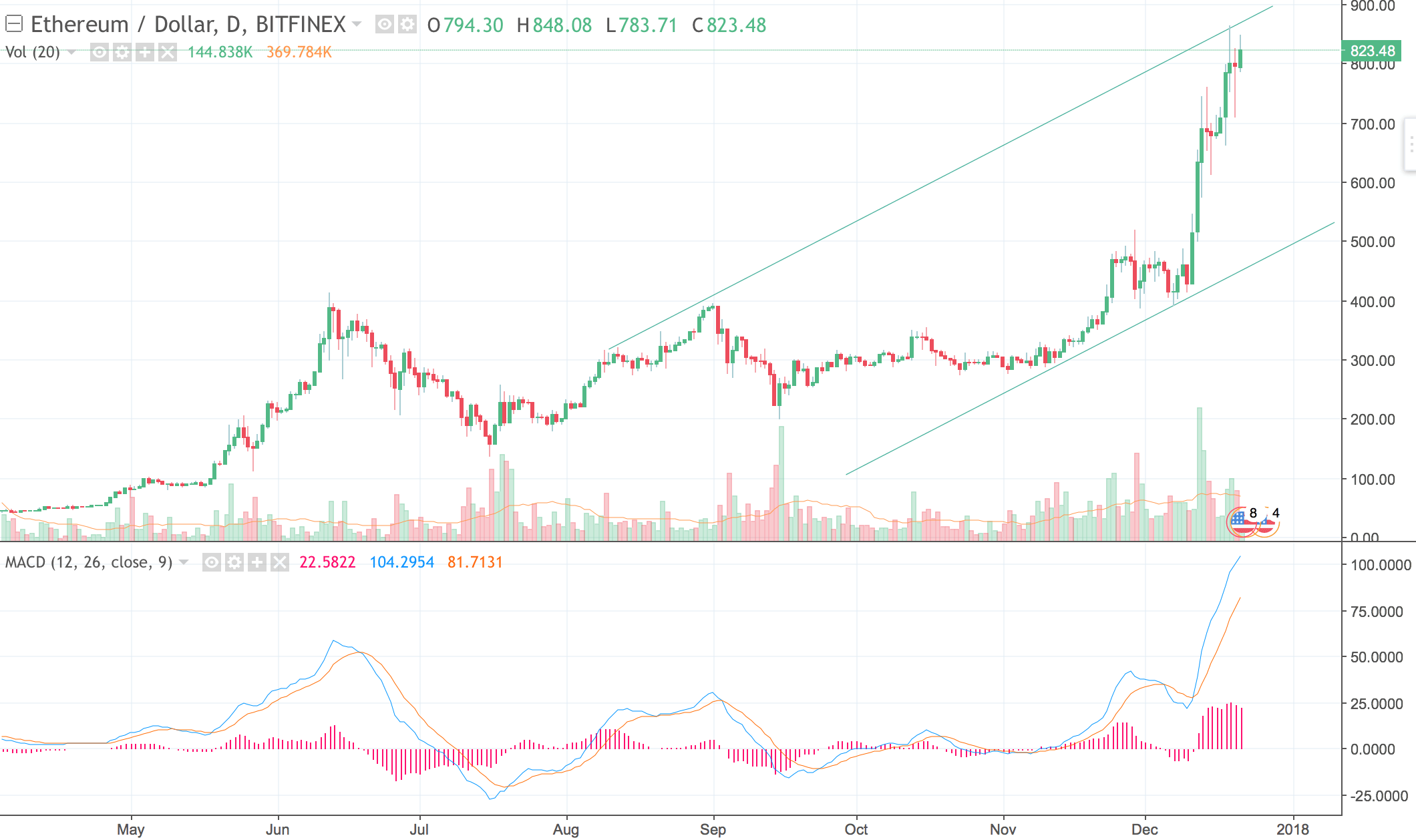 Attention!
Forecasts presented in this section only reflect the author's private opinion and should not be considered as guidance for trading. RoboForex bears no responsibility for trading results based on trading recommendations described in these analytical reviews. Author:

Dmitriy Gurkovskiy
Dmitriy Gurkovskiy, Chief Analyst at RoboForex
Subscribe to our telegram channel.
Join