It seems an eternity ago when Bitcoin was a fringe idea that was the mains currency of the nefarious dark web markets, a time when the wider society viewed with both distrust and derision. Times have rapidly changed for Bitcoin and the year 2017 is the biggest year it has ever had in its 8 year lifespan.
This year is so significant not only because Bitcoin has been able to multiply in leaps and bounds over 7 times its price from the beginning of the year, but because it has scaled through some of its toughest challenges yet, one of them being a Chinese Government crackdown a few months ago. Investors and speculators are trooping into Bitcoin, and the wider cryptocurrency industry's huge success this year can all be traced back to the zeal among investors to find the next Bitcoin.
With the rapid adoption of Bitcoin from big time investors, to everyday people and small businesses (who view it as a way of getting better pay for their services), the ways of acquiring it have been becoming more and more accessible as well. Gone are the days when you will need to go through a lot of trouble to get your hands on this prized commodity. Huge demand has ushered in the easiest and fastest possible ways of buying Bitcoin, with Credit/Debit card purchase leading the way in this category.
Bitcoin due to the irreversibility of its transaction has been very slow to be adopted by the credit card buying option. Most exchanges and sellers have been too fearful as the result of the ease through which credit card information gets stolen and misused by criminals without the knowledge of its owners. This often triggers charge backs when the real owners lodge complaints with their financial institutions. But this has slowly changed as the sheer demand for Bitcoin has forced the cryptocurrency traders to develop safer processes for buying Bitcoin using Credit or Debit cards.
Seven of the best known ways of buying Bitcoin using your Credit or Debit card include:
CoinMama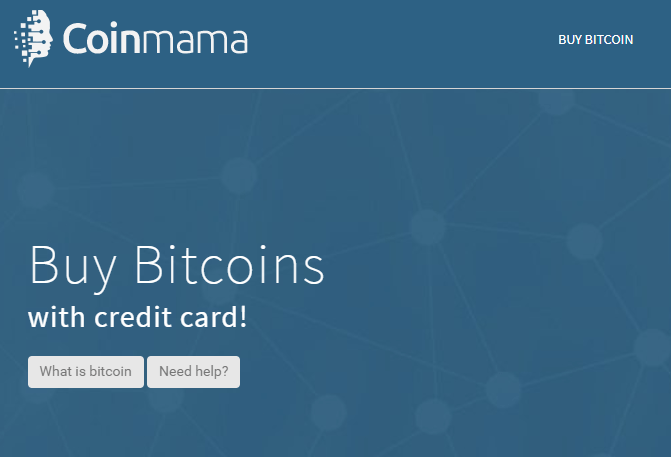 One of the first exchanges to hit the ground in providing flexible payment means for Bitcoin is CoinMama. This US based exchange has always tailored its business towards providing the easier payment option for their customers. Even before their adoption of credit and debit cards, CoinMama was one of the very few exchanges that allowed their users to make a Bitcoin purchase through Western Union. And now that they have adopted credit and debit cards, buying has even become easier
CoinMama is a very solid company with a great track record, which makes it  among the most reputable places you can buy your Bitcoins especially using your Debit or Credit card
When it comes to buying Bitcoin through Credit Cards, CoinMama is a bit of a specialist in this field. Their service is especially attractive to buyers because of the high volume of Bitcoin you can buy through this means of payment. Unverified accounts can buy up to $150 worth of Bitcoin, while verified customers can purchase up to $20,000 in Bitcoin, every single month!
How to Buy Using CoinMama
Navigate to CoinMama's homepage and the moment you land you will be met directly with the option of initiating your buying process. Find the Bitcoin column and insert the specific amount of Bitcoin you want to buy either in USD or in BTC, or simply choose from their offered packages for example 0.1 BTC, 0.5 BTC and the like.
Click on the "buy Bitcoins" button and this will redirect you to a sign up page on which you need to fill your personal details, as well as upload an ID document that has your picture attached to it.
The verification process with CoinMama is pretty quick as it rarely takes more than an hour and a half. Once verified you can complete your purchase by going to the payment page.
In order for your Bitcoin purchase to get through fast, use the Credit card payment using the Simplex option. And if you are not a verified customer (because you didn't upload your photo ID) you can still buy by using the Money Gram option. There you can buy your Bitcoin with your credit card without verification, although it is only open to US residents.
Once paid, you will need to put in your Bitcoin wallet address, be sure to make one ready before you reach this stage, and then click on "Proceed to Payment"
On the next page you will fill a form with all your credit card details through the Simplex portal to CoinMama. Once all checks out you will almost immediately receive your Bitcoins in your wallet.
Pros
Reputable company
Speedy service and easy verification process
Great customer support
Cons
Service limited to US residents only for now.
Coinbase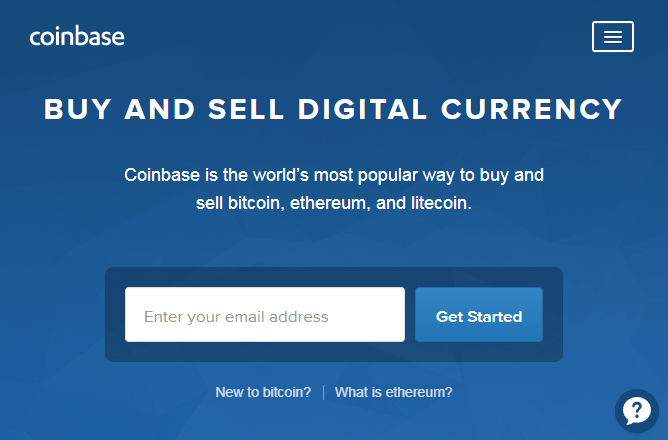 No list of ways of buying Bitcoin either using Credit card or any other means for that matter will be complete without including Coinbase, the world's largest Bitcoin broker. This is one of the most reputable exchanges in the whole world with very tough security protocols that has won them respect throughout the industry.
Coinbase for example is said to hold all its Bitcoin and other cryptocurrencies in a completely offline vault, that requires their staff to physically go and tap from for daily transactions on the platform. Coinbase is especially popular because they accommodate more countries than most other US based exchanges. As at present it accepts payment for Bitcoin from 33 countries with more rumored to be coming soon. A registered buyer could make an instant purchase of $150 per week and once fully verified, the number is bumped up to $1000 per week using credit cards.
For those that are completely new to the cryptocurrency universe but still want to buy their first Bitcoins, Coinbase comes highly recommended due to the relative ease it gives for a customer to conclude their purchase. It charges a flat 3.75% fee on each credit card transaction.
How to Buy Using Coinbase
Navigate to the Coinbase site using your browser and click on the sign up button to initiate registration
Fill in your relevant info in order to create your Coinbase account
Once you verify the registration through your email, log into your Coinbase account and find the "settings' on your dashboard
Click on "Payment Methods" and then "add payment method". Choose the credit/debit card option
You will be taken to a page where you will need to insert all your credit card info.
If your card gets confirmed you will need to go back to the site's buy/sell page, where you can initiate your Bitcoin purchase process.
Once your buy request goes through, you will instantly receive you Bitcoin on your Coinbase wallet. Always transfer out your purchased from any exchange once you are done with the buying process.
If you need to buy a higher volume of Bitcoin you need to upload your governments issued ID and connect it to your credit card. You will be charged an extra 3.75% processing fee, if it's a debit card however, no charge will occur.
Pros
Very easy to use interface that is ideal for first timers, and people not too familiar with the cryptocurrency world
Their fees are among the lowest in the industry
As the biggest Bitcoin seller in the world, Coinbase comes with a huge reputation behind it.
Cons
Still limited to 33 countries, not yet a worldwide service
It has a growing issue when it comes to resolving customer complaints especially with regards to resolving suspended account issues.
Bitpanda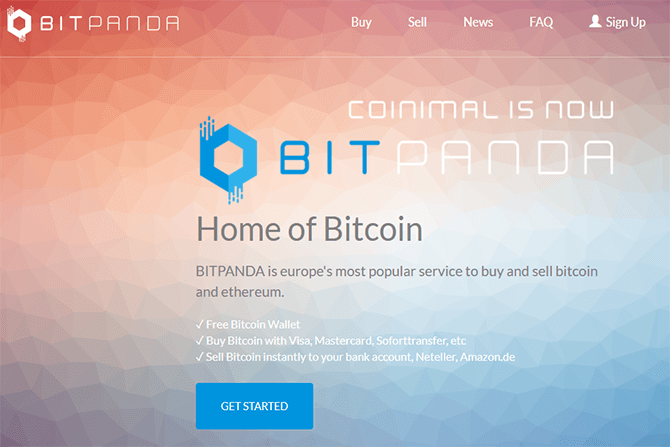 If you are in the Euro zone and are looking for one of the easiest ways to buy your Bitcoin then perhaps Bitpanda is where you should be looking at. This Austrian based startup came into business in 2014 offering a wide range of payment options such as Neteller, Skrill, SEPA and of course directly using your Credit or Debit card.
Bitpanda charges are not flat, as the payment means you choose determines how much you actually get charged. But on the whole, their fees are mid-ranged due to the array of chargeback modes they accept. Using your Credit Card actually has less charge than using the other options such as Skrill, as Bitpanda will typically charge you in the 2 percent region for any Credit Card transaction in contrast to 3.77 percent for most of the other payment methods
Bitpanda is innovative when it comes to its verification process, and the amount of Bitcoin you are allowed to buy depends on what verification level you chose. The lowest level which will require your phone number will allow you to buy 50 Euros worth of Bitcoin at an instant and a total of 600 Euros in any given month.
For fully verified accounts that have government issued IDs attached, the user get a huge rise in their daily and monthly purchase volume. A verified account is able to buy up to 2500 Euros of Bitcoin every 24 hours and a total of up to 75,000 in a month using just their Credit Card to make the purchase.
The Bitpanda platform is very intuitive and is easily navigated by those with the most basic know-how of the cryptocurrency industry. And it has an overall positive feedback as far as its customer service is concerned. For a company that has just been in business for a little less than three years, Bitpanda certainly seems to have a solid reputation that other companies who have been on the scene longer haven't been able to gain.
How to Buy Using Bitpanda
Go to the Bitpanda site using your browser and click on the"Get Started" button that you find on the homepage.
It will take you to the first step you need to take, which is verifying that you are registering using your own mail and not another person's. Insert you mail address and fill the captcha there
Once you verify your mail address, you can go on to create you account filling in the required personal details.
Once this is done, navigate to your account settings and add your payment option
Choose Credit/Debit Card, insert the relevant details and wait to be confirmed. This could be through a text message code or an automated call to verify your phone number
Once this stage is done you are ready to buy your first Bitcoin anytime you wish. Just log into your account and click on "Buy Bitcoins" at the top of your window on the navigation bar.
Put the number of Bitcoins you need and make your purchase
Pros
Highly respected and reliable Bitcoin broker
Has some of the lowest transaction fees on Credit or Debit Cards in the whole industry
Great and timely customer service
Cons
Although largely low, Bitpanda fees are not displayed separately but are somewhat hidden within the Bitcoin price itself
Limited coverage as only EU citizens are eligible to buy on this exchange
CEX.IO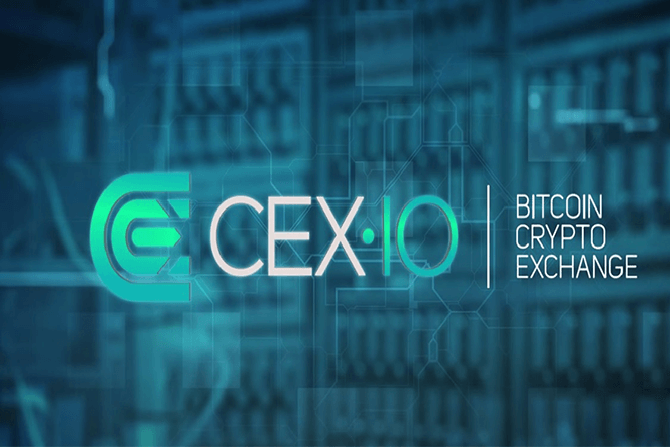 This is a Bitcoin broker that actually started up as a cloud mining startup in 2013, but has since transformed into one of the most famous cryptocurrency exchanges in the world offering easy payment options for its users. As one of the oldest in the business, CEX.IO has a lot of experience and has almost half a million registered users presently on its platform.
Given its openness to accepting highly risky payment options like Credit Cards, CEX.IO takes extra measures to verify a customer's identity before they are allowed to transact freely on its exchange platform. Once a user is verified however, transactions are very swift to conclude, as the buyer usually receives their Bitcoin almost instantly. And unlike other exchanges such as Bitsamp, CEX.IO always keeps its own end of the bargain by delivering exactly what was agreed on the Bitcoin transaction. For example if the buyer wants to purchase 3 Bitcoins at say $500 per Bitcoin and goes on to pay for it, that is exactly what they will get at the end of the transaction notwithstanding any volatility of the market.
It also has one of the most generous transaction volumes available for any exchange. A non-verified account can buy as much as $500 of Bitcoins in a day and up to $2000 worth in a month. Verified accounts can trade up to $100,000 in a month with daily transaction volumes pegged at $10,000. And if you want unlimited transaction powers then there is also a Verified plus or Corporate accounts available.
On the flip side, one of the biggest sources of pain for CEX.IO's users is its charges and transaction fees. Sometimes CEX.IO takes as much as 7% of the total amount you are paying as transaction fees. So if you were to buy $1000 of Bitcoin the amount you will eventually receive will be equal to $930 in fiat currency.
How to Buy on CEX.IO
Register with your mail on the sign up page, verify your mail address and insert all your accurate personal details along the way
Once your mail is verified, you can add a means of payment on your account settings, choose Credit/Debit card option
Insert your credit card details including the actual address the card is registered with.
If your card is confirmed you can go ahead and make your first purchase, by inserting the wallet address you need your Bitcoins to be sent.
Pros
Much more countries are accepted than any of the previous Exchanges, it is an almost worldwide service with the exclusion of a few African and Asian countries.
It is the oldest and one of the most reputable companies around
High buying limits, with the ability to purchase unlimited Bitcoins on corporate accounts
Cons
Very high fee is a big put-off for a lot of customers
Bitsamp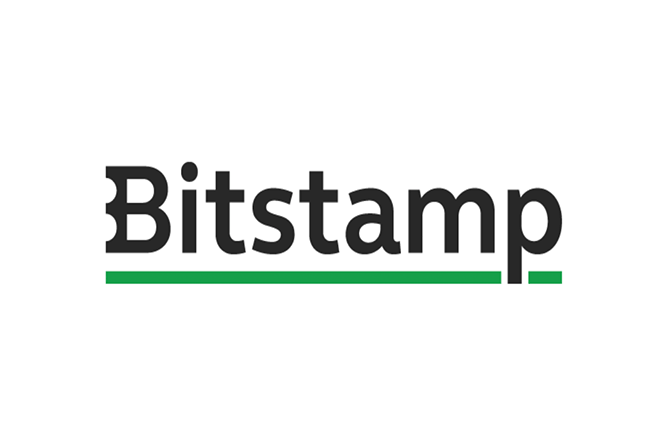 This is one of the very first exchanges to ever set foot in the cryptocurrency business which is registered in Luxembourg. It is very popular with Bitcoin buyers that are restricted from the other major exchanges due to their locations as Bitsamp runs a worldwide service. Bitsamp has a solid reputation within the cryptocurrency exchange communities as it has more experience than most on the behaviors of the market.
Due to their accepting of customers from every country, Bitsamp's registration and verification process requires extra patience on the part of the user. Verification of accounts to allow for larger amount of transactions take very long, and the overall user interface can be trying for those unfamiliar with this field.
Bitsamp accepts a wide range of payment options and it processes its credit and debit card payments through Simplex, the same service CoinMama uses for its customers.
 How to Buy On Bitsamp
Visit the accounts registration page of the site, and fill up the form with your mail address attached.
A unique username and password will be sent directly to your mail, which you need to activate it in order to proceed
Go back to the Bitsamp site go for the log-in page. Once there use the username and password sent to you to gain access to your account
Once logged in change the password to one of your choice, which will take you to the verification step
Fill the verification form with the required info, once done you have to wait for when Bitsamp notify you through email that your account has been approved.
Once verified you can go ahead in include your Credit Card details and make your Bitcoin purchase
Pros
It has a great reputation, which is a basic requirement for any exchange you end up choosing.
Accepts Credit card payments as well as other payment options
Accepts customers from all over the world
Cons
Fees are not the lowest in the industry
Verification process is out of your hand and can be tediously slow
The platform is not the most user-friendly you will see.
247Exchange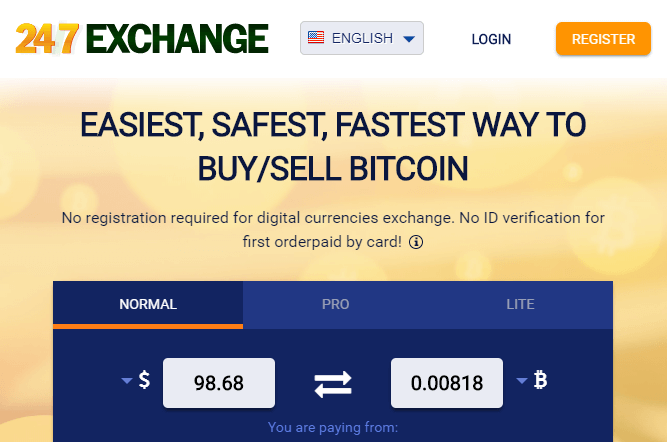 This is another great way of Buying Bitcoins using your credit card if you are not based in the US or European countries that most of the other exchanges exclusively serve.  This one of the most brilliant worldwide exchanges when it comes to customer support, its user interface is pretty simple and can be understood and navigated by those with basic know-how f the cryptocurrency industry,
Partly due to its accepting of all kinds of customers from every country, 247Exchange is a bit tedious when it comes to actually verifying your credit card. It is usually charged a meager amount of which you must verify on your account before you start buying. This charge sometimes gets "hooked" along the way and you may not get the necessary alert to conclude the verification unless you try severally.
How to Buy
Register on the site with your personal details and email address.
Verify your mail address using the link sent to you
Go ahead and choose your payment method as Credit/Debit Card
Insert your Credit card number and other details, you will be charged a tiny amount which you need to verify from the alert you get from your bank or credit card company
Once verified you can go ahead to make your Bitcoin purchase will be sent to your wallet instantly
Pros
Worldwide service
Exceptionally prompt customer support, one of the best in the industry
Cons
High transaction fees
Cumbersome and glitch-full verification process
Localbitcoins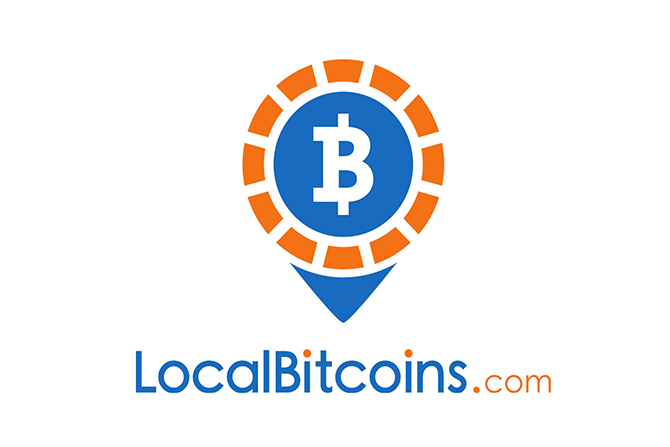 It is easy to forget that it is not only through different established exchanges that a user could make Bitcoin purchases. Even peer-to-peer market places such Localbitcoins offer this service, as they offer the most diverse ways of getting Bitcoins of which Credit Card payment is one of them.
With Localbitcoins you are not dealing with an established and registered exchange with huge headquarters. You are dealing with people just like you, who happen to have a lot of Bitcoin for sell and who might specify their own payment terms.  Vendors on Localbitcoins accept a wide range of payment methods like wire transfers, PayPal, local bank deposits or even gift cards.
What Localbitcoins will surely offer you is a wide variety of prices to choose from, as every vendor determines their individual selling rates. It also offers other advantages as Anonymity when buying as the vendors will not demand your personal info like the exchanges. And unlike exchanges, some vendors will ask that you to make an online purchase for goods worth the Bitcoins you are buying and have them sent to their addresses.
How to Buy Using Local Bitcoins
Register on the Localbitcoins site as a Buyer
On the main page of the site, fill in a "buy order" clearly stating the amount of Bitcoin you are buying, preferred means of payment, and your location
Wait to be contacted Bitcoin vendors that find your terms agreeable
Alternatively browse through the vendors' list and find whose reputation and terms of payment match your requirements.
Contact one another and conduct your transaction
Pros
One of the most liberal places to buy Bitcoins, even your Credit card payment has several variations according to the vendor's choice
Worldwide service as you will most probably find a vendor close to you
Possible to find very attractive prices
Cons
High risks of fraud, customers are encouraged to use the escrow option the site provides when making payment
Dealing with individuals with no standardized modus operandi can be tedious
So as you can see there are lots of different ways to buy or sell Bitcoins. It is up to you to decide which way of buying or selling cryptocurrency to choose. But the best variant to choose is to consider all the pros and cons of each method. Also, we need to mention that the main principal is security. It is necessary to be extremely careful and cautious while entering your payment card data. Remember that if you have any suspicions about the service you choose you need to stop any transactions there.  All the responsibility lies on you. The best way is to use services that were checked up by the people you know. Sometimes it can be extremely hard to bring the money back, especially if you were defrauded.