Using the Wolfystreetbets (also called Wolfy for short) prediction market as a vehicle to drive this vision, Wolfy aims to be the first to provide an avenue for a deep direct comparison between CeFi and DeFi.
Over the years we have become used to some stability in the modus operandi of many sectors and industries. But all of that is changing. And drastically, too. With technology and Artificial Intelligence taking over many spheres, nothing will remain the same again. The blockchain technology has even made these changes more glaring with its characteristic transparency and decentralized way of doing things. 
In the financial sector, a lot has happened already. With the introduction and adoption of cryptocurrencies, the trajectory has been set even for a more alarming current of change. The traditional financial system with its characteristic centralized institutions and organizations have proven to have lots of shortcomings and people are losing faith in them. Necessity has always been the mother of invention and viable alternatives to traditional financial institutions are already being put in place. And it's surprising how people are embracing these alternatives.
With approximately 2 billion people worldwide with little or no access to banking services and yet with access to mobile phones, Decentralized Finance (DeFi) becomes a viable vehicle to drive financial inclusion. DeFi gives power back to the people as it provides access to borderless transactions, lending and other financial incentives.
With the vision of true decentralization, the Wolfy ecosystem was developed to cause a disruption as well as build a bridge for the traditional financial systems in an innovative way. Using the Wolfystreetbets (also called Wolfy for short) prediction market as a vehicle to drive this vision, Wolfy aims to be the first to provide an avenue for a deep direct comparison between CeFi and DeFi.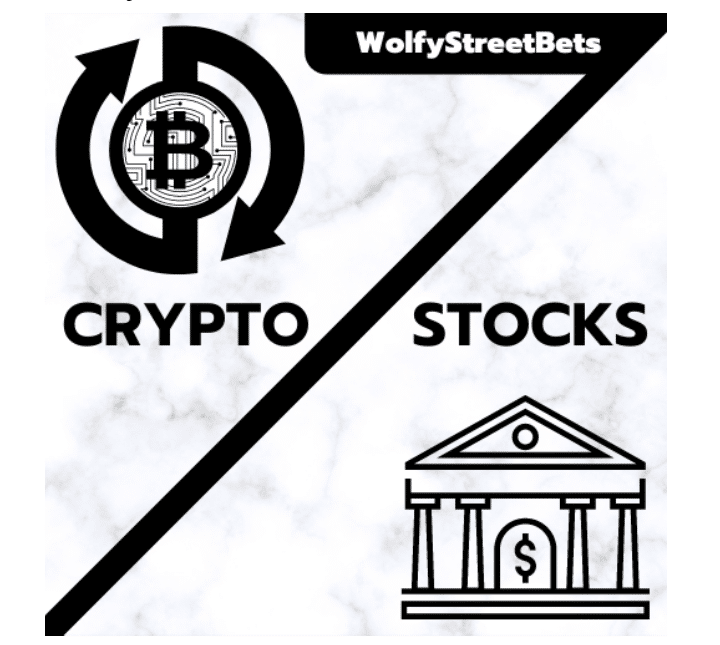 Prediction markets are new in the crypto space. And even though the DeFi vs CeFi concepts have been a major subject of debate between FIAT and crypto enthusiasts, no decentralized organization or crypto project has attempted to leverage on this gap. This is one ultimate advantage that Wolfystreetbets seeks to leverage on. And what more? It is the first project exploring this space. 
Wolfy as a system uses the blockchain technology and it is 100% decentralized, giving strong rewards to users and members of the community. Rewards come to users from the first day of their participation. Rewards range from direct yields from transaction fees to benefits from staking assets in the forthcoming prediction markets on the WolfyStreetBets dApp. The ecosystem does not support treasury or marketing allocated funds. All available liquidity is locked up in a Uniswap ETH/WOLFY liquidity pool from where it is accessible to every community member. I think that you can agree with me that this is the essence of true decentralization and community ownership.
The ecosystem uses a solidly written smart contract which creates and upholds the various prediction pools. These smart contracts contain the mechanisms that determine the results of the transaction round by carrying out complex computations based on real-time price feed fetched through Chainlink oracles. The frontend architecture allows for stress-free integration and provides a smooth experience for users.
The WOLFY ERC-20 token is the principal token on the Wolfy ecosystem. Community members benefit from frictionless rewards that are sent directly to their wallets based on a 2% transaction fee principle, providing them with passive income. The system is also a deflationary one; increasing scarcity and demand on every transaction. These also show the essence of true decentralization, community ownership and governance.
Plans are already in place to fully transition the project into a Decentralized Autonomous Organization (DAO) with the aim of facilitating user participation by allowing them vote on initiatives and direction of the project. Although the project is currently running on the ethereum chain as the only means of exchange, Wolfy intends to evolve it into a multi-chain ecosystem through a bridge to the Polkadot network and also to other value-adding blockchains. This is aimed at increasing value and decreasing barriers to participation.
The Wolfy ecosystem has a user interface which is remarkably friendly. Users will be set to experience various forms of chatting tools, risk/reward percentages as well as prediction statistics. The high contrast dark user interface makes it easier to skim through on the ecosystem and ensures that information is clearly seen and nothing is missed. 
According to CoinGecko, the decentralized prediction markets have a combined market capitalization of $US500 Million. (This excludes some smaller cap prediction market projects that are not captured by CoinGecko). On the other hand, the centralized prediction market boasts of a market share of about $1 Billion in bets just from American citizens. 
When considered closely with the gambling market which has a market capitalization of around $53.7 Billion at about 2019 (just in online betting only), the decentralized prediction market is set for a rapid financial explosion in the nearest future. With these, it is glaring that Wolfy's plan of bridging the DeFi and CeFi gap through Wolfystreetbets holds great financial promises. It's going to be interesting to watch how crypto enthusiasts will react to this. One thing remains certain nonetheless: the markets have the final say and it seems this verdict will be a nice one. Author:

Stanley Imoisili
Stanley Imoisili is a blockchain PR professional and marketer. He follows latest developments in the industry and consults for blockchain brands all over the world.
Subscribe to our telegram channel.
Join