The past year has been a challenging one for the crypto market, with both GameFi and Metaverse projects having both failures and brilliant cases.
It seems that everyone has already understood how the 2022 bear market affected the state of the crypto industry. Stablecoins and the FTX exchange collapsed, Bitcoin fell a lot, and this led to the fall of many altcoins. It seemed that many projects would not survive the changes that had taken place over the year, but at the beginning of 2023, the situation became more stable. The GameFi industry and the metaverses continue to develop actively despite the difficulties.
In this article, I will try to give an overview of the GameFi and Metaverse market trends in 2023 and tell you which projects have managed to interest users and which ones will be in the lead during the new period.
Are Metaverses No Longer a Miracle?
If the metaverses made a boom among crypto enthusiasts in 2021, it will not surprise anyone with the concept of an open virtual space for social and economic interaction. To stay at the top of the metaverse and GameFi market, developers will have to put in more effort than just using big concepts in the name of simple projects.
Users should not be in a hurry to become part of projects with the loud name "metaverse". Sometimes it can be MMO games that manipulate your desire to be part of an advanced community. As they say, DYOR.
Gainers & Losers: What Directions Will Win in 2023
So, I gave examples of how projects can manipulate trends in order to survive in the market. In general, crypto winter 2022 swept aside those projects that did not perform well. I've taken a look at the brilliant achievements of GameFi and the metaverses of the past year, and now I want to share with you so you can decide for yourself in which direction this year's trends are changing.
Otherside: richer than Scrooge McDuck. Yuga Labs is working on creating its own Otherside metaverse that will include brand images from various well-known NFT favorites, most notably the Bored Ape Yacht Club, but also the Meebits, Cool Cats, and CryptoPunks.
On April 30, the first round of the Otherdeeds NFT for this metaverse took place. In May 2022, these NFTs were being traded at a floor price of 7.5 ETH, with item sales generating over $310 million for Yuga Labs. In short, while the crypto market was "freezing", Yuga Labs was gaining momentum.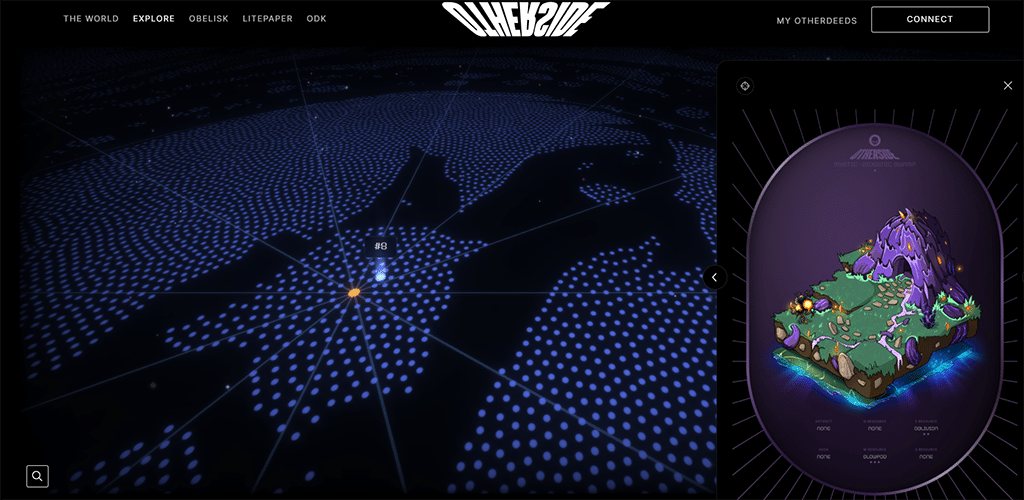 The project is currently under development, but on their website, you can see Otherdeeds – NFTs that are used as land plots of the metaverse. I hope the project will reveal its potential qualitatively.
Meta: Ambitions vs. Cruel Reality – Mark Zuckerberg's Meta project, announced in 2021, is a prime example of how big publicity can't save the day. The rebrand to create a unique metaverse didn't pan out, with the company posting a $9.4 billion loss by November 2022.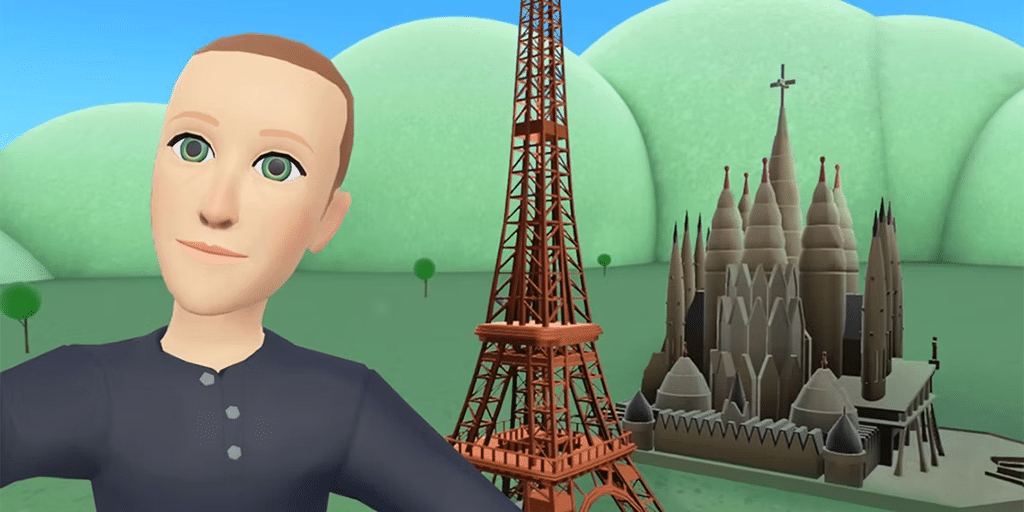 Virtual reality from Meta Horizon Worlds is rapidly losing its audience. Metaverse employees themselves find the metaverse boring and don't spend much time there. Since Horizon Worlds relies on the worlds that the players themselves build, the development pace of the metaverse leaves much to be desired. In the fall of 2022, according to the Wall Street Journal, the audience of the platform was less than 200 thousand people, while other well-known metaverses account for hundreds of millions.
Pixelmon: For losers of GameFi projects, Pixelmon stands out among them. A P2E game inspired by Pokemon, Minecraft, and Fortnite sold a collection of 10,000 NFTs in February 2022, earning a total of $70 million from the hype around its project alone. It was promised that the project would be a quality Play-to-Earn, but the launch failed all the expectations of the players.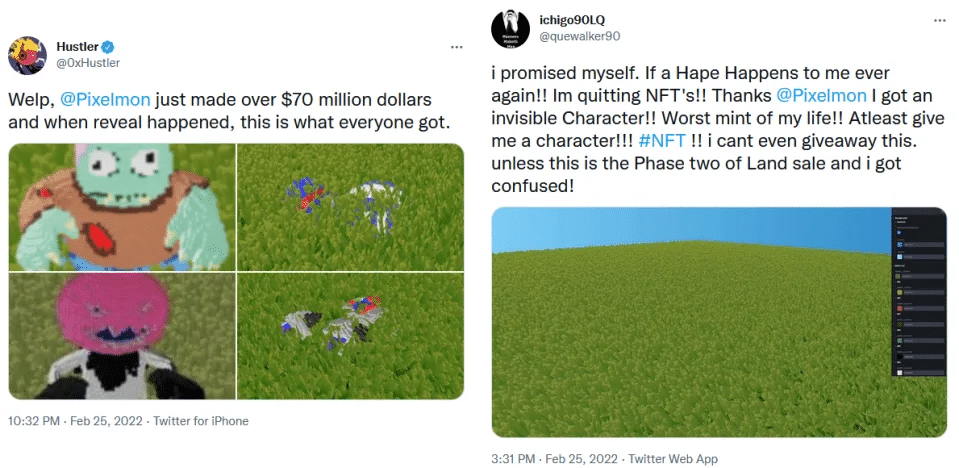 It turned out that some of the characters were standard Unity models, and someone even got an invisible character. In general, users were very upset. Perhaps now the project is actively working on improving the quality, but at the time of mint in 2022, it was clearly not the kind of project that should cost $70 million.
A bit of success – Luckily, 2022 has had its good moments in GameFi. User attention was attracted by projects such as the AAA-level game Illuvium. Like many blockchain games, the Play-to-Earn concept was implemented, and the project also has a native ILV token with a current market capitalization of $154 million at the time of the article's creation.

Why is Illuvium so notable and important to GameFi? This is the case when the game can accelerate the development of the sector. Now there are practically no full-fledged AAA blockchain games with developed tokenomics on the market, so even though the game is in beta testing, it is in demand among users.
What's Next?
It was not by chance that I drew your attention to the AAA blockchain game because in 2023 this direction will definitely become a trend.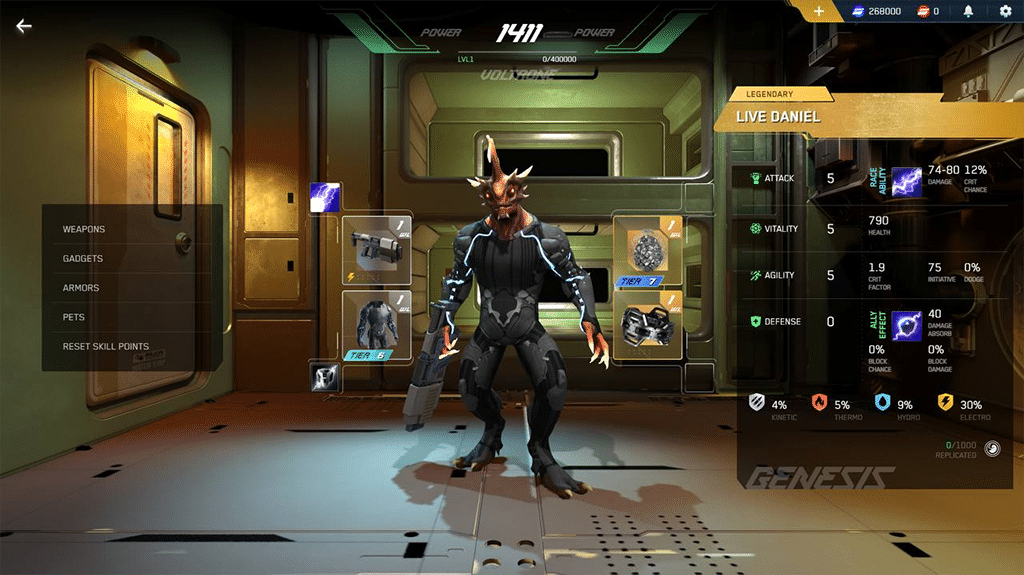 Blockchain game developers strive to make not just a P2E product, but games that are interesting for users to play. Powerful 3D graphics, captivating stories, an open world and unique NFTs will keep user attention in the blockchain game much longer than in simple browser-based token-earning apps. Illuvium, Guild of Guardians, Sidus Heroes, and Big Time are all promising.
Even more interesting is that more mobile blockchain games may appear. I think this is natural: not all users have access to a PC, but most have access to a mobile phone. These devices are an integral part of the lives of many, so the development of mobile apps will play a key role in the mass adoption of GameFi.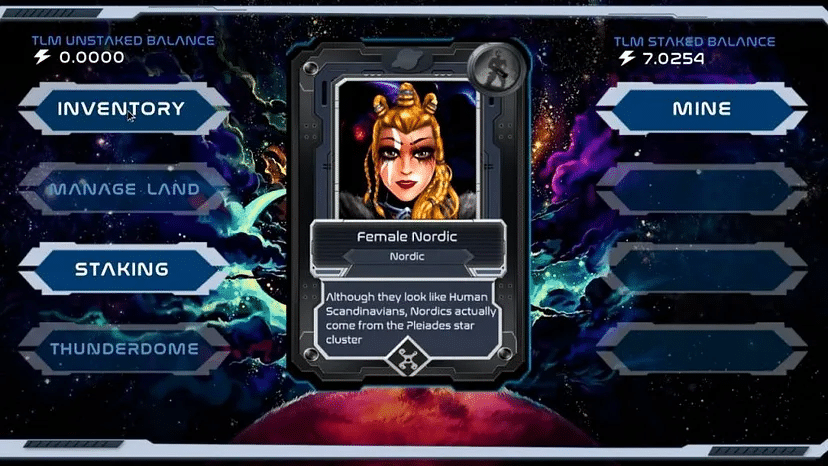 The implementation of DAO into games will also become one of the strategic tasks of developers. Alien Worlds has already created such a community inside the game, and it is likely that other projects will do the same. This is important not only for an exciting experience but also for supporting the very concept of the blockchain: if decisions are made in a decentralized way, the project develops in a way that suits everyone.
It may surprise you, but along with AAA games, the market will increasingly be filled with casual games. It's all about their addictive gameplay, development speed, ease of coding, and popularity among users. AAA games still struggle to enter the market, but casual apps earned $500 million in 2022, and this is not the limit. Based on Game Space's GaaS SDK, all GameFi casual game modifications are completed within seven days, so I wouldn't be surprised if every other person in 2023 has a favorite casual P2E app.
So far, these are the key gaming activities that can wait for us during 2023.
Summary
The past year has been a challenging one for the crypto market, with both GameFi and Metaverse projects having both failures and brilliant cases. Now projects are developing in several vectors, showing that takeoffs are expected in the blockchain gaming sector.
Particular attention is paid to AAA games and mobile and casual applications, as well as the growing decentralization of gaming communities. Shortly, blockchain games will be of high quality and exciting, and the experience of communication in the metaverses will be able to get closer to what it was originally intended to be. I urge you not to forget to DYOR and not be fooled by the advertising promises of the projects.

Author: Dan Khomenko
CEO of SIDUSHEROES.COM and NFTSTARS.APP. International entrepreneur with a global vision for innovation. Software developer. Property developer in Australia. Angel investor.
Subscribe to our telegram channel.
Join