Konstantin Anissimov, Executive Director at CEX.IO, shares his insights about the Bitcoin and Ethereum daily price movements.
The bullish market rally with which the week opened into has taken a new shape as the top cryptocurrencies including Bitcoin (BTC) and Ethereum (ETH) have surpassed previous All-time Highs (ATH) while setting new ones. Earlier today, Bitcoin attained a $64,758.25 price mark cementing its strides as one of the world's leading assets.
Ethereum bulls also pushed the coins price north of $2,300, setting an ambitious ATH at $2,397.32. The complementary growth of both digital assets by more than 11% in the past week gives an insight into the purported push by the bulls to rediscover new highs.
Bitcoin Price to $70,000 a Possibility
The current price of Bitcoin at the time of writing is $64343.8, up 2.58% according to data from the CEX.IO price feed. Ongoing buying and selling actions in the market are wedging a weight upon which the price is looking to crumble but the extreme volatility seems to be in the favor of the bulls.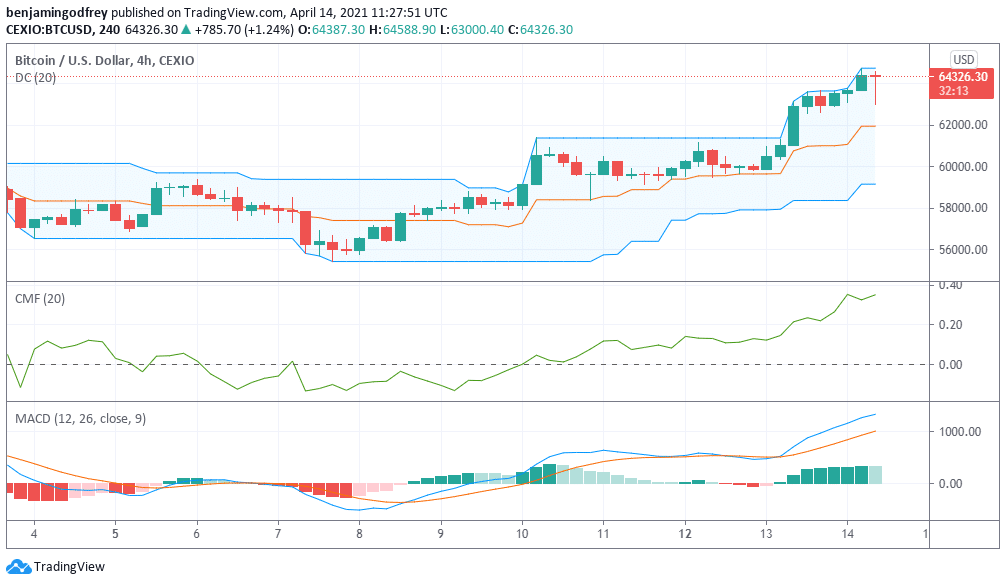 Despite the general health of the market as seen in the 4-hour BTC-USD chart above, the Bitcoin market is trying to settle in on the potential impact of the Coinbase public listing.
However, the market seems to be signaling a healthy retracement as seen by the bearish candle veering away from the upper band of the Donchian Channels. This is bound to be followed by an imminent push to $70,000 in the near term if the bulls maintain or increases their current stack up.
Ethereum Pushing to Break the $2,400 Resistance
At a current price of $2376.38 and a 6.63% gain in the past 24 hours, Ethereum bulls are pressing on to break the $2,400 resistance level, a feat that is possible seeing the coin is trading above its 50, 100, and 200 SMAs.
Consider the ETH-USD 4-Hour chart below:
The potential to break the next resistance level is high as the Awesome Oscillator is all bullish and no bear action is visible at the time of writing. Before the bulls achieve their $2,500 short-term price target, however, intermittent and healthy retracements might be recorded.

Author:

Konstantin Anissimov
Executive Director at CEX.IO. His area of responsibility includes customer relationships with institutional and VIP-clients, overseeing the creation of the company's development strategy, new products, markets and partnerships. As a member of the board of directors, Konstantin is also responsible for corporate governance.
Subscribe to our telegram channel.
Join