TomoChain (TOMO)
TomoChain is an innovative solution to scalability problem with the Ethereum blockchain, and other blockchain platforms. TomoChain features a 150-Masternodes architecture with Proof of Stake Voting (POSV) consensus for near-zero fee, and instant transaction confirmation. TomoChain supports all EVM-compatible smart-contracts, protocols, and atomic cross-chain token transfers. Scaling techniques such as sharding, EVM parallelisation, private-chain generation, hardware integration will be continuously researched and integrated into TomoChain which will become an ideal scalable smart-contract public blockchain for decentralized apps, token issuance and token integration for small and big businesses.
Market Capitalization
$ 39,971,900
24 Hours Volume
$ 914,503
Available Supply
59,603,650 TOMO
Total Supply
100,000,000 TOMO
TomoChain News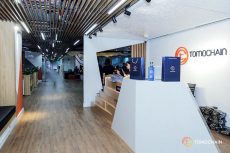 TomoChain, the secure and low-latency blockchain network, is set to revitalize the once-promising blockchain gaming space, providing the infrastructure for a new generation of tech-based gaming.