Thailand-based cryptocurrency exchanges, Bitcoin Co. Ltd will be closing down its cryptocurrency trading department. Is it really going to focus on other niche markets, or multiple hacks killed the company?
One of Thailand's most popular cryptocurrency exchanges, Bitcoin Co. Ltd has announced this Monday that it will be closing down its cryptocurrency trading department due to desires to focus on other niche markets.
The reasoning behind the shutdown may sound satisfactory for outsiders, but for the traders themselves, it's quite underwhelming. Several investors have already considered the fact that the exchange was hacked multiple times or that it's simply run out of liquidity and is facing massive debt in an already declining economy.
But, regardless of what the reason may be, the exchange has warned its customers that they will be closing down the department on the 30th of September and that everybody involved has until November the 1st to withdraw all of their assets. Deposits on the platform will seize on September 6th.
Chaos Ensues
The BX.in.th exchange was already quite popular among Thai investors due to their discounted prices on Bitcoin. At the moment of writing this article, several traders are desperate enough to get rid of their coins for $6,000 a piece while the official price on the exchange is around $9,000. The global price of Bitcoin is about to cross $9,800 according to CoinMarketCap, therefore it's quite the evidence for the panic.
Several ill-meaning individuals have also taken advantage of the situation where they launched Facebook campaigns to promote themselves as representatives of the exchange and offer assistance to traders by "taking their money for future compensation with Bitcoin".
Naturally, though, the local SEC is keeping everything under tight control.
Crypto Exchanges in Danger All Over the World
BX.in.th is yet another victim of the declining cryptocurrency market all over the globe. South Korea recently reported that 97% of all crypto exchanges in the country are on the verge of bankruptcy due to declining trading volumes.
It seems that smaller exchanges are starting to falter in their competitiveness with larger exchanges as they start adding benefits such as lower spreads, discounted offers and higher leverage.
The same issue could have caused BX.in.th's demise even though the exchange mentioned the interest in other fields as the primary reason.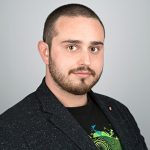 Author:

Konstantin Rabin
Konstantin has been working in the financial services industry since 2011. He is over-viewing various updates in the technology, regulation, and market movements. He's passionate about cryptos and all things financial.
Subscribe to our telegram channel.
Join