Konstantin Rabin, financial expert and crypto enthusiast, takes a look at how US' federal Wire Act likely to impact iGaming and cryptocurrency industry in the whole.
The United States authorities have renewed their efforts to double down on the online gambling community within their borders. By double down, it is meant that they're actually starting to ban them nationwide. Now, this may be some of the most horrifying sentences for an online gambling operator to see, but does it apply the same to those using cryptocurrencies?
You may not be aware that the United States houses several online gambling providers that allow deposits and withdrawals from their platforms. Meaning that every single person can fill up their accounts with cryptocurrencies either specific ones or general ones. No matter how much this is not advised, it's a way better source to keep your gambling expenses away from the bank in order to keep your credit clean.
It's a fact that these gambling websites managed to create their own cryptocurrencies, and in many cases were quite successful in bringing them to the crypto market. One of the most notorious ones according to Ruby Fortune casino experts is Unikoin Gold, which is a product of Unikrn.
What About the Ban?
Earlier in January, The Justice Department released an announcement saying that any type of online betting, not only sports betting, will be considered as a violation of the federal Wire Act, which had already been discussed way back in 2011.
Jennifer Robers, the associate director of the International Center for Gaming Regulation at the University of Nevada-Las Vegas, has commented on the development, saying that the universal ban on the industry will not only bring down casinos and online betting sites but also the sports teams associated with them.
The fact is quite clear, the online casino operators are in big trouble and that includes all of the ones holding cryptos. It is indeed discussed whether or not this will have any major effect on the crypto market. Which is always natural.
Several experts have already commented that if the US government truly follows through with the decision to outright ban every online gambling sites, the cryptos within them will surely perish, bringing the crypto market down by at least a couple of millions.
A couple of millions may seem insignificant in a multi-billion dollar market, but it could also spiral out of control as many people will not be aware as to what caused it, therefore thinking it is a new bearish trend and quickly sell off. It's quite easy to see the domino effect, but it is very unlikely to happen.
Even if the act does not follow through, many of the states will be inclined to refuse any further licensing requests from online casinos, further reducing the industry's growth potential. In one case or another, every cryptocurrency created by an online casino will surely suffer from the fallout of the Wire Act.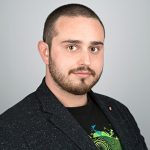 Author:

Konstantin Rabin
Konstantin has been working in the financial services industry since 2011. He is over-viewing various updates in the technology, regulation, and market movements. He's passionate about cryptos and all things financial.
Subscribe to our telegram channel.
Join