Centrifuge will use privacy-enabled NFTs to track asset ownership while keeping some of the assets' attributes private on a peer-to-peer (p2p) protocol.
There is a rising tokenization boom in traditional and decentralized finance projects who are building out infrastructure to support tokenization in 2021. Tokenization is finally becoming mainstream in the traditional finance world as small and medium-sized enterprises keep looking for new ways to raise capital.
In today's asset market, including invoices, real estate, and royalties, only the large companies and financial institutions are assured of access to liquid capital markets. As such, SMEs are left out of the system and need to depend on banks and financial intermediaries for their capital needs.
This lack of capital streams leaves even the most financially stable businesses out of the capital to enhance and grow their businesses. The lack of an open and transparent marketplace denies these smaller businesses access to competitive interest rates, mostly due to market inefficiencies and transaction costs.
As such platforms such as Synthetix, AllianceBlock, Centrifuge, and Unbound are taking a forward step in using decentralized finance in helping companies raise capital through tokenizing assets.
Decentralized Solution to the Asset Tokenization problem
Centrifuge, a decentralized asset tokenization platform, aims at bridging the traditional asset and royalties market through decentralized finance (DeFi) in an effort to minimize the cost of capital for small and medium-sized enterprises (SMEs) and provide DeFi investors with a stable source of yield uncorrelated from volatile crypto assets.
Centrifuge founders, Lucas Vogelsang (Co-Founder and CEO) and Martin Quensel (Co-Founder) – both entrepreneurs from the supply chain FinTech Taulia – launched the platform in 2017 with an aim to provide SMEs with a quick, cost-friendly and transparent channel for their capital needs. It aims to provide people from across the globe with solutions that allow you to save on the cost of transactions, trade, and make purchases using any tokenized asset – transforming traditionally illiquid assets such as real estate, digital art, songs, royalties.
The platform connects borrowers and lenders transparently and cost-effectively, free of intermediaries and the inefficiencies of traditional finance. As a decentralized asset financing protocol, businesses can tokenize real-world assets and use them as collateral to access financing through Tinlake, its asset-backed lending Dapp (Decentralized Application). Tinlake allows for on-chain borrowing against collateralized assets completely managed by smart contracts.
The platform raised $8 million in a seed round in 2018 and $4.3 million in SAFT (Simple Agreement for Future Tokens) in 2020. Investors in these rounds include IOSG, Fenbushi, Blueyard, Galaxy, Fintech Collective, Mosaic, Rockaway, Moonwhale, TRGC, HashCIB, Crane Venture Partners, Fabric Ventures, Atlantic, Inflection, Semantic, Mariano Conti, Stani Kulechov, and Julien Bouteloup.
It allows everyone to access capital liquidity and borrowers cab finance their real-world assets without any financial intermediary or bank.
Centrifuge is one of the firms that are partaking in the Kusama parachain auctions set to be slotted in September. The project will take part in the upcoming sixth parachain slot auction to begin on September 1st, at noon GMT. Kusama gives blockchain developers full control over the underlying blockchain itself. This flexibility gives parachain developers the maximum freedom to optimize for any specific use case—which means better and more secure DApps and services for all.
Notwithstanding, investors in Centrifuge also receive their native Centrifuge token (CFG) rewards, designed to incentivize users on the platform. Owning CFG gives users a stake in the Centrifuge network and can be used to pay for transaction fees, stake towards collators, and participate in Centrifuge on-chain governance.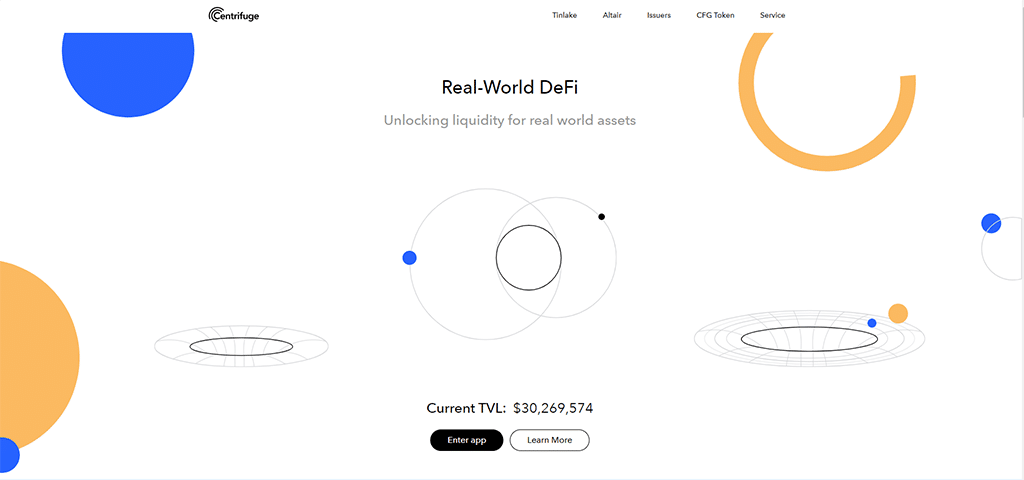 Transforming Asset Financing and Lending via NFTs
In 2021, non-fungible tokens (NFTs) have taken center stage in crypto due to their unique tokenized representations of individual assets. Centrifuge will use privacy-enabled NFTs to track asset ownership while keeping some of the assets' attributes private on a peer-to-peer (p2p) protocol.
The p2p protocol provides a method to create, exchange, and verify asset data and is used for private, off-chain data exchange. The asset originators can selectively share asset details with service providers who can assess the data and contribute pricing and underwriting information to the document.
The NFT, which could represent a mortgage, real estate, etc., is then used as collateral on Tintlake bridging the huge gap between real-world assets and the DeFi market. This expands access to asset financing, scales capital liquidity, and increases liquidity channels to SMEs and individuals.
Conclusion
Finally, crypto native platforms and projects are building solutions and infrastructure to support the migration of traditional assets to tokenized assets. It could revolutionize the global economy allowing users to use their tokenized assets for capital financing, and make purchases using the tokenized assets.  This completely changes how people interact with money and bridges the gaps between traditional finance and decentralized communities. Author:

Jeff Broth
Jeff Broth is a business writer and advisor. He consulted for SMB owners and entrepreneurs for 8 years now, mainly covering finance, cyber, and emerging fintech trends
Subscribe to our telegram channel.
Join