Dispersion Holdings is an investment company created by the co-founders of Argo Blockchain, which specializes in DeFi, and is about to launch its IPO on the Aquis Stock Exchange.
Decentralized finance, which the investment company focuses on, is a revolutionary technology using blockchain and cryptocurrencies. Thus, DeFi is able to provide various financial services in the fastest, cheapest, most efficient and secure way. Most DeFi apps are built on top of Ethereum, the second largest cryptocurrency platform in the world.
Dispersion Holdings has one of the most important challenges on its agenda – the development of fast-growing financial technologies in regions such as the United Kingdom, the United States and Canada. The company plans to achieve this goal through large investments. Thus, the company plans to list shares of the venture capital fund on Aquis and is ready to spend 25 million pounds sterling to make it happen. Dispersion Holdings says it plans to raise about £ 10m before expenses by placing 200m common shares, at 5p each, through Novum Securities and broker Tennyson Securities. The first stock deals are expected to begin later this month.
Yet another way to achieve a high level of development in financial technology Dispersion Holdings highlights helping start-ups and early-stage companies to maximize their profit opportunities and accelerate their growth. For example, PLuto Digital Assets, a cryptocurrency company that gained its high popularity in a fairly short period of time, namely from January to March 2021, raised $ 40 million in the first round from Argo Blockchain, a cryptocurrency mining company.
Today, the startup is actively preparing for an IPO on the London Aquis Exchange, registered as ATS (Alternative Trading System). The first step for PLuto Digital Assets is to obtain permission from the FCA for listing on the exchange. Moreover, in order to achieve this goal, the choice fell on Aquis for a reason, because the company strives to minimize attention to detail and reporting in order to quickly implement its plans.
If we talk about the development of Dispersion Holdings in Canada, then it is worth noting the Toronto Stock Exchange (TSX), which has already started trading Ethereum ETF (ETHR), which will be offered to clients without charging commissions. Among other things, Ethereum ETFs from Purpose Investments and CI Global Asset Management will also be available to exchange clients.
The issuer, Evolve, in order to gain a competitive advantage by May 31st, will refuse to charge 0.75% on transactions and reduce the cost of servicing shares, which, by the way, are also reliably backed by the real cryptocurrency ETH.
It was not in vain that Dispersion Holdings drew attention to the Canadian exchange, because it is the first platform in the Americas where you can freely transact with shares backed by Bitcoin and Ethereum.
As a result of the above, we can safely say that Ethereum, in the event of a long correction, will be able to hold out better than Bitcoin. The dominance of the latter, however, fell below 50% and is at the level of 48.8%. Ethereum's market cap peaked on April 22, 2021. and amounted to $ 290.59 billion, today the capitalization is $ 271.06 billion, is still holding in 2nd place, but increased the gap from BNB by almost $ 200 billion.

The Uniswap DeFi exchange, built on the Ethereum platform, boasts the same strong growth in capitalization.
Despite its main drawback – high commissions, Ethereum still remains an attractive coin, and projects built on its basis are being deployed on a larger scale. Several very important network updates are expected this year, which should reduce the price of the network's "gas".
In terms of technical analysis, Ethereum proved today that it is not ready to give up so easily and bounced up from important support.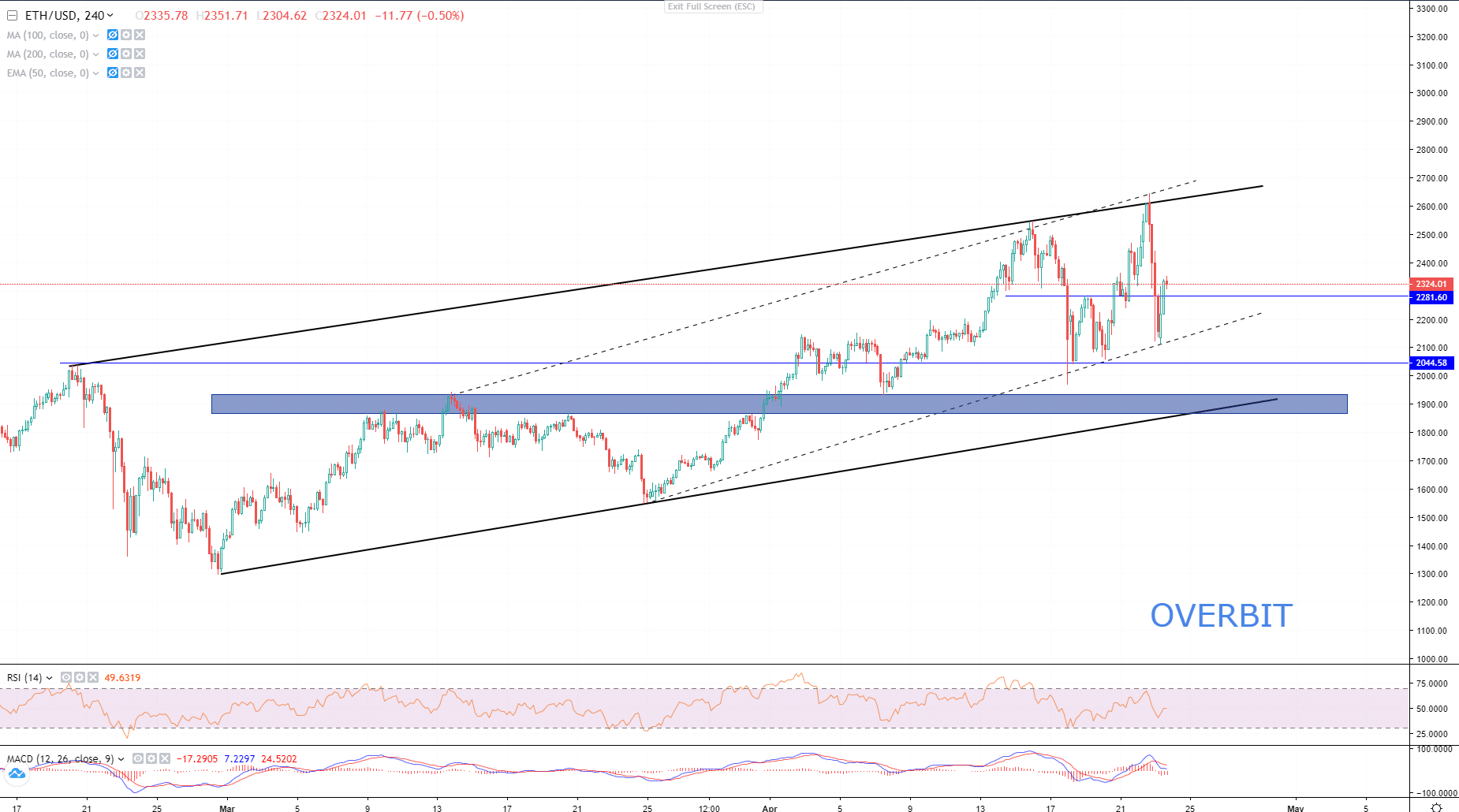 It is important to note that Ethereum is currently trading above the $ 2280 resistance, if ETH holds above this resistance, then it is possible that we will see an increase to $ 2500 and $ 2600.

Author:

Aziz Kenjaev
Senior Vice President at Overbit. Technical analyst, crypto-enthusiast, ex-VP at TradingView, medium and long-term trader, trades and analyses FX, Crypto and Commodities markets.
Subscribe to our telegram channel.
Join