Ethplorer isn't the only Ethereum tracking service out there. What makes it unique is its ability to track any number of addresses and transactions – millions if needed.
Explorers are blockchain search engines that enable the tracking and gathering of on-chain details and statistics. Every public chain has its explorer for developers and users to keep tabs on on-chain activities and vital metrics. There are several blockchain viewers in Ethereum, one of them is Ethplorer.
Because public chains are transparent, developers can use blockchain explorers to access and even extract different details related to wallets, transactions, rich lists, messages, and so forth.
Focus on Ethereum Tokens
The presence of free tools to track ETH and tokens helps in the adoption of smart contracts and blockchain. The Ethplorer displays the information of ERC-20 tokens to the public.
Through the explorer, anyone can gather information detailing the market cap, price, and ranking of each token. Information about transaction counts is also available. Details about the time posted, token symbol, the addresses of both the sender and receiver and the amount moved can also be gathered from the explorer's main page.
The Ethplorer Bulk API Monitor
The team is also introducing the Ethplorer Bulk API Monitor, an optimized tool for tracking an infinite number of Ethereum tokens and addresses which requires minimal resources and coding. All that's needed is to add an address or a monitoring contract. Once the addresses are added to the tracking list, Bulk API returns all the operations related to the addresses as they appear in the Ethereum blockchain.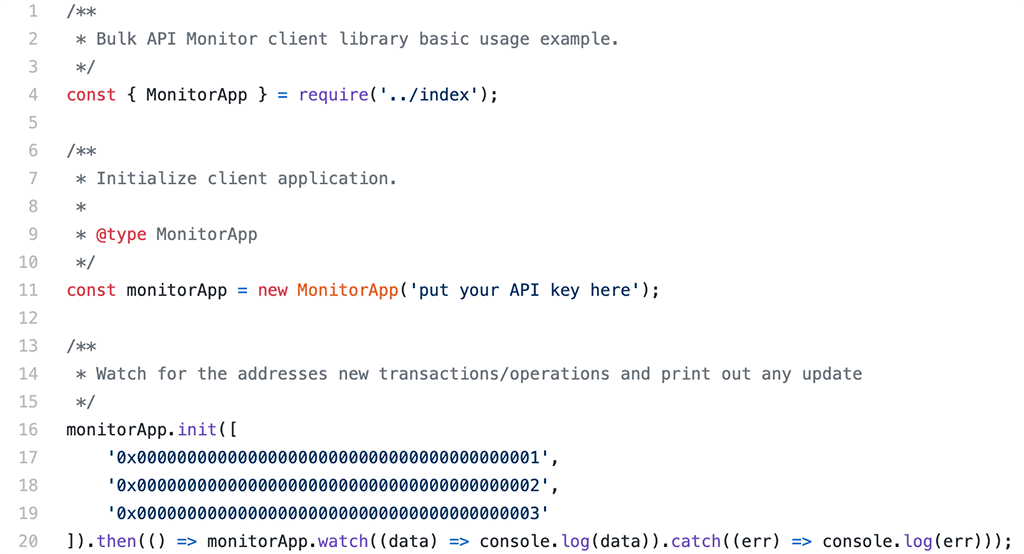 The portal gives new powers to wallet developers, address monitoring services, exchanges, airdrops, and all platforms/service providers that deal with a large number of Ethereum-based token addresses.
Using the Ethplorer Bulk API Monitor, one can track tokens or transactions for a list of addresses. This service targets developers, but Ethplorer also offers a Watching Service for regular crypto users, with automated alerts via email and Telegram. It's also based on the Bulk API.
How It Works
To track transactions related to specific addresses, a user needs first to create a list (pool) of these addresses. Next, the developer can ask "getPoolLastOperations" every minute, setting the period for 3 to 5 minutes, to get a list of transactions for the whole pool. Each request can return up to 10,000 transactions for the all addresses involved in the requested period, including details of each transaction and values in the tokens and balances for participating addresses. This way, there isn't a need to make additional requests.
Alternatively, to track a limited number of tokens, the user can add their contract addresses to the pool. Once done, the Bulk API Monitor will return all the transactions with these tokens, regardless of which addresses involved. It is also possible to manually add addresses to the same pool and get all the transactions for these addresses (and any ERC20 tokens) in the same response, saving time.
Every API Key used is billed depending on the number of transactions tracked in every pool. Depending on the number of queries per month, a user can use the tool for free or subscribe to a premium plan.
Billing Plans
For every transaction found, one tick, or credit point, is billed. In addition, there are minor daily charges to avoid keeping unused addresses in the pool.
In general, the average daily transaction count in the Ethereum blockchain is about one million. So, for example, tracking 1,000 addresses that produce even 40,000 transactions a month will go into the Basic Plan of $14.90 billed monthly. On the other hand, the Ultimate Plan charged at $699 per month is enough to track millions of transactions, which is enough to cover the monitoring scope of a typical Ethereum project. With this, developers can easily project their costs without fear that monitoring costs could impede user growth.
There is also a free plan limited to 1,000 ticks worth of searches per month, enough for individual, non-commercial purposes.
Of course, Ethplorer isn't the only Ethereum tracking service out there. What makes it unique is its ability to track any number of addresses and transactions – millions if needed. This is possible with the introduction of Bulk API Monitor – a specialized developer tool that will fit the needs of crypto projects of any size.