The need for better transparency and compliance with laid down rules will be critical in 2023.
In a recent speech, Leo Zhao, a venture partner of M-Ventures which is MEXC, a global cryptocurrency exchange, talked about the various opportunities and prospects the cryptocurrency market could provide for institutions in 2023.
Leo explored the following core points:
How blockchain layer-2 solutions and Zero Knowledge Proofs technology are maturing.
The state of crypto mainstream adoption
Transparency and regulatory compliance
Review of the Current Market
LUNA and FTX
The significant drop in Crypto Market cap and Defi TVL
The decrease of crypto developer activities
VCs keep investing in the industry
The Ethereum Merge, the boom of L2 TVL, accrual in value
NFT gets the mainstream spotlight
To summarize the current state of the crypto market in 2022, he compared last year's events to the Box Office movie, The Good, Bad, and the Ugly. In his assessment, the movie best summarized everything that panned out last year. From the record-high inflation, the continuous FED interest rate hikes, and the effect rising fund rates had on the capital market, which eventually precipitated the severe decline last year.
Typically, he noticed, when the regulatory "tide" recedes, the financial markets tend to de-leverage quite quickly, and it was evident last year. When the cracks began to widen, most firms found themselves swimming naked. In Terra and LUNA's case, it was more severe. At peaks, they were valued at $40 billion and $20 billion, respectively. They crashed, and people, including institutions that had exposure, lost money. In FTX's case, they raised $2 billion, only for them to take out $8 billion of the much-needed liquidity from the gapping crypto market. These quick, damaging sequels have punctured investor trust in the industry. Confidence can only be reclaimed through solid, genuine actions.
Liquidity is currently low and investors are playing safe. Looking at crypto charts, the total market capitalization dropped from $3 trillion at 2021 peaks to around $800 billion, shedding 73 percent. On the other hand, the total value locked (TVL) across DeFi protocols in all blockchains shrunk from $218 billion to $54 billion, representing a 75 percent decline.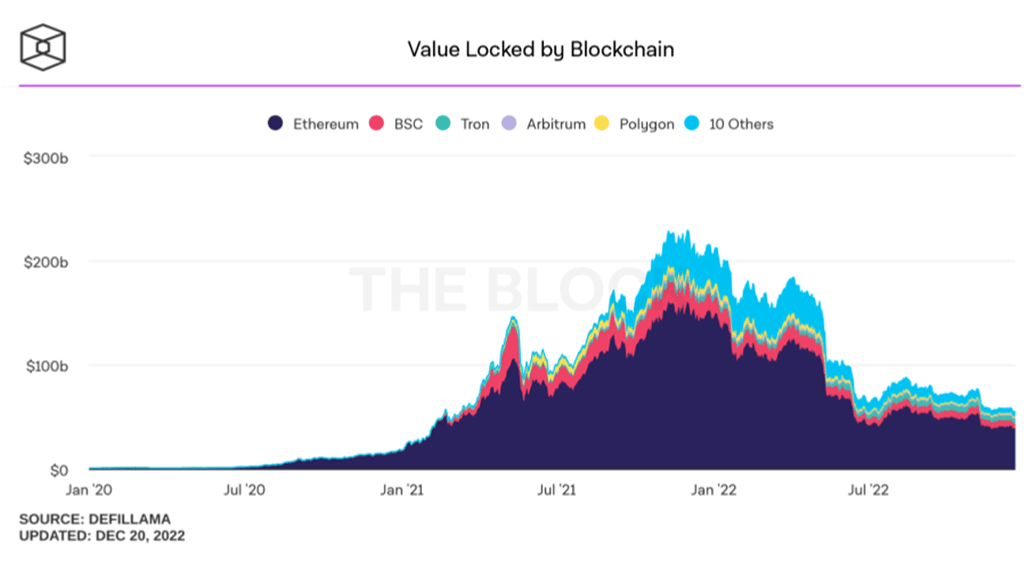 In reflection of the general apprehensions across the board, developer activities for Ethereum Virtual Machine (EVM) and non-EVM blockchains have also contracted significantly.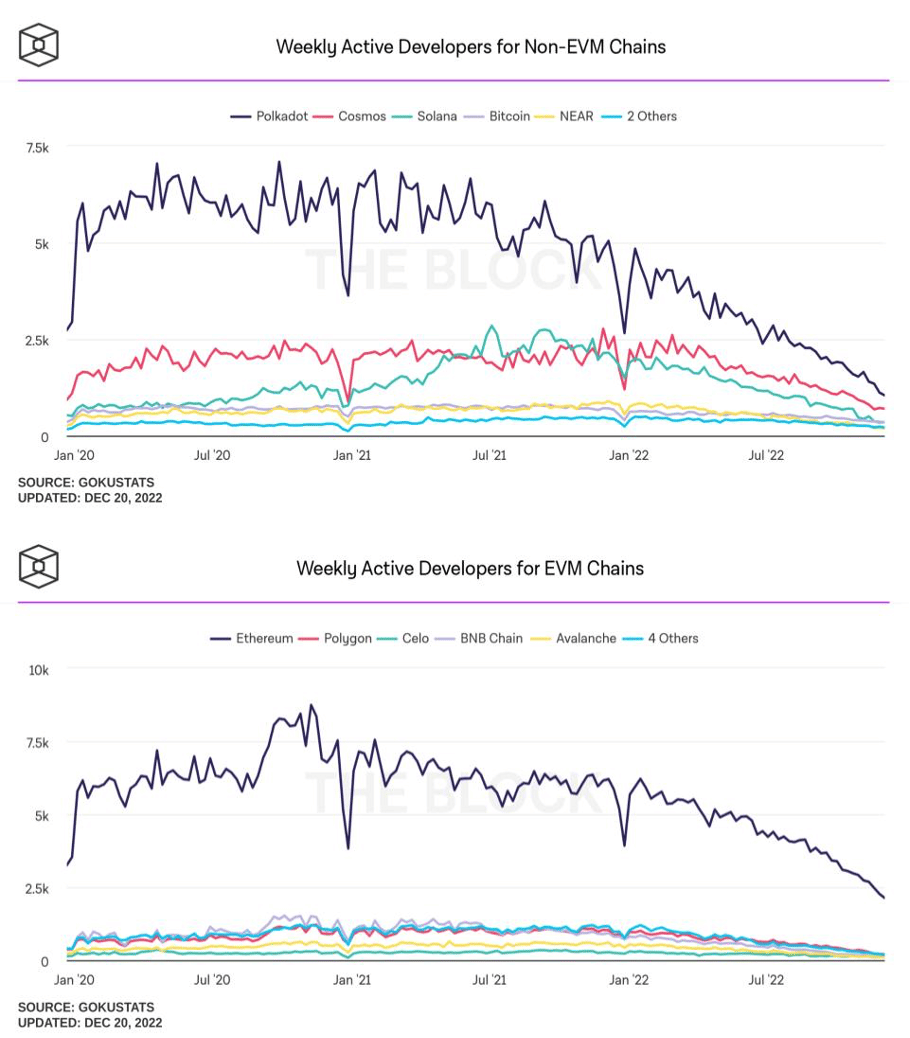 However, this is one big exception. Despite the free-falling markets, crypto venture capitalists with deep pockets are doubling down. They appear to be scooping worthy projects. As charts reveal, bear markets are historically the best time to invest.
The impact of the Ethereum Merge is also clear. The Merge was historic for Ethereum and its effects are being felt today. ETH is gradually becoming ultrasound money. In 97 days after the upgrade, only 2000 ETH has been added to circulation instead of the 1.1 million worth $1.2 billion that could have been added, and possibly sold by miners.
What Crypto Must Overcome
Limits in infrastructure
Poor user interface and experience
Opaqueness and compliance
To resolve these challenges and create opportunities, problems must first be detailed. Leo Zhao previewed that the three main problems mentioned above should be satisfactorily resolved.
The current misconception in crypto and blockchain scenes, he said, was the assumption that infrastructure only encapsulated layer-1 and layer-2 platforms. In his view, there are centralized elements of blockchain that must first be tackled. He cites GitHub, a repository that can easily censor Tornado Cash codes. Besides, there are cross-chain bridges that are continuously being targeted, costing protocols millions of dollars.
Unlike web2 where navigation and interactions are smooth, it is scary for ordinary, non-techie individuals to use blockchain-based solutions. On average, even storing seed phrases can be terrifying for the average user.
Zhao also took issue with centralized institutions saying there should be more transparency and a clearer regulatory framework to spark adoption.
Trends and Opportunities in 2023
L2 and ZK Technology for scaling blockchains are maturing:
TVL of popular Ethereum L2s like Arbitrum and Optimism is rising
ZK
Other modular blockchain solutions
NFT everything. People no longer need to ask "what is NFT", instead "which NFT should I ape into?" Gaming, Social and Music
MPC wallet and Smart Contract Wallet
The migration of Web2 users
Transparency and Compliance
CEXs now have to be more transparent or get displaced by DeFi
There is more clarity on crypto assets regulations
Hong Kong
To streamline processes, Zhao said the following trends and opportunities could rise in 2023 and subsequent years:
First, he notes that scaling solutions are maturing and are being adopted. Although TVL dropped in USD terms, more people appear to be locking their assets in DeFi protocols since the number rose from 250k to nearly 4 million ETH. At this pace, he predicts more activities to be migrated from the mainnet to layer-2 as more interesting opportunities arise, ranging from layer-2 as-as-service for specific applications. Zhao also said developers will also look to release more reliable bridges and aggregators.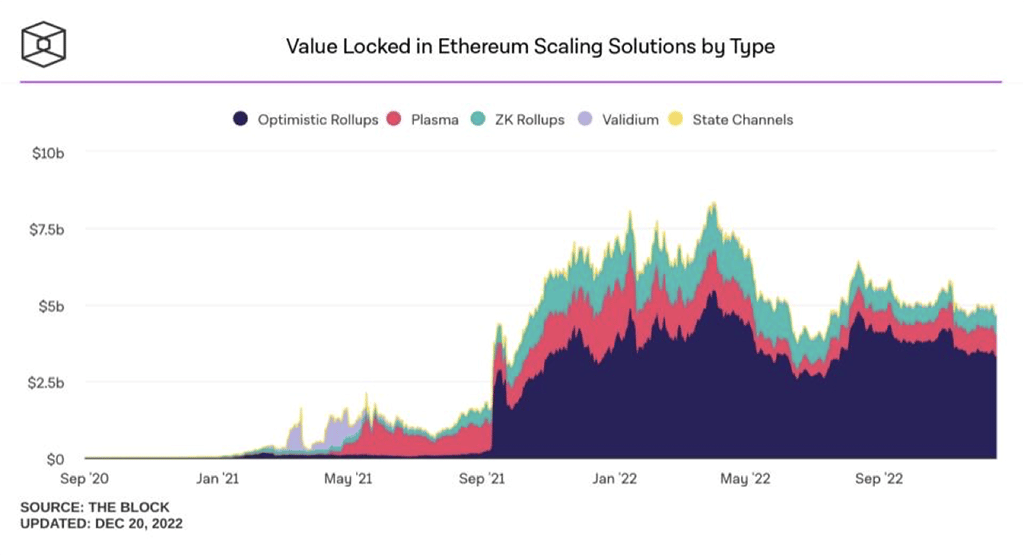 Besides L2, ZK Rollup solutions are catching up, especially with zkSync and StarkWare deploying solutions. As the sector booms, Zhao sees opportunities in ZKP Hardware, personal data marketplace, and ZK-powered cross-chain bridges.
NFTs usage might have dropped in 2022 but Zhao thinks the sub-sector could flourish in 2023. As data shows, the number of users with Lens Profile is on the rise. The Lens Protocol is a permissionless, composable, and decentralized social graph. All these social graphs are NFTs, meaning all your social activities can be integrated by developers. The way Lens Protocol is designed, this technology could revolutionize the way social apps are built, while also heavily influencing music and gaming.
Web3 dApps, especially wallets, will likely have better designs in 2023. Just like how there are social recovery, logins, and semi-custodial controls of accounts in platforms like Google and Facebook, it will be possible for web3 users to invite users to co-manage accounts through email and other means.
There will also be a paradigm shift in gaming. Whilst traditional desktop and mobile gaming have a $90 billion annual revenue, Play-to-Earn (P2E) blockchain games are still in development and are in the "web page" gaming era. P2E and blockchain gaming are getting started as their infrastructure, including those of better distribution, trading, and engines, are being developed.

Lastly, the need for better transparency and compliance with laid down rules will be critical in 2023. If centralized institutions fail to comply, their market share could be gnawed by innovative DeFi protocols, launched on the blockchain, offering higher levels of transparency. As this takes shape, more governments will be required to provide more clarity on the regulatory framework for crypto and blockchain to be adopted by the next billion users.
Conclusion
As he concluded, Zhao advised developers to pick out these opportunities and build on them. He urged crypto venture capitalists to keep investing in solid ideas above as they will ultimately light up the future and provide a better financial world.
About M-Ventures
M-Ventures is a crypto fund under MEXC Global, with $100m+ AUM and 300+ portfolio investments. We constantly study the market and the different sectors of the crypto industry to search for the next billion-dollar ideas. It's my pleasure to take this opportunity to share with you some of our observations.
About MEXC
MEXC is the world's leading cryptocurrency trading platform, providing one-stop cryptocurrency trading services for spot, ETF, futures, Staking, NFT Index, and more. MEXC currently serves more than 10 million users worldwide and embraces the philosophy of "Users first, MEXC's Changing for you".

Please check out latest news, expert comments and industry insights from Coinspeaker's contributors.