Cross-chain networks will play a decisive role in the development of DeFi and decentralized applications, and the most applicable rival to Polkadot in this battle of cross-chain environment is Cosmos.
Though Wanchain is referred to as the first blockchain interoperability solving project, it's built on Ethereum network, and Chainlink is a decentralized oracle network, which is aimed to connect the off-chain data to blockchain.
Polkadot – a blockchain founded by former Ethereum CTO Gavin Wood, which has the Ethereum 2.0 functionality already integrated. Polkadot uses parachains – blockchain within a blockchain also known as shards, which is yet to be applied by Ethereum network during the Ethereum 2.0 transition. In both, Ethereum and Polkadot, shards send asynchronous messages between shards, though while shards in Eth 2.0 have the same state transition function, in Polkadot each shard has a unique STF.
Both blockchain technologies have a main chain, Bacon Chain on Ethereum 2.0 and Relay Chain on Polkadot. Shards in Ethereum 2.0 will have access to each other's state via their crosslinks and state proofs. In shared inter-connectivity, Polkadot uses the Cross-Chain Message Passing mechanism, whereas shards open connections with each other and share information. Security protocols of Ethereum 2.0 and Polkadot are same, shards of each network are secured by the main chain.
These were the similarities and differences between Ethereum 2.0 and Polkadot, I compared the two and did a research just to understand if Gavin Wood was able to bring out something new or made a copy of Ethereum network. Looks like a bit of both.
Unlike both Ethereum 2.0 and Polkadot, whereas at this time there are limited number of shards, Cosmos uses independent main blockchains and independent blockchains that are connected to the main blockchain, so called hub and zones model. Taking that into account, we could say that every blockchain being independent has its own security consensus which is provided by independent blockchain's validators. Blockchains in Cosmos network are connected via IBC (Inter-Blockchain Communication) protocol and instead of connecting each blockchain to one another, each blockchain connects to a hub.
One of the key factors in choosing a blockchain interoperability network is the transaction speed.
Current version of Ethereum provides – 15 transactions per second, though in Ethereum 2.0 the founder Vitalik Buterin already noted that the transaction speed will increase up to 100,000 tps.
Cosmos – can provide up to 10,000 tps.
Polkadot – transaction speed declared by the Founder is 1,000,000 tps.
With that being said, Polkadot has an edge over both, however this number is yet to be proved.
Let's take a look at the market cap:
Polkadot ran a denomination of the network's own token – DOT, which subtracted 100x from the original value of the token, making it more affordable and attractive for investors. And speaking about the denomination, right after the denomination, DOT got listed on Binance, resulted in a massive 118% gain.
Polkadot is ranked No. 6 on CoinGecko and is very close to overtake the 5th position from Chainlink.
One of the cons of listing a token on high-volume exchanges is that eventually the token will follow the price action of the first 4 tokens, aside USDT which is a stable-coin.
Here are the price actions of Ethereum and Chainlink for your consideration: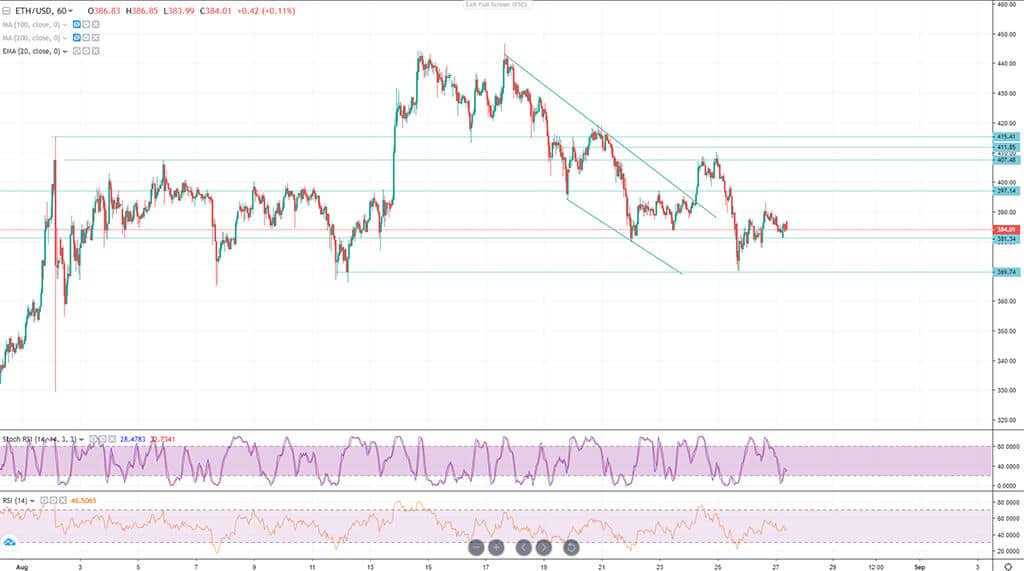 Cosmos network token – ATOM on the other side, is ranked 16, though gained an impressive 99.08% Month-to-Date, making a Year-to-Date jump of 188%, and from the technical point of view the price will continue the bullish run.
And now, the turn for Polkadot (NEW), the denominated token.
An expanding diagonal, not the best chart pattern to see when you are expecting the price to skyrocket as it signals the bearish continuation upon breakout. However, any divergence lead by bears can be picked by bulls who are waiting for the best buy signal, i.e. any support zone. Polkadot is still PoA and is yet to advance to the PoS, so when there are clear announcements of the PoS transition, the price might well continue the bullish run.
Currently, both Cosmos and Polkadot are considered to be the major rivals of Ethereum 2.0. Both provide interoperability of blockchains, which can be used in a variety of ways, and since DeFi and blockchain adoption is growing rapidly. These projects will remain in a high demand, the difference between these are in their consensus and modules, however all share a common cause of providing a faster and secure transaction between various blockchains.

Author:

Aziz Kenjaev
Senior Vice President at Overbit. Technical analyst, crypto-enthusiast, ex-VP at TradingView, medium and long-term trader, trades and analyses FX, Crypto and Commodities markets.
Subscribe to our telegram channel.
Join