Platinum Q DAO Engineering team is really glad to announce the rules of the next IEO round for Q DAO on BTCNEXT. It's the 3rd round of Q DAO token sale now. This time we have prepared something really special and unexpected for this round. We have often heard feedback about the unavailability of tokens during the IEO. No wonder, usually the token sale gets closed in 20 minutes. Not everyone has the opportunity to participate and that's why we have changed the rules.
The next Q DAO IEO token sale round will be conducted as a lottery, instead of a first-come-first-served system. Based on the amount of BNX tokens that you hold for 10 days in a BTCNEXT account starting from July 21st, every person can get up to 5 tickets.
The most important part of the announcement! Those who won't buy BNX before July 21st or sell it during these 10 days, wouldn't be able to participate in the IEO at all. So, to get a chance to take a part in this, you have to buy BNX and hold it, from 21 July to 30 July.
Also, you have to register by filling this form before July 21st 22:00 JST/KST. If you buy BNX tokens, but you're not registered, you can't participate in Q DAO IEO.
Every 100 BNX gives you the right to claim one ticket.
If you have only 100 BNX, you can claim 1 ticket.
More than 200 BNX gives you 2 tickets.
More than 300 BNX gives you 3 tickets.
More than 400 BNX allows you to get 4 tickets.
500 and more BNX allows you the opportunity to claim 5 tickets, so 5 tickets is a maximum amount for 1 account.
Before the lottery date, users will be given 24 hours to select how many lottery tickets they wish to enter, with the maximum number to be based on their BNX holdings over the past 10 days. Every ticket represents the commitment to buy $100 worth of Q DAO in case of winning the allocation. The tokens can be bought using BTC, ETH, or USDQ. The amount of tokens available for purchase at BTCNEXT is 15,000. Also, as always, we'll be selling 35,000 Q DAO via the OTC desk starting from the 1st of August.
Each lottery ticket has its number. These numbers are used in a transparent draw mechanism during the lottery. For the lottery's transparency, we split the number of winning tickets. For example, if the total number of tickets is 9,100, then we divide them by 9, and in each thousand, select X number of winning tickets.
The IEO will start at 8 pm (GMT+9) on 1st August 2019, and its participants will be able to buy tokens on the exchange according to received allocations only for 48 hours after the beginning. So, please don't miss the opportunity and check your mail to find out whether you win the allocation or not. On OTC desk the sale will last only till the moment all 35 000 of tokens are sold.
Anton Dzyatkovskii,  the blockchain architect lead and сo-founder of Platinum Q DAO Engineering:
"I sincerely wish you good luck, and thank you for staying with us, Platinum Q DAO Engineering, and participating in our events, being an important part of the Q DAO family!"
About Platinum Q DAO Engineering
Platinum Q DAO Engineering is an international full-cycle company that provides IEO/STO listing, advisory, marketing, legal, and tech services. The company helped to raise more than USD 200 million for a great number of projects. Platinum Q DAO Engineering employs over 100 specialists who have extensive experience in marketing and PR, management, consulting, programming, cyber-security, education, legal advisory, and much more!
The company's mission is to make people's lives better and facilitate economic growth by developing cutting-edge products that provide trustworthy, safe, and seamless access to any virtual assets.
The company has already issued two stablecoins: USDQ pegged to US dollar and KRWQ pegged to Korean Won. The team is going to launch even more fully backed stablecoins: JPYQ, SGDQ, HKDQ, and CNYQ under the Q DAO brand. Fully anonymous, the Q DAO ecosystem stablecoins limit out of this legacy world.
Visit the website for the latest updates on USDQ, KRWQ, and JPYQ.  Join the official English, Japanese or Korean Telegram chat and get regular updates on events and development. You can also join the official Line or official Kakao Talk to ask questions in Japanese and Korean directly to the Platinum Q DAO management team.
About Anton Dziatkovskii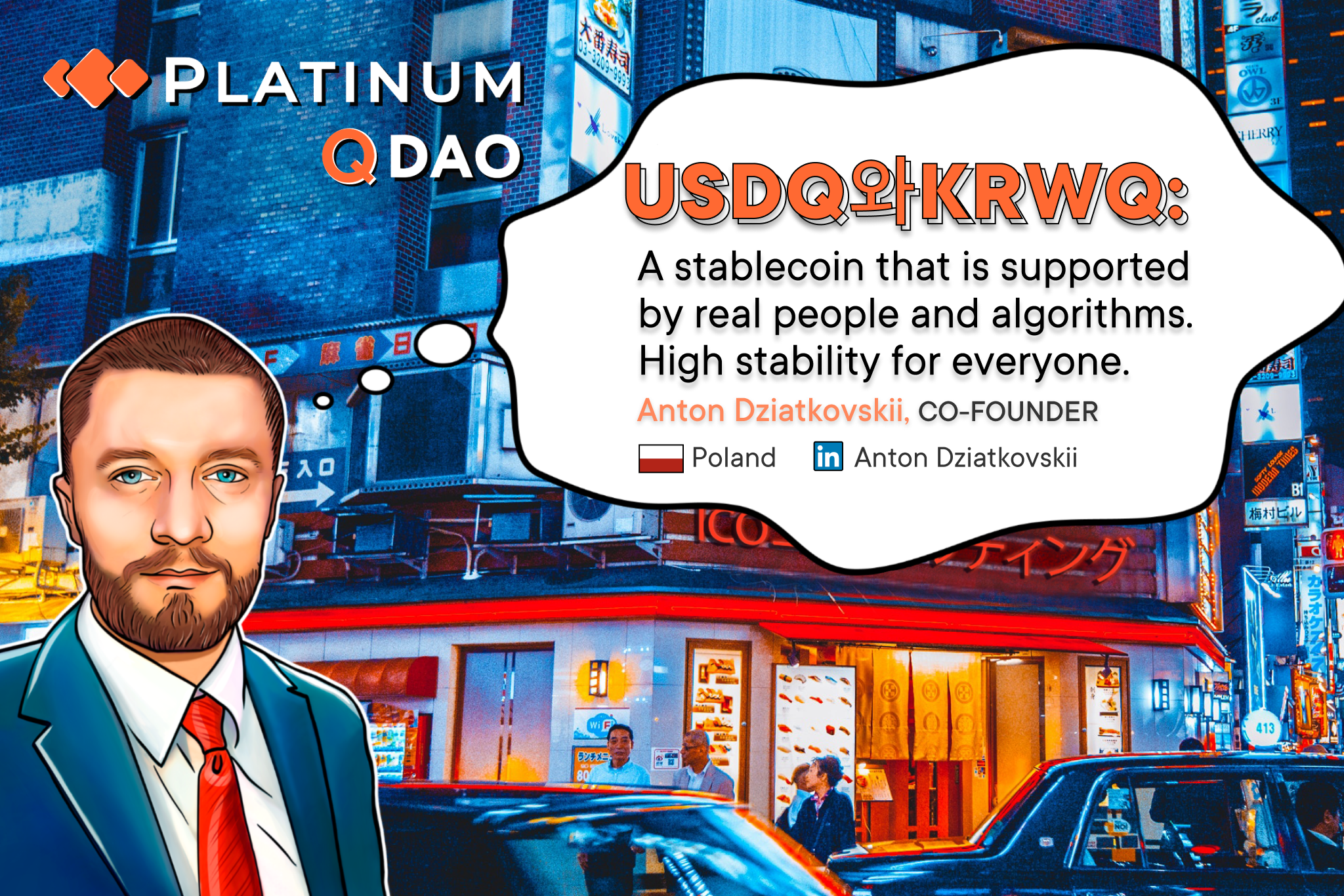 Anton Dzyatkovskii is the blockchain architect lead of Platinum Q DAO Engineering, a passionate entrepreneur and a skilled negotiator. He is a hardworking business leader with more than 13 years of experience in different positions in FinTech, Retail, and E-Commerce. Experienced in expanding financial businesses to new markets.
Moreover, Anton is also a co-founder of Platinum Q DAO Engineering, where he has helped to develop USDQ, JPYQ, and KRWQ, the fully decentralized stable coins that simplify Bitcoin collateralization.