Konstantin Rabin, financial expert and crypto enthusiast, takes a look at how regulatory institutions are different in terms of Bitcoin regulation and whether they will come to an agreement at all.
SEC, CBOE, CFTC – all of that might sound confusing and hard to understand. However, things are easier than one might think. But not when it comes to the differences in regulatory approaches of SEC and CFTC mainly.
SEC About Bitcoin's ETFs
Even after numerous requests to approve the operation of the Bitcoin exchange-traded funds (ETFs), the SEC is still reluctant to do so. However, the regulator did not state any strong reasons for that. That, in turn, goes back to when SEC was getting cozy with crypto. Even then, the regulator was not eager to perceive the new phenomenon as something that might change the financial environment completely.
The SEC's commissioner, Hester Peirce, proclaimed that SEC was and still is unwilling to approve the bitcoin ETF operations. 'Crypto Mom' also mentioned that SEC perceives the Bitcoin-related environment as merit-based and unreliable. Mrs. Peirce has also mentioned an interesting thing: 'There are lots of markets that aren't regulated but we nevertheless build products on top of them.' Thus, we are now wondering what could it mean…
Notably, SEC has already denied the requests coming from Chicago Board Options Exchange (CBOE), Winklevoss brothers and NYSE Area organizations. Still, the rejections were not accompanied by clearly explained reasoning.
CFTC About Bitcoin's ETFs
CFTC, on the contrary, is quite positive about an exchange-traded product based on a Bitcoin platform. Thus, the organization's commissioner, Brian Quintenz, once gave comments about the whole situation connected to the ETFs. He stated that according to the Commodity Exchange Act passed in 1936, the exchanges have a full right to 'self-regulate' themselves in case if they believe that the platform meets all of the Act requirements.
As the Act itself was created to ensure that there is no place for manipulations and money laundering actions connected with the futures and stocks on the market.
Thus, simply saying, once the request was given out to the CFTC regulator, there is a certain period of time, when it can rather approve or disapprove it. However, in case if the regulator does not disapprove the request, the exchange can go ahead and self-certify the project.
That's what happened when both CBOE and CME included Bitcoin in their listings. After those two organizations included Bitcoin in their operations in December 2017, the Bitcoin market reached its peak. However, after all those issues connected with SEC certification, the coins lost 80% of its positions in approximately a year. The coin still continues to devalue drastically.
Is There Any Possibility for an Agreement Between SEC and CFTC?
Even though the CFTC regulator has approved the operations of Bitcoin's ETFs, the SEC still holds the majority of ICOs. Meaning that it has huge power and influence on the whole crypto market.
Thus, the commissioner of CFTC announced publicly, that as they are mostly responsible for control over the commodity space, they are not really capable of managing other sectors. Therefore, he offered a piece of advice for those organizations (like Bitcoin) to come up with the self-regulatory structure that would allow them to be fully independent.
Even though the approaches, as well as opinions, about the Bitcoin ETF operations vary drastically, SEC's commissioner, Mrs. Peirce, stated that she sees the clear need for two regulators to come into agreement and clarify where the responsibilities of the one end and duties of another begin.
Therefore, presumably, there is a chance for those two regulators to reach consensus and come into common agreement regarding the future of the Bitcoin.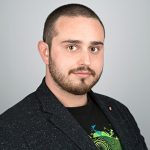 Author:

Konstantin Rabin
Konstantin has been working in the financial services industry since 2011. He is over-viewing various updates in the technology, regulation, and market movements. He's passionate about cryptos and all things financial.
Subscribe to our telegram channel.
Join