Ethereum-based lending protocol Aave is migrating from its LEND tokens to AAVE tokens as a part of the Aavenomics proposal, allowing AAVE holders to control the Protocol.
The exchange rate within the migration initiative is set at 100:1, i.e. for 100 LEND tokens a user gets 1 AAVE token. So far since the launch of the migration on October 2, 85.93% of the total LEND circulating where transferred to AAVE.
What is Aavenomics?
Aavenomics is a decentralization initiative of the Aave protocol. This decentralization initiative will implement core changes such as governance, whereas key decision makers of the protocol will be granted to AAVE tokenholders. The total supply of AAVE tokens will be 16M, 13M of which will be claimed from the LEND-AAVE transfer and the other 3M will be allocated to the Aave's fund – Aave Ecosystem Reserve.
Like other decentralized protocols, AAVE also does have strict governance and policies to all participants of the protocol.
From the market perspective, Aave transition was warmly welcomed by investors up until October 14, where AAVE pairs got listed on some major exchanges. The Aave token saw the highest market cap on October 24 reaching $437,634,036 followed by a rapid sell-off of the token which dropped down the price of the token from $40.95 to $31.33.
The growing market capitalization of the token is a good sign for investors who are willing to invest in the Aave and for traders who'd like to make profits by speculating the price.
The October 24 was a red day for the whole crypto-market and is not related to the token or the project itself. Moreover, this correlation also shows that the token has enough capitalization to follow the overall crypto-market sentiment.
AAVEUSD is below the previous lowest and follows the bearish trend of the market as the US Dollar gains strength. If the pair breaks below the lower edge of the channel, it might as well continue the fall down to $28.00, if remains above it will proceed towards $33.275.
Speaking of the correlation. Ethereum, a blockchain most of the De-Fi projects including Aave are built on, also bounced after testing of an important dynamic support and has formed a bullish flag pattern on a 4H chart. The first altcion by market cap still looks bullish above the dynamic support, yet is traded below the MA100.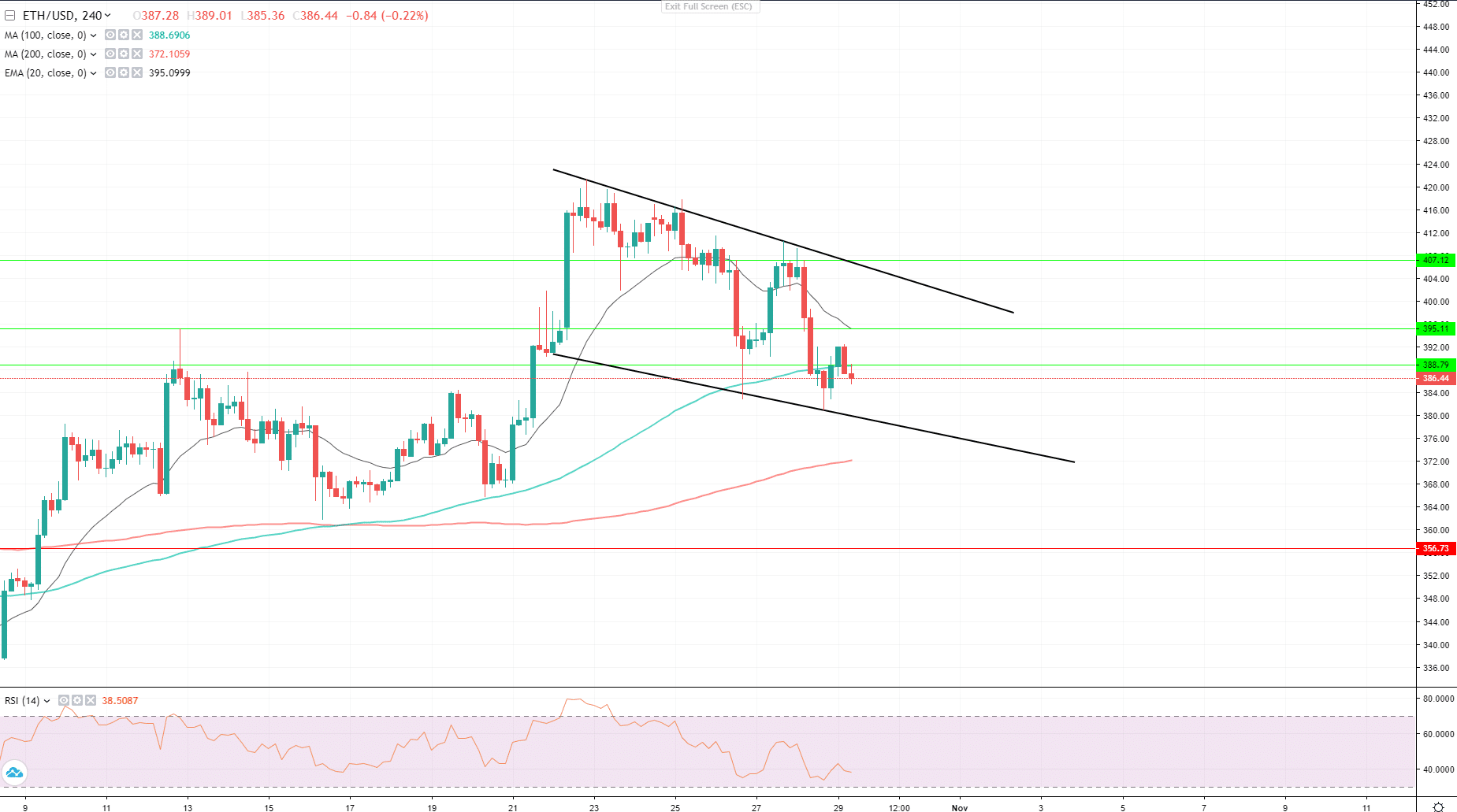 Ethereum should and I'm guessing will close above the MA100 and will continue the bullish run despite the strong divergence. This should as well assist ETH-based tokens of the projects that are experiencing transition as well.

Author: Aziz Kenjaev
Senior Vice President at Overbit. Technical analyst, crypto-enthusiast, ex-VP at TradingView, medium and long-term trader, trades and analyses FX, Crypto and Commodities markets.
Subscribe to our telegram channel.
Join