Cardano continues to head on towards Decentralized Finance, while the third era of the Foundation is expected to be released in March 2021, the team inside the network continue updating the Cardano ecosystem.
There are several updates expected in December, k – Cardano's parameter of the rewards scheme that sets this 'soft-cap' on the pool size. As stated by the foundation, the k will be set to 500 allowing small pools with staking of 64 million ADA to operate, whereas during the launch of Shelley k = 150 with a limitation of the pool size of 210 million ADA. Cardano will later switch to smaller capped pools by increasing k to 1000 in March 2021, betting on the larger quantity of smaller pools rather than a smaller quantity of large capped pools, to increase the profitability of each pool.
While Cardano is working on it's complete transition to DeFi, ADA/USD made a significant breakout. Yesterday cardano was trapped between two Moving Averages, MA100 and MA200, today it's traded at $0.10800, above MA100.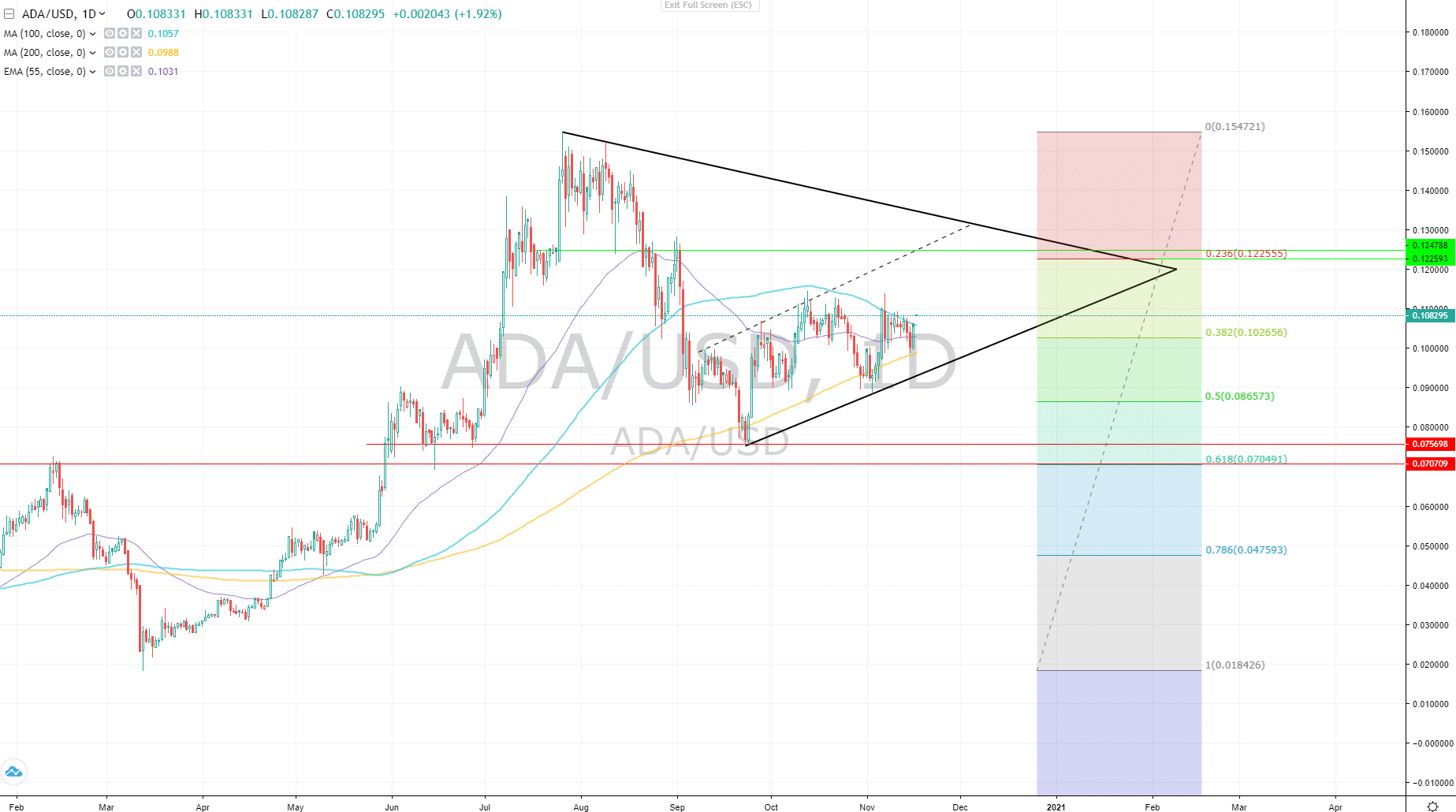 ADA/USD is still in a correction phase and deeper downtrends may continue, especially when Bitcoin dominance rises higher. However, before that occurs I'm expecting an uptrend towards $0.12259 – $0.12478, where it will meet important resistances and Fibonacci 0.618 level of the last drop.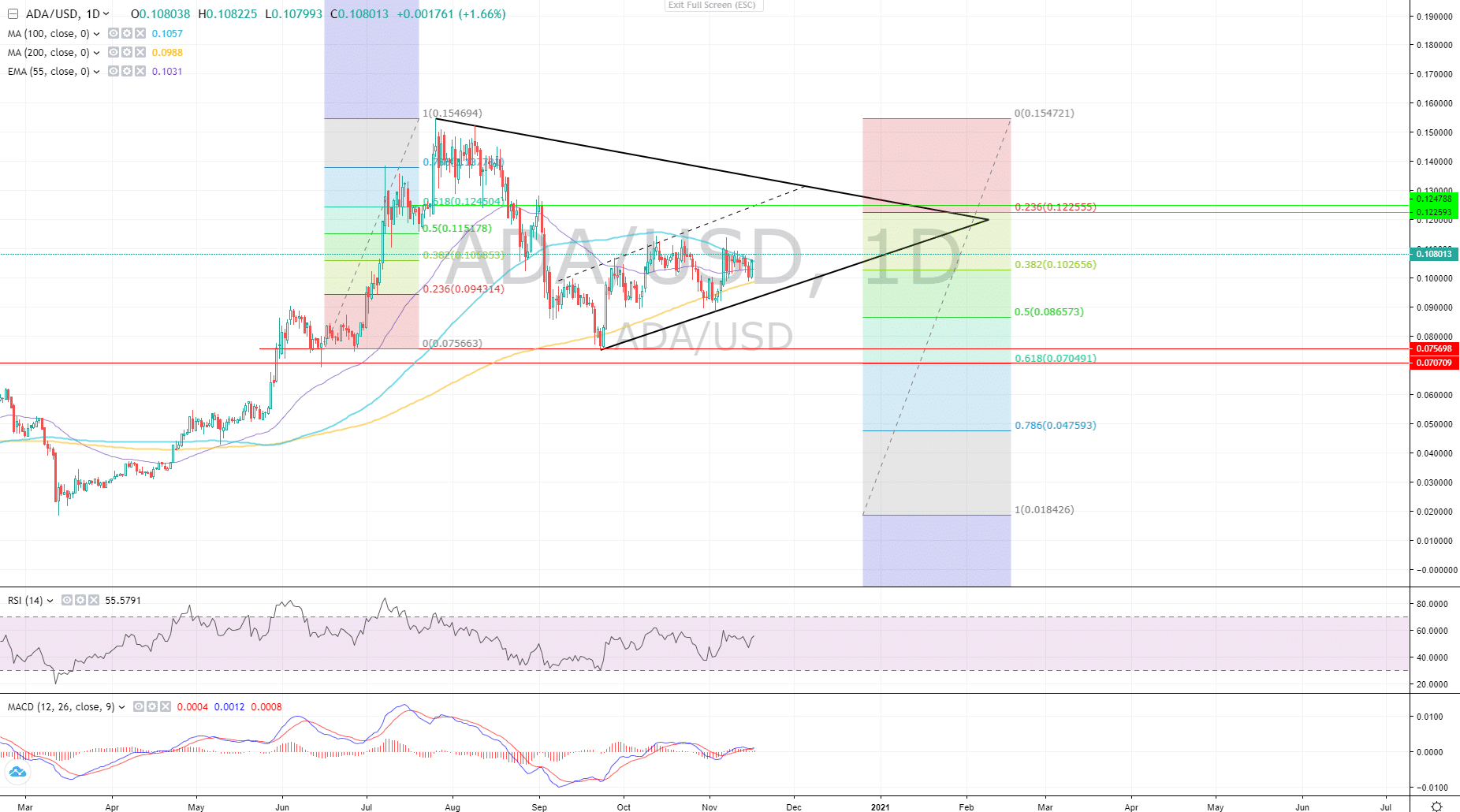 Before you get super excited, please take a look at the channel on a 4-Hour chart with Andrew's Pitchfork and some indicators applied.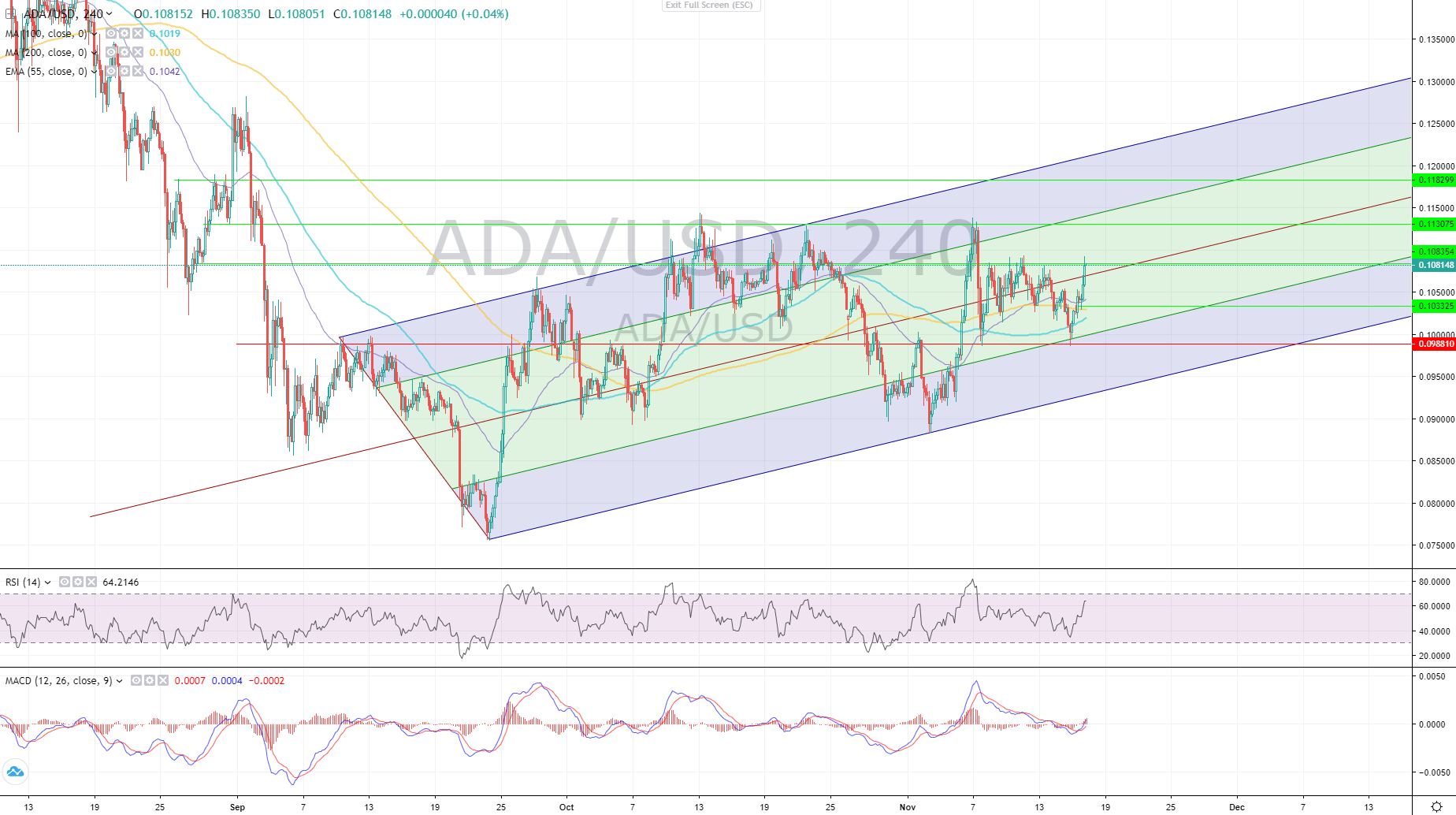 There is a strong resistance at $0.10830, above which there is another area of resistance at $0.11307 and a monthly high – $0.11383. If Cardano closes above the 0.10830 I don't think the monthly high will be able to stop it from another jump. Though if it closes below, it might as well retest the support at $0.98810 and below that the lower edge of the channel at $0.9500. Breaking below the channel would be very unfortunate as it may signal to another round of falls.
The MACD indicator on both daily and 4-hour chart reflects bullishness of ADA/USD, Moving Averages on both timeframes show a great support of the uptrend, however one should also consider levels of supports and resistances and do not trade with a blind trust to indicators but use them as an auxiliary confirmation tool.

Author:

Aziz Kenjaev
Senior Vice President at Overbit. Technical analyst, crypto-enthusiast, ex-VP at TradingView, medium and long-term trader, trades and analyses FX, Crypto and Commodities markets.
Subscribe to our telegram channel.
Join