Hours before Coinbase IPO the whole cryptocurrency market went green in anticipation of a giant bullish marathon.
However, this never happened and many currencies headed downwards, adding fuel to the fire Coinbase announced the initial stock price $150 higher. Nevertheless, today the crypto market resumed the daily routine of impulses and corrections, with DeFi coins leading, and here are the top coins to watch.
Utrust
As more merchants are jumping into crypto-space, Utrust is one of the best solutions. Utrust is a global payment platform which offers instant cryptocurrency payments, one of the key features of the platform is that while a customer pays in crypto, the merchant receives an equivalent in the local currency or in crypto if the merchant wishes. Utrust recently partnered with a Tesla car dealership in Belgium, and anyone can now buy Tesla with ETH, BTC and Utrust's native token – UTK. With all that feature set Utrust is a project you should track. To increase merchant's appreciation Utrust added one of the features which I believe puts the project on the front before other similar projects – Utrust will add Reverse Staking and Compounding to merchants. Merchants will make additional profit by reverse staking – using coins instead of staking in the Utrust platform.
UTK/USD continues the uptrend in an ascending parallel channel. The token has tested the dynamic support (lower edge of the channel) and is heading upwards. There is a major resistance at $0.6500, once UTK breaks above this level, the recent ATH won't stop it from going all the way to $0.90. See support levels on the chart below. UTK is a relatively new coin and a good investment for mid and long-term players.
ORAI
The first AI-powered oracle for blockchains. There could be tons of discussions on whether to allow AI into blockchain, since blockchains follow strict rules and AI is not perfect, though the integration of AI into the world we know is emerging. The project believes that introducing AI into the blockchain will reduce data usage of the blockchain, improve data quality and reliability. The mainnet of Oraichain is launched and will be launching their AI marketplace soon. The Q2 on the roadmap has yet another important integration, Oraichain will have a bridge with Polkadot and launch DAO.
Just like UTK, ORAI is a relatively new token on the market and has set its bottom at $32 – $34 area. As per the chart analysis, it is considered that ORAI/USDT has formed a double bottom and should continue upwards.
Currently ORAI is testing the resistance at $43 and if it closes above that level will continue towards $54 and $73. This coin should be considered as a mid to long-term investing asset as well.
Cardano
Cardano doesn't need introduction, besides an update of it's DeFi transition. Cardano's Mary hardfork allows Cardano users to create native tokens on the blockchain. Since the launch of the Mary in March 2021, Cardano blockchain's native tokens were growing and required its own registry. Thus, Cardano introduced today a successful launch of the Cardano Token Registry, a library of on-chain identifiers of tokens built on Cardano. These upgrades make Cardano fully eligible for NFT minting; the introduction of the Registry provides each token with attributes like authenticity, verification and meta-data discovery, all attributes required for NFT. The DeFi transition and Mary hardfork indeed signal us that Cardano upgrades and follows the cryptocurrency market trends.
Cardano set it's new ATH yesterday, March 14 and retraced although remains above the two previous local highs. There is a high chance that Cardano will continue its uptrend if the bullish sentiment in DeFi and NFT markets remain. Yesterday's correction down to $1.350500 was a good sign of bullish continuation as Cardano tested the previous resistance as support. Trading above $1.4500 resistance is another supporter of the bullish continuation of Cardano.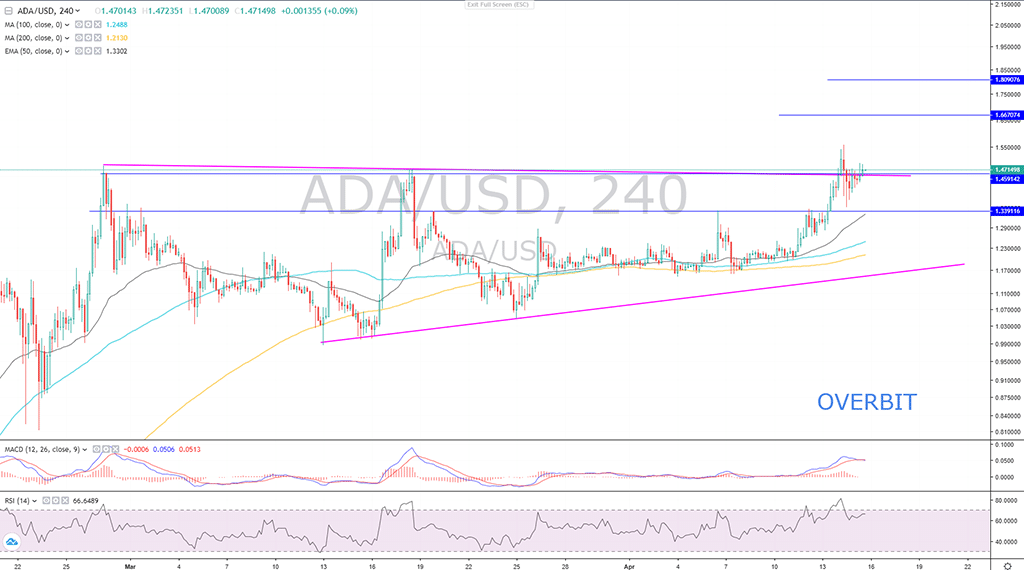 Key point here is that ADA not only remains above $1.45 today but breaks the newly established ATH. The road to the new ATH of Cardano is still open as the latest impulse looks far from completed, although it is highly recommended to wait for a breakout of at least $1.55 before going long.

Author:

Aziz Kenjaev
Senior Vice President at Overbit. Technical analyst, crypto-enthusiast, ex-VP at TradingView, medium and long-term trader, trades and analyses FX, Crypto and Commodities markets.
Subscribe to our telegram channel.
Join