Major cryptocurrencies including Bitcoin and Ethereum were able to rebound after yesterday's sell-off before the FED statement.
US Treasury Secretary Janet Yellen on Wednesday warned of an "explosion of risk" in digital markets, including the misuse of cryptocurrencies, but said new financial technologies could also help fight crime and reduce inequality.
"Cryptocurrencies and virtual assets were promising, but they were also used to launder the proceeds of online drug dealers and to finance terrorism. Innovation in the sector could help solve these problems by opening up access to the financial system for millions of people," she said.
Cryptocurrency market drew its attention to policymakers and lawmakers once again after the purchase of the $1.5 billion worth of Bitcoin by Tesla, claiming that the company will start accepting Bitcoin for it's products. Now it looks like another giant corporation, Amazon is looking to integrate crypto-payments, as the company is looking for a Software Development Manager – Digital and Emerging Payments.
Bitcoin has formed a bullish flag on an hourly chart and has just confirmed a breakout from it.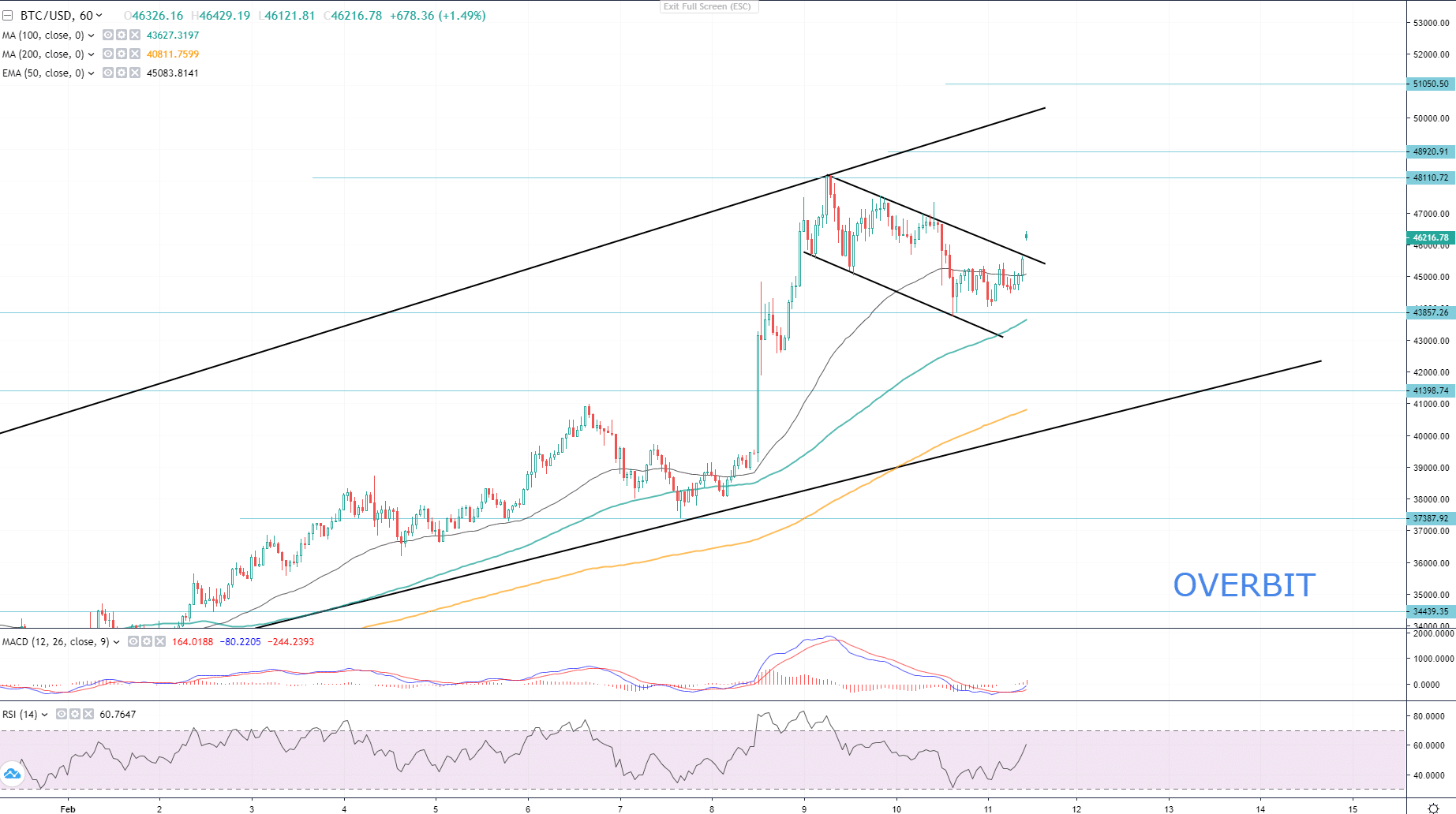 The $43900 previous resistance acted as a support and Bitcoin was able to retrace from that level yesterday. Bullish continuation of BTC/USD may be stopped anywhere near the dynamic resistance of January 25.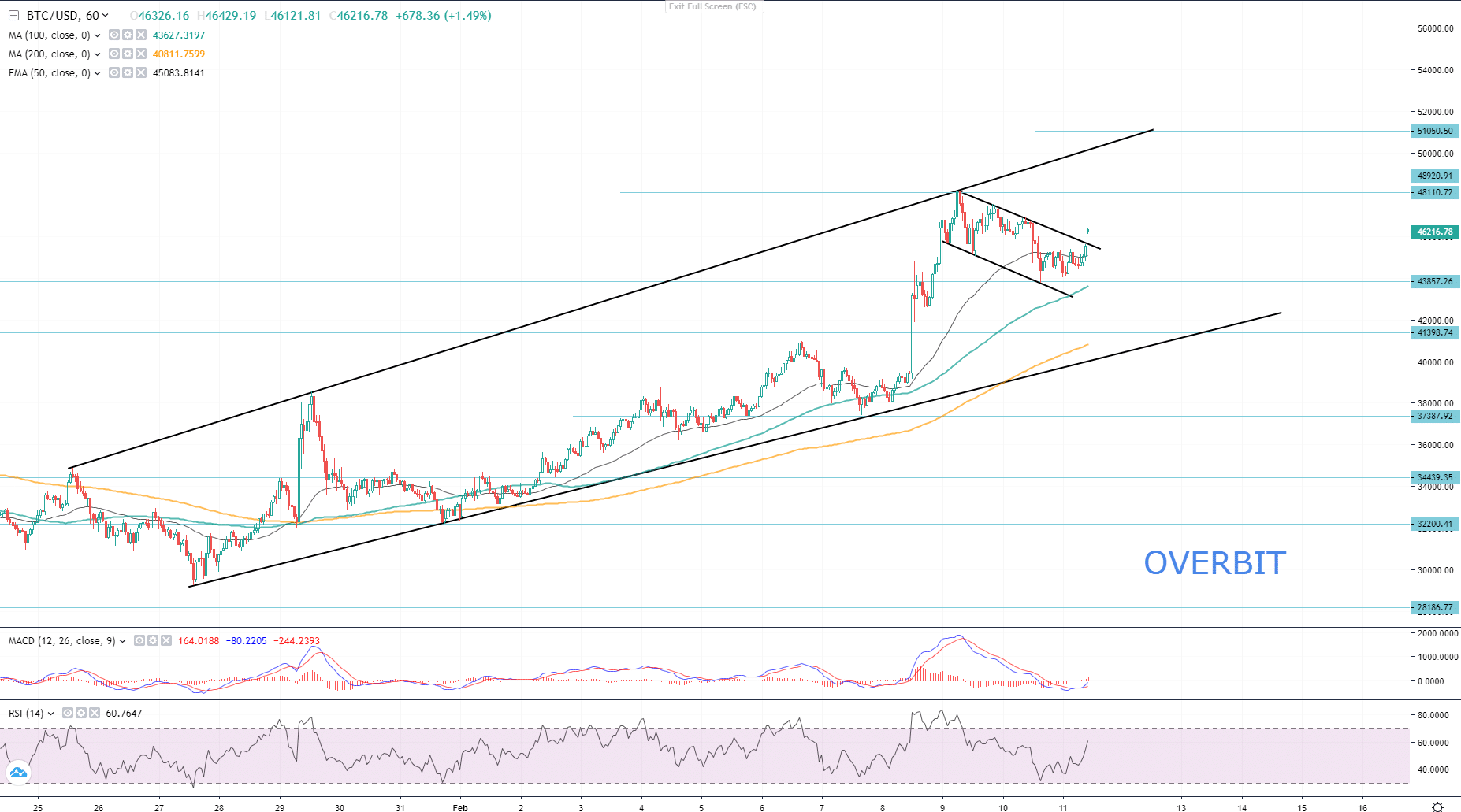 The bearish reversal of Bitcoin is at this stage is very unlikely as the pair already confirmed a breakout from the corrective bullish flag pattern. MACD already crossed the signal line and is steeping towards uptrend continuation.
Similar dynamic resistance test was experienced by Ethereum yesterday.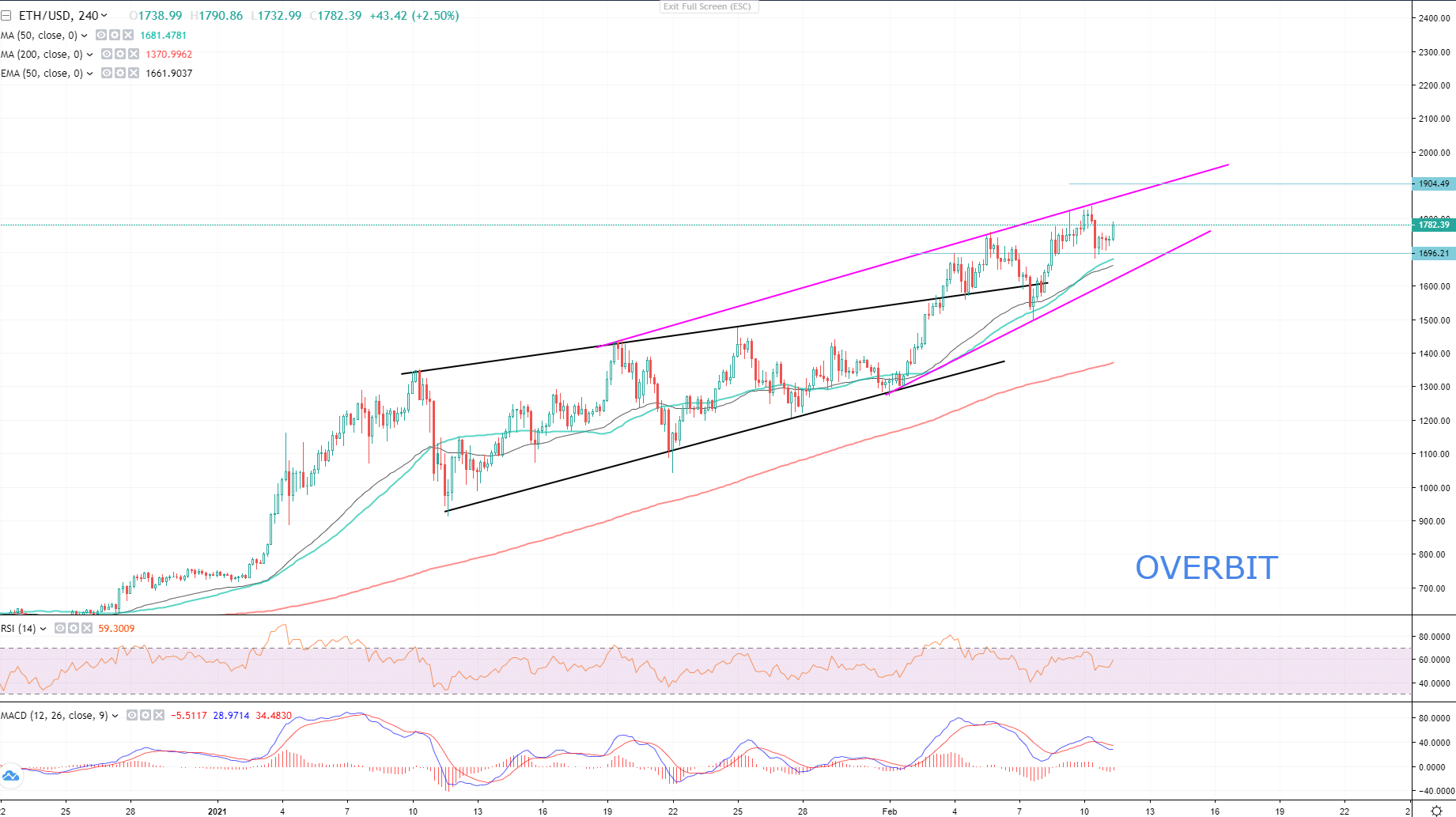 As seen on the chart above, Ethereum tested a major dynamic resistance of an ascending ending diagonal and retraced. The test of $1696 resistance as a support bolstered bulls to push ETH/USD above the $1750 resistance.
An hourly Ethereum chart suggests that the price will continue going upwards after a retest of another resistance as support at $1760. The nearest target and resistance to look is located at $1867 or the price tag near the dynamic resistance.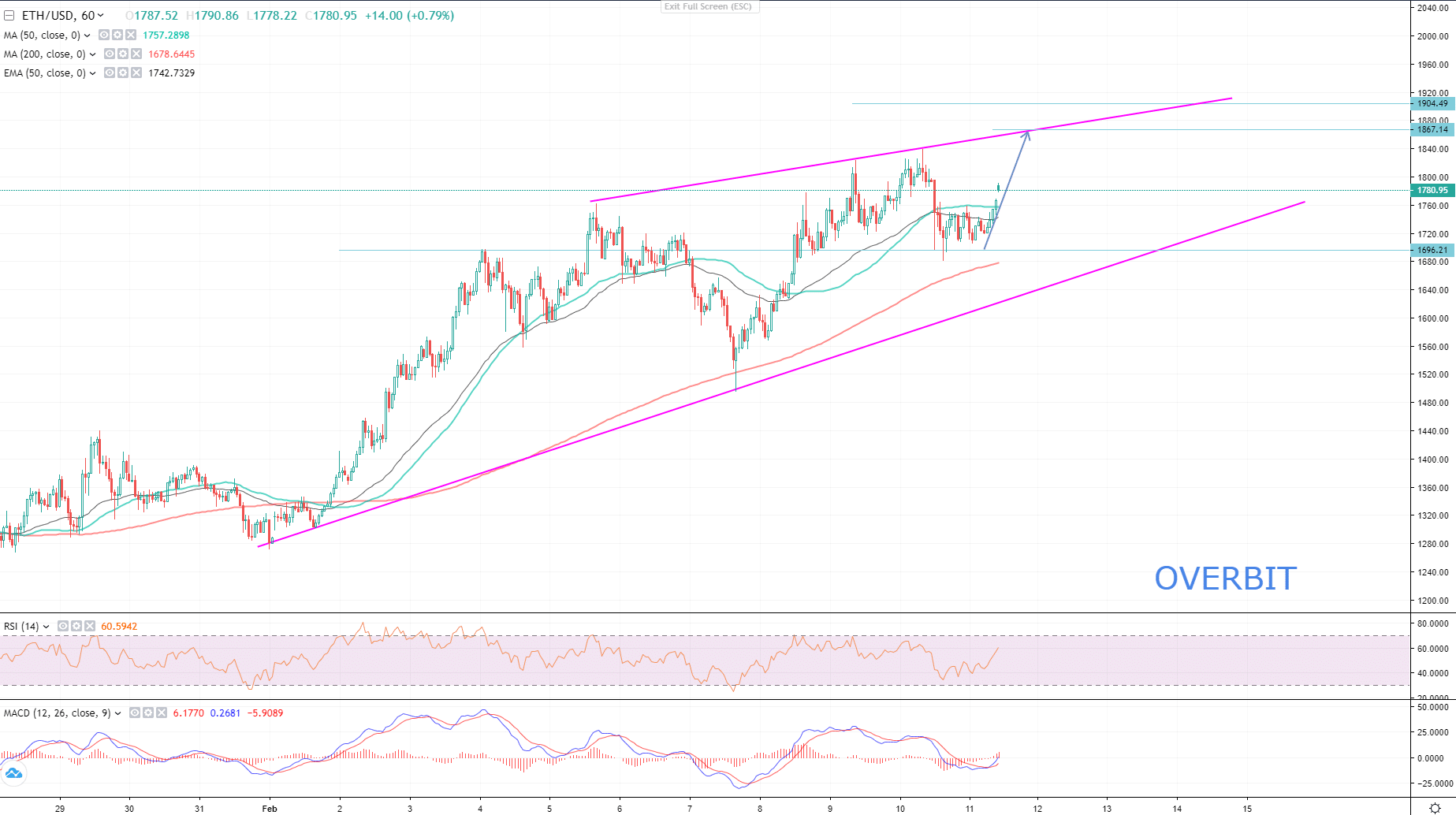 MACD and RSI indicators as well as EMA50 and MA100 on both time-frames confirm the bullish move and to firm the uptrend continuation, ETH/USD on a 15-minute chart has formed a trend-reversal pattern of "diamond".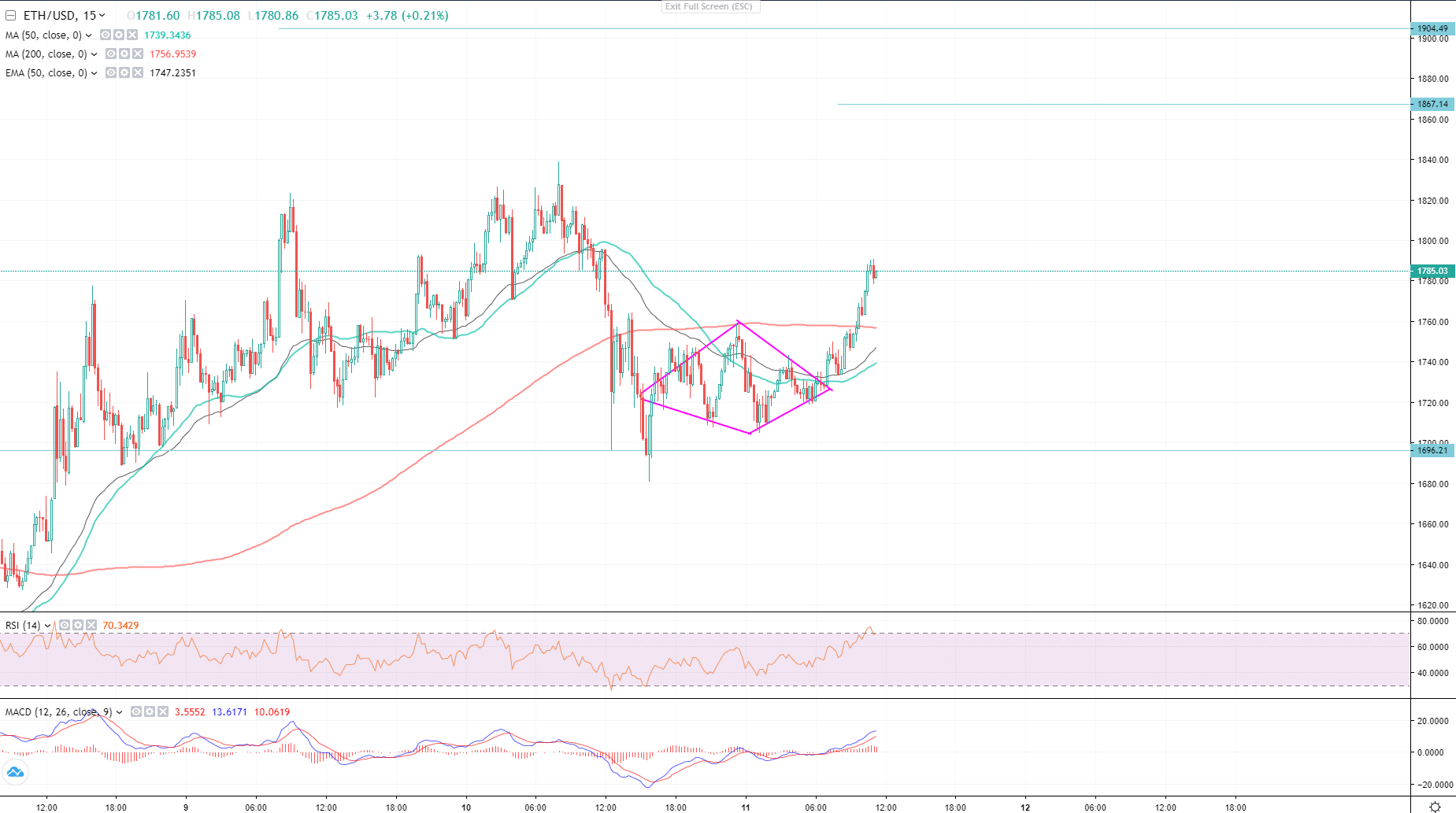 Diamond is a formation combining two mirrored symmetrical triangles, which create a rhomboid shape also referred to as a diamond shaped figure. This pattern in bearish reversals indicates the strength of bears, when bulls are unable to break above the previous high and get exhausted, and vice versa on the bullish reversal.
Both coins look bullish amid their breakouts from their respected resistances, although both have to once again test the nearest resistance which halted them to continue the uptrend. Watch for the levels indicated above and follow the resistance levels to make the best decision.

Author: Aziz Kenjaev
Senior Vice President at Overbit. Technical analyst, crypto-enthusiast, ex-VP at TradingView, medium and long-term trader, trades and analyses FX, Crypto and Commodities markets.
Subscribe to our telegram channel.
Join