The Matrixport report notes that the BTC price could return an average of 35% during the fourth quarter of 2023.
In a report on Wednesday, September 20, crypto service provider Matrixport said that Bitcoin price could register a significant uptrend starting next month in October and moving into the fourth quarter. The Matrixport report notes that Bitcoin has registered an average of 35% returns during the fourth quarter.
Expected Changes in Bitcoin Price in October
"If history is a guide, bitcoin could reach $37,000 by year-end," wrote Markus Thielen, head of research. October has historically been a robust month for Bitcoin, posting positive returns in seven of the last nine years, with an average gain of 20%, as reported in the study.
Matrixport's technical analysis indicates that Bitcoin has recently generated a new breakout signal. In the ten previous instances when this model was activated, Bitcoin's price surged by an average of over 9% within a short time frame.
Another potential factor to watch for in October is the second deadline for Bitcoin spot exchange-traded fund (ETF) filings. During this period, the Securities and Exchange Commission (SEC) will either announce its decision on these ETFs or postpone it. The SEC initially delayed its verdict on approving all spot Bitcoin ETF applications until October, as announced in August.
After a strong move earlier on Tuesday to $27,400, the BTC price has once again entered a retracement and is currently trading at $26,750 levels.
Bitcoin On-Chain Metrics
Bitcoin traders have significantly increased their short positions on both Deribit and Binance, raising the possibility of potential liquidations that could drive prices higher. In the past week, Bitcoin's price has surged by +4% since this uptick in shorting activity became evident. There's a favorable likelihood that this trend may persist.
On the flip side, Bitcoin's active addresses have surged to their highest levels in the past five months. This surge has increased the likelihood of Bitcoin's price making a comeback to its 2023 peak of $31,000.
Renowned cryptocurrency analyst Ali Martinez also points out that a bull market is typically marked by increased on-chain activity. This becomes evident when the monthly average of new wallets surpasses the yearly average, indicating a strengthening of network fundamentals and heightened usage. It's noteworthy that despite the static prices, on-chain activity for Bitcoin is on the upswing, hinting at the potential resurgence of a Bitcoin bull run, as noted by Martinez.
Prominent analyst Ali Martinez has also identified a pattern that has emerged since mid-April. Whenever the Relative Strength Index (RSI) on the 4-hour chart hits 73.31, Bitcoin's price tends to retrace.
Currently, we are observing a similar scenario as Bitcoin approaches a descending resistance trendline at $27,440. If a correction occurs, Bitcoin may potentially dip to $25,200 or lower, presenting a possible opportunity for those interested in buying at a lower price.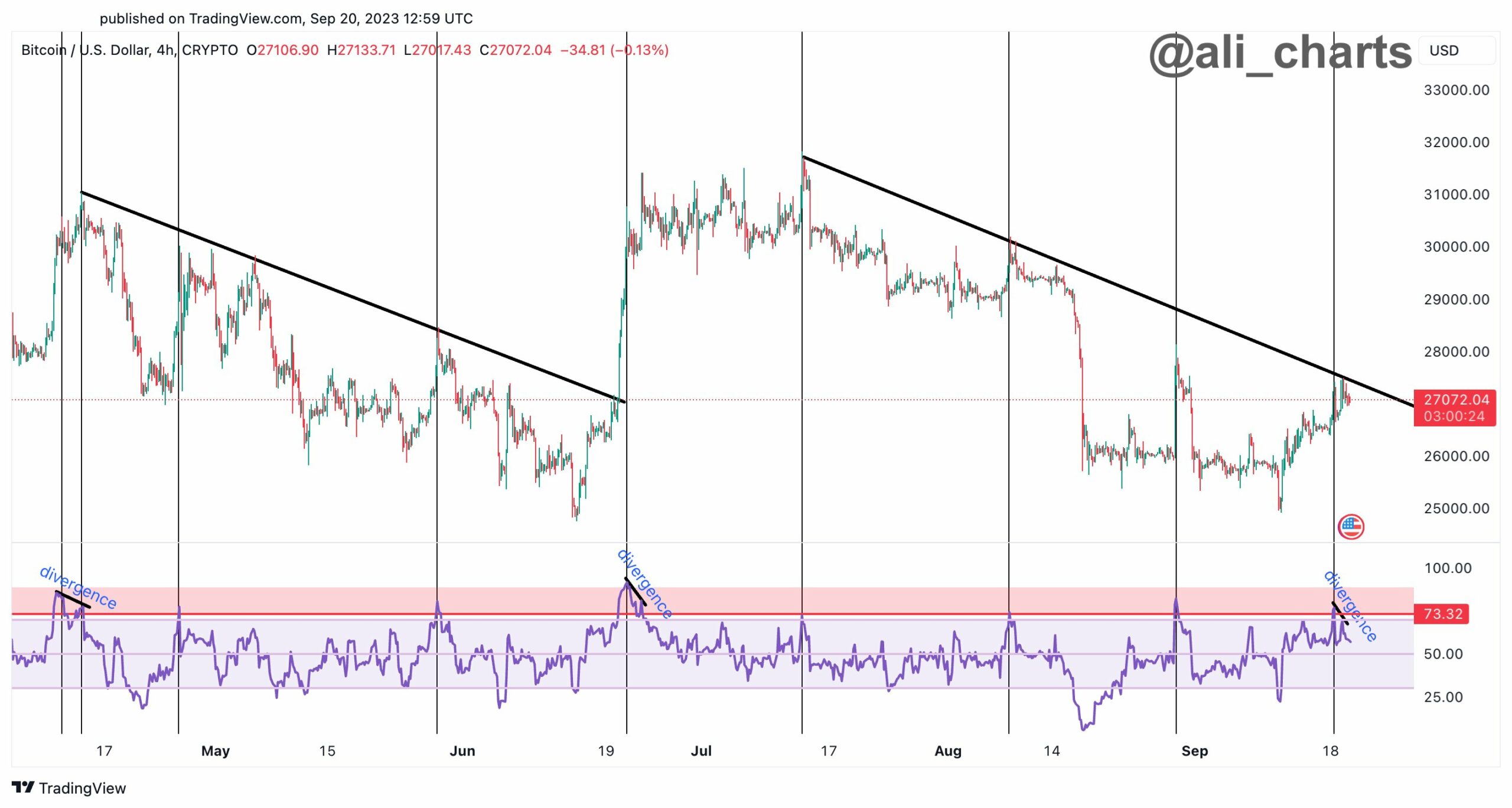 Nevertheless, it's crucial to monitor whether a 4-hour candlestick closes above $27,440, as this could signal the resurgence of a bull market.