Singapore-based crypto exchange Bitrue announced having been hacked. As a result of the hacker attack, the company lost $5 million in XRP and ADA. 
Early this morning Bitrue (a cryptocurrency exchange based in Singapore) announced having been hacked overnight in an official Twitter thread. As a result of the hack that happened at 01.00 AM Singapore time, the company has faced damage in the number of $5 million.
The damage was brought about to two cryptocurrencies – XRP and ADA. The total value of the stolen XRP is over $4.5 million, whereas the number of ADA stolen is equivalent to approximately $200,000. The respective value of XRP and ADA at the moment was $0.488 and $0.095.
More detailed information about the hack has been published in the Twitter thread published by the Bitrue exchange. According to them, the hackers took advantage of the vulnerability of Bitrue's Risk Control team's 2nd review process.
As a result of this action, the hackers accessed the personal balance of approximately 90 users of Bitrue. In its official statement, Bitrue has promised to return all the lost funds to their owners.
Even though the prospect of having their funds returned seems promising at the moment, the users might have less trust in cryptocurrencies due to the hack incidents. Almost 10 major hacks have already taken place in 2019.
One of the most prominent ones happened in May when Binance lost $40 million to a hack. Apart from it, just last week two Israeli citizens were detained due to numerous occasions of phishing and hack attempts.
According to marketing experts from Huobi, Bittrex and ChangeNOW, blocked the illicit transactions.
Within the emergency situation, Bitrue has blocked some features of its websites. In an official announcement, representatives of Bitrue have stated that customers will soon have access to most features, such as login and online transfers. However, the withdrawal function will be blocked for a longer period of time, since this function is most vulnerable to hack attacks.
Another action taken by Bitrue involves the Singapore government. Bitrue is working with the government organs in order to identify the hacker. Right now an emergency inspection of the online platform is underway. We expect more details about this case to be announced this week.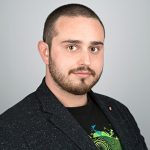 Author:

Konstantin Rabin
Konstantin has been working in the financial services industry since 2011. He is over-viewing various updates in the technology, regulation, and market movements. He's passionate about cryptos and all things financial.
Subscribe to our telegram channel.
Join