Bitcoin, the flagship cryptocurrency, has recently seen its price drop to $3,550 after trading at around $3,650 for a couple of days. This is notably the third time the cryptocurrency's price drops suddenly this month. Bitcoin holder now are worried about the depreciation. But have you ever thought that the more Bitcoin devaluate, the more money you can earn? Cryptocurrency futures trading can make this come true.
What are Cryptocurrency Futures Contracts?
Cryptocurrency futures contracts are a kind of trading agreement to buy or sell a certain amount of crypto asset at a specific price with X times leverage added. So even when the market is going down, you have chance to earn money by investing in cryptocurrency futures contracts. For example, buy/long BTC means that speculators can place a "bet" on the BTC price uptrend in the future. Conversely, to sell/short BTC means to "bet" that BTC will fall. In addition, with X times leverage added, investors can enter a large trade though they actually hold a small amount of BTC.
How to Trade Cryptocurrency Futures in Bexplus?
Bexplus is a world-leading derivative platform in cryptocurrency area, which aims at providing advanced financial services to global investors of futures trading by using blockchain technology. At present, Bexplus offers perpetual contracts on BTC, ETH, LTC futures trading with up to 100x leverage, and more altcoins futures will be listed in the platform in the future. It also provides P/L calculator helping you measure how much you can earn before opening a position. And if you haven't traded cryptocurrency futures contracts, you can try it in the trading simulator with 10 BTC preset.
BTC Expert Reviews on BTC Futures Trading Tricks
At the "1" point, suppose that you open a long position. When BTC price rises and you close the order at the "2" position. Then you can get 200% profit with 100x leverage.
At the "3" point, suppose that you short BTC at this time and carry out the buy order. Then to close the order when BTC drops to the "4" position. At this time, you can get 100% of the profit.
100x leverage, 1% of growth or fall either can come to 100% profit.
BTC price up or down are profitable.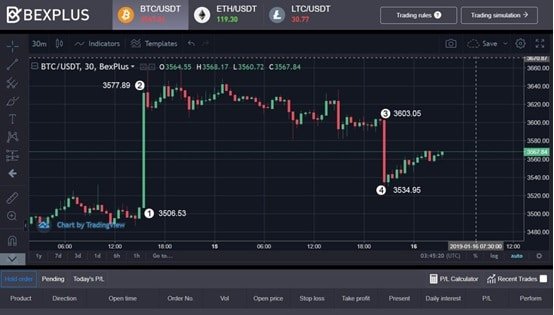 4 Steps to Double Your BTC in Bexplus
Did you lose money on XXX/BTC trading pairs owing to the BTC price fluctuation?
Have you ever accurately predicted BTC's trend but cannot profit from it?
Check the 4 steps to earn BTC with smarter investing.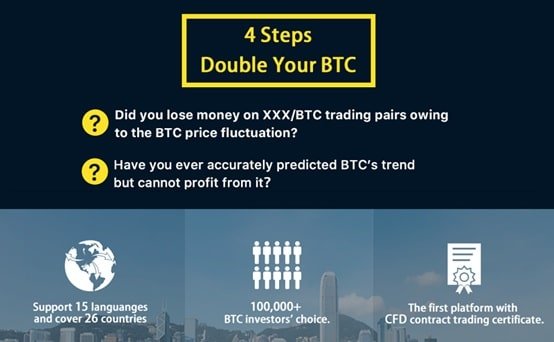 Deposit Activity to Earn 50% BTC Free Bonus
To deposit BTC in the Bexplus account, you can earn 50% BTC bonus, which can also be used to trade futures contract and withdrawn. The more deposit, the more bonus you will get!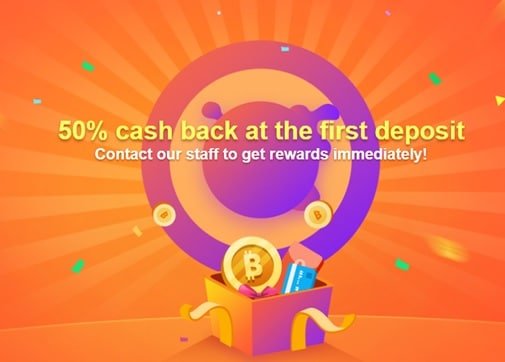 Invite Friends to Join and Earn 30% Commission
Invite friends to register and trade in Bexplus, you can share 30% transaction fee of your invitees as commission. Also both you and your invitees can enjoy 10% OFF service charge.
Register with invitation code PCDfB to enjoy 10% OFF charge fee.