Apex (CPX)
APEX is a blockchain-powered data and interactions exchange that passes value and data ownership back to the consumer, as well as increasing marketing effectiveness, data quality, and customer loyalty for the enterprise. All transactions on the platform will use the CPX token. APEX will use NEO as its blockchain. Three fundamental aspects must go together to ensure the long-term success of the project: 1) the technology itself and the extent in which it can solve the problem it was set out to tackle 2) speed to market and the real-world adoption rate of the technology (and the levers you set and create that act as catalysts) 3) the actual value delivered in a timely manner (in other words long-term sustainability of the project).
Market Capitalization
$ 4,237,420
24 Hours Volume
$ 102,218
Available Supply
464,482,330 CPX
Total Supply
676,989,090 CPX
Apex News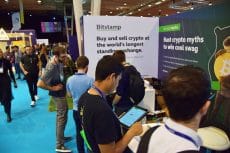 Number one crypto-exchange in Europe, Bitstamp takes security issues by heart deploying an advanced protection system against market tampering.