For the time being, the DEX industry is still in its infancy. Facilitating swaps of tokens on the same blockchain is possible, but the time has come to explore the next frontier in the form of cross-chain trading.
Decentralized exchanges continue to make their mark on the cryptocurrency. To take things to the next level, big changes will need to be made. Tapping into cross-chain liquidity needs to be the priority for all providers. 
Current DEX Landscape
Glancing over the current statistics for all major DEXes in the world, it is evident there is no real competition. Uniswap dominates the weekly volume with over 64% of all trades. This is well ahead of Curve (14.4%), 0x (7.79%), Sushiswap (6.94%), and Balancer (2.32%). In terms of actual trading volume, we are talking about roughly $3.05 billion in the past 7 days. Not a bad overall figure, but clearly lower compared to centralized exchanges.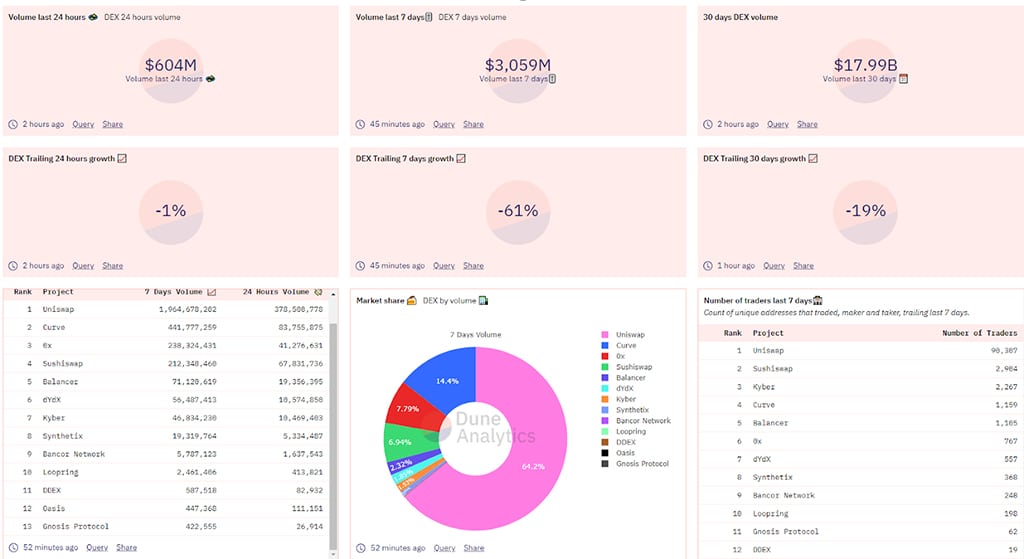 One of the key reasons why this deficit remains in place is the lack of cross-chain support on decentralized exchanges. All of the platforms mentioned above fish in the same Ethereum pond, so to speak. None of them is capable of attracting liquidity from other ecosystems, unless assets are tokenized on Ethereum first. It creates a big hurdle to entry that shouldn't even be there in the first place. 
In fact, when looking at all of the DEXes tracked by Dune Analytics, none of them supports cross-chain support. That may be because they are not tracking all platforms, as there are a few projects on the market already. In my opinion, this clearly illustrates there is a market segment waiting to be explored. 
Why We Need Cross-chain Trading
To the average onlooker, cross-chain trading support may not seem all that important. After all, virtually all centralized platforms support the conversion between different assets. While that is certainly true, the same can clearly not be said about DEXes. This seems to reinforce the idea of how cross-chain trading can only work when centralized intermediaries are present. In reality, that is not a mandatory requirement by any stretch of the imagination. 
Centralized exchanges are rather vulnerable to attracts and human "misdoings", as we have seen with both OKEx and BitMEX in recent times. These incidents are a stark reminder of why this industry needs leaderless solutions for trading. At its core, Bitcoin was created to cut out the middlemen. For reasons unknown, a large portion of its trading volume comes from platforms controlled by the same middlemen. 
Being able to swap value from one chain to another without intermediaries, oversight, or even account registration is crucial in my book. It is a crucial step toward unlocking the full potential of decentralized cryptocurrency trading. There are a few core benefits to explore:
The potential creation of brand new trading markets
Sourcing more liquidity than ever before
Users remain in control (your keys, your coins)
No account signup required
Keeping all of those advantages in mind, it almost seems like a no-brainer to explore cross-chain trading on decentralized exchanges. 
This Concept Is Not New
Back in 2019, the Wanchain team introduced its cross-chain DEX prototype. The team acknowledges the potential of tapping into cross-chain liquidity for decentralized trading. Considering how this announcement is over a year old, one could argue it may have been ahead of its time. After all, we are nowhere near mass DEX adoption either.
Fast forward to today, and there are a few other examples tapping into the cross-chain aspect. I find Switcheo an intriguing example, as it has a working system that allows users to explore USD, BTC, ETH, and NEO markets. Granted, it uses tokenized versions of Bitcoin on both the NEO and Ethereum blockchain, but it is a start. 

The platform also raised $1.2 million from investors, including well-known DeFi supporter MXC Exchange. Even centralized exchanges acknowledge there is a lot of potential to be unlocked where DEXes are concerned. 
A project such as Polkastarter is worthwhile too, in my humble opinion. Although it is not a DEX in the traditional sense, it provides cross-chain rails to be integrated into any decentralized exchange or dApp. Solutions like these will be in higher demand as more time progresses. 
Last but not least, I want to take a closer look at Chocoswap, a DEX aimed to be built on Ontology. It too is a cross-chain DEX that aims to allow for trading between different ecosystems. While it has not launched on the mainnet yet, I find it heartwarming to see numerous projects explore the boundaries of cross-chain trading in a decentralized manner. 
Closing Thoughts
For the time being, the DEX industry is still in its infancy. Facilitating swaps of tokens on the same blockchain is possible, but the time has come to explore the next frontier in the form of cross-chain trading. It will take time to build the necessary infrastructure, but that is to be expected.
I wonder if the future will involve more synthetic tokens as well. As we have seen with Wrapped Bitcoin, it is one of the top DeFi assets when ranked by market cap. In fact, this asset has received a lot of attention primarily due to decentralized finance. 

Other synthesized assets have also made their mark on the industry, including CDAI – which has a higher market cap ($1.394 billion) than DAI ($955.653 million) – as well as CETH, RenBTC, and others. It is a very interesting space to keep an eye on, and we have only just begun exploring the possibilities.
Ultimately, I hope to see proper decentralized cryptocurrency trading take form. Not with synthetic assets or bridged tokens. Instead, we need to find ways to make all blockchains talk to one another to exchange value. For now, that seems like a faraway dream. That said, the cryptocurrency industry can make anyone's dreams come true. 

Author:

Alex Zha
Alex Zha serves as Director of Global Operations for MXC exchange.
Subscribe to our telegram channel.
Join