Instead of trying to change human behaviors which is one of the most challenging things we could do, maybe we ought to try and change how exchanges are not able today to fully secure our funds?
One of the most common advice that experienced (and friendly) crypto enthusiasts share with newcomers is that they should never, ever store their funds at a crypto exchange. And with storing we mean viewing the exchange as their private bank, where they store a majority of their holdings for a longer period of time.
Do people listen? We don't know, but what we do know is that there are new crypto exchange hacks happening way too frequently. Millions, even billions of funds in cryptocurrencies are stolen every year. Already in 2019 $1.1 billion USD have been stolen from exchanges, and North Korea have their own hacker team that specializes in stealing funds amassing $571 million from cryptocurrency exchanges.
And the $1.1 billion is not an anomaly, those types of sums have been a regularity year by year. And when it comes to famous crypto hacks we are unfortunately blessed with those too, like Mt. Gox, Quadriga CX, BitGrail and so many more.
Our Funds Are not (Always) Safu but so Many Don't Seem to Care
So no matter how many times newcomers to the Bitcoin and crypto space hear the advice it doesn't fully sink in, similar to how we are hearing daily about the climate crisis but at the same time, we fly more than ever, drive more than ever and often we do so solo back and from work. So I guess it's similar to how we view crypto exchanges and the risk we are exposing our funds to daily.
A lot of people in the crypto space are familiar with the crypto meme 'funds are safu'. A meme centred around Binance and its CEO CZ, during the time of an attack against SYScoin at the crypto exchange. After it became known to the public that Binance had been attacked by unknown hackers targeting SYScoin through a Binance API trading plot, CZ had to try and calm the crypto community that even though there had been an attack, the funds of crypto holders were in fact safe.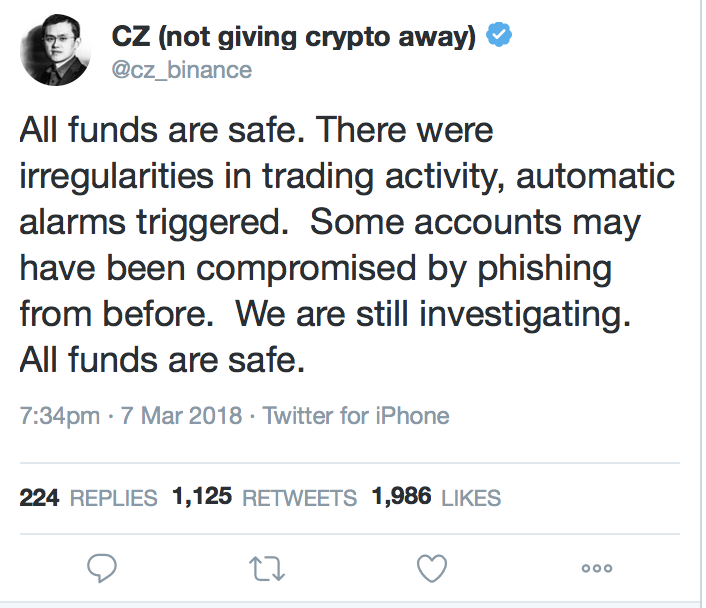 This statement from the CEO of Binance, CZ somehow later became a meme at infamous online community 4chan (/biz). Interestingly CZ and Binance, later on, used this attack, and meme to create emergency insurance funds for their users, called SAFU (Secure Asset Fund for Users). This insurance fund will act as a reserve fund in the case of any future hacks against Binance. Binance are allocating 10% of all the trading fees they receive to fund it.
"To protect the future interests of all users, Binance will create a Secure Asset Fund for Users (SAFU). Starting from 2018/07/14, we will allocate 10% of all trading fees received into SAFU to offer protection to our users and their funds in extreme cases. This fund will be stored in a separate cold wallet."
Our Expectations of Crypto Exchanges are Misjudged
So why are we not always taking extra steps to secure our cryptocurrencies? Well, we are of course used to the fact that we often otherwise don't have to. We store our money in banks, our investment stocks and funds at various platforms, and they are today mostly completely insured. So more often than not expect, or at least wants the same from cryptocurrency exchanges, like Binance, Coinbase, Kucoin, and others.
It is interesting how some of the crypto community are bashing the traditional banks, for often good reasons. Like their high fees and double standards. Many banks are today refusing businesses connected to cryptocurrencies, or even blocking accounts that have done cryptocurrency transactions.
Their explanation of this has often been due to (some of) cryptocurrencies ties to criminal activities. This response has often a hot topic at Reddit and other crypto forums due to the many examples of money laundering done by banks themselves.
With for example Danske Bank, Denmark's biggest lender have been involved in a €200bn money-laundering scandal recently, HSBC's €784 million scandal and Sweden's biggest bank Swedbank have been caught in a money laundering scandal to the sums of €5.1 billion.
Can We Get More Innovations Like the SAFU Fund?
So right now there seems to be an imbalance from what we as consumers want or expect from cryptocurrency exchanges, and what the teams behind the cryptocurrency exchanges feel necessary to deliver. The example of Binance's SAFU (fund) is a great example of an exchange leading the way forward for the rest.
Right now there are over 2200 coins listed on Coinmarketcap, and 260 exchanges. With that said there is often a huge interest from retail investors to find the next 100x gem. Everyone wants to uncover the next Ethereum, Bitcoin or another moonshot altcoin. So whenever a new cryptocurrency hits the market there needs to be an exchange ready to sell it to future investors.
And this is one of many reasons for why investors are exploring the exchanges beyond the main ones. And unfortunately, not every one of those 260 exchanges has the same insurance funds or levels of security like perhaps the top 10 exchanges have.
So to counter this imbalance, we either need to get more innovations like the SAFU fund from Binance, better security from the various exchanges or national or international progress on regulations to shelter us from our laziness and unmet expectations. Author:

Per Englund
Founder of Go CryptoWise, a cryptocurrency and tech fan that wants to see better and smarter products and services that makes our lives better and easier.
Subscribe to our telegram channel.
Join