eToroX is a crypto exchange that is a subsidiary of eToro social trading platform. eToroX has been granted a distributed ledger technology (DLT) licence from the Gibraltar Financial Services Commission (GFSC). eToroX represents a bridge between the traditional investing and the new digital world.
Supported Currencies
eToroX offers 17digital assets: 5 cryptocurrencies and 10 Tokenized Assets. eToroX is in the midst of creating numerous variations of tokenized and digital assets. Seems like eToroX added the most popular cryptocurrencies to the current listings on its platform. The same strategy has also been used by other exchanges, in their early stages. eToroX's current range of trading pairs and tokenized assets is surprisingly sizable, considering it was only released recently.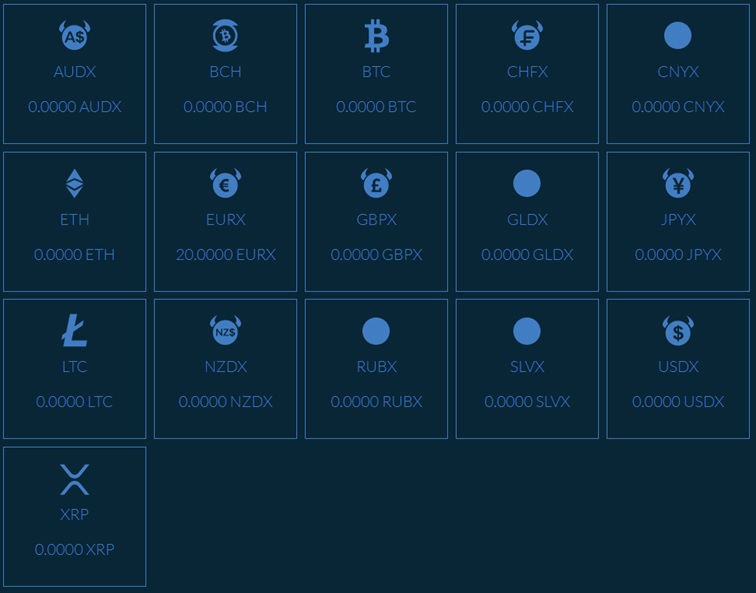 eToroX Exchange Fees & Limits
Trading fees refer to the actual cost of carrying out a trade (buying/selling) on eToroX exchange. The fees associated with a cryptocurrency exchange play an important role for users in evaluating the cost of trading relative to other exchanges in the market. Exchange fees currently are:
Withdrawal
Each coin has a different fees & limits. Here are the current fees applicable for withdrawals: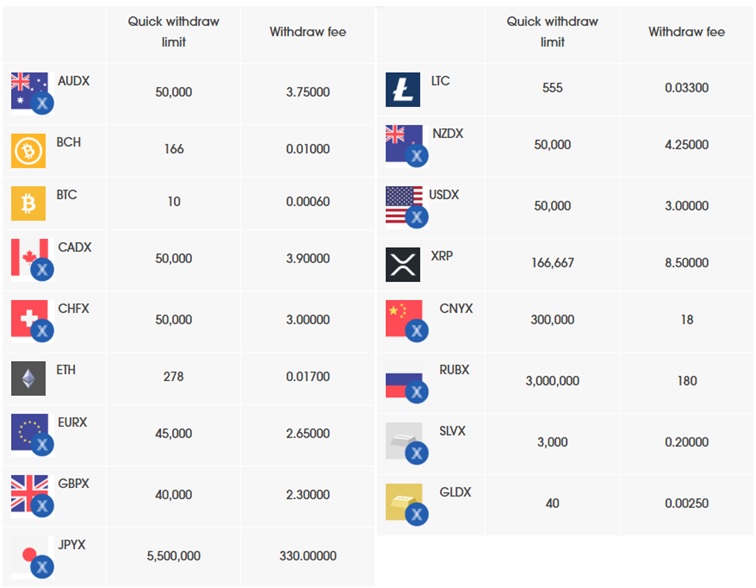 It should also be highlighted that eToroX supports credit card purchases of cryptocurrencies within the eToro wallet. This means that users can buy coins directly using their credit cards. However, the currencies supported at the moment are British Pounds (GBP) and Euro (EUR) only.
Liquidity
Users pay close attention to the trading liquidity of an exchange – or, in other words, buyers and sellers trading en masse in a particular exchange equates to higher trading liquidity, which helps enable fair prices and allows traders to get in and out of trades faster. Analyzing the order book of the most popular trading pairs on the exchange is a very good way to check liquidity. Here we examine eToroX's most popular trading pair, BTC/USD, to evaluate its liquidity:

eToroX has good liquidity. This is largely due to the company working with market makers connected to some of the top 15 exchanges, in which aggregated liquidity is placed directly on the platform.
Advantages
Established Track Record & Market Expertise: eToro is a global multi-asset investment platform with over 10 million registered users. They possess considerable experience in the traditional finance industry, given that eToro was formed in 2006.
Regulated Exchange: Being only one of the few regulated entities under the Gibraltar regulatory authority (GRA) with a distributed ledger technology (DLT) licence from the Gibraltar Financial Services Commission (GFSC) is a major sign of credibility for users. Regulation entails governance and accountability, which is lacking in the cryptocurrency space. As a regulated entity, eToroX is required to invest a significant amount of resources and effort to ensure the right technical and control measures are in place for the protection of all stakeholders, especially users. Being granted the green light by regulators is a major sign of credibility and trust.
Disadvantages
Low Liquidity: The average liquidity of eToroX exchange is thin and is unable to support the market depth of most other cryptocurrency exchange. This is natural given the infancy of the exchange.

Please check out latest news, expert comments and industry insights from Coinspeaker's contributors.
Subscribe to our telegram channel.
Join