EOS stopped rising Wednesday and Thursday in the light of corporate events. On Thu, June 7, EOS is trading at $13.70 and still going down.
EOS depends very much on the news, so any technical charts reflect only the fundamentals. Still, with no positive news on the track, the positive news so desperately wanted by the market, EOS may fall even further, says Dmitriy Gurkovskiy, Chief Analyst at Roboforex.
Currently, the key support is at $12.50, while the resistance is at $15,6560. Today, if the intermediate support at $13,40 gets broken out, the price may move to the lower range boundary. Meanwhile, the MACD is moving from the negative territory into the positive, which forms a buy signal. The Stochastic is in the positive area, but, on the contrary, is going down and ready to issue a sell signal. Thus, before any major driver appears in the market, EOS is very likely to stay inside the sideways channel, although the whipsaw range may well increase.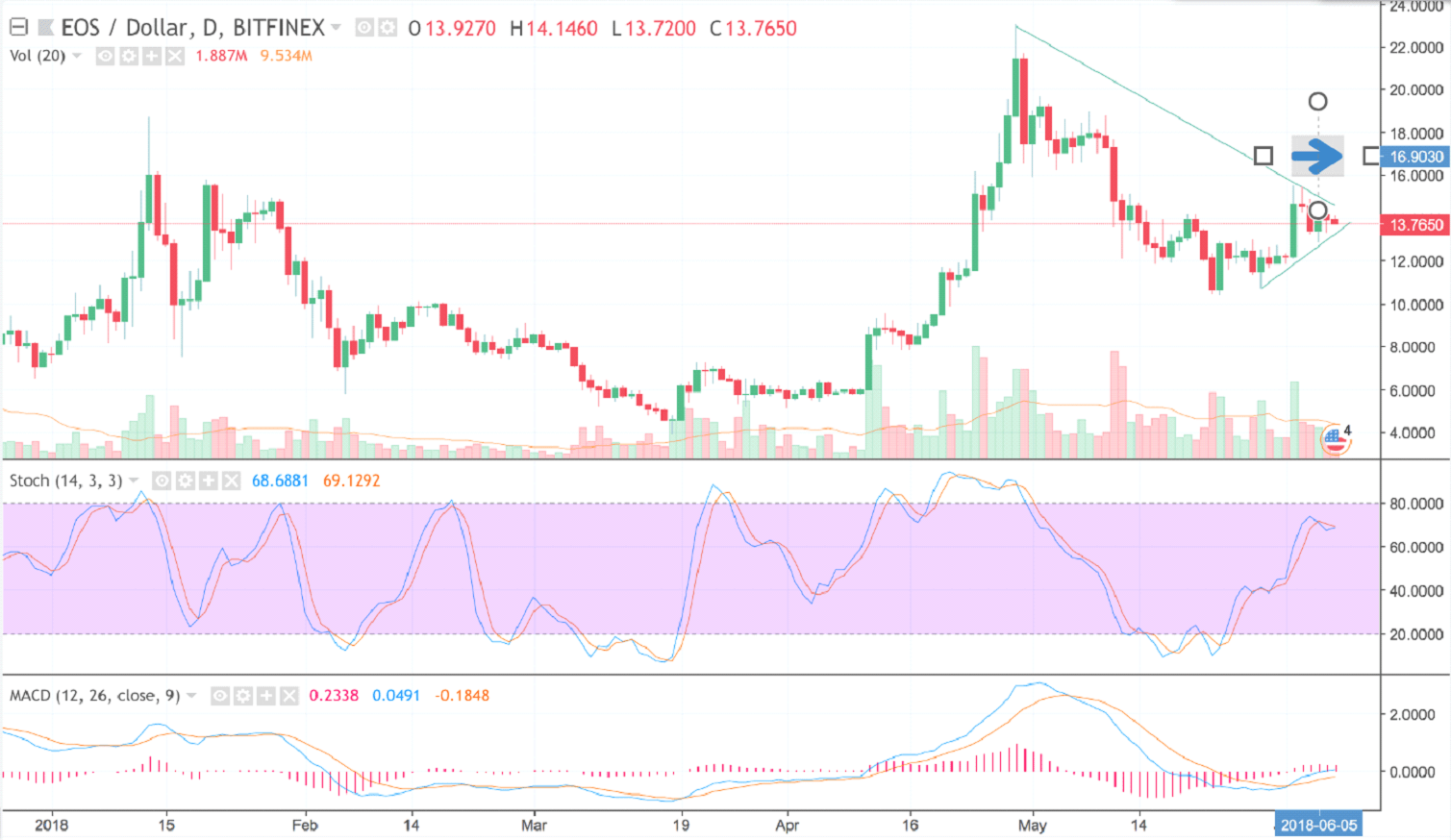 Fundamentally, EOS is facing some issues, the major one being the official network launch delay. The network should have been launched on June 2, but then the company moved it to June 6, and yet the launch have not taken place yet. The new deadline is now 'within 24 hours', but this is also unlikely to happen. In order to launch the network, the company will have to fix all the bugs and malfunctions, which could not happen 'in a flash'.
Initially, EOS representatives said some security issues had been revealed after testing. Later, EOS said the errors had been fixed, but the network did not become fully operational. Bug fixing is now being done even by third party specialists, so within 24 hours there should be some results.
Meanwhile, over $4B were raised during the ICO that lasted for over a year and attracted a lot of investors. This ICO is reputed to be the 'richest' lately. EOS is named among Ether's competition, but nobody knows when the newbie is going to take over the leader. The only thing that is clear now is that EOS is ready to offer crypto fund transfers without fees, and show that scalability, one of today's challenges, can actually be unlimited.
Disclaimer:
Any predictions contained herein are based on the authors' particular opinion. This analysis may not be treated as trading advice. RoboForex shall not be held liable for the results of the trades arising from relying upon trading recommendations and reviews contained herein.