While it's widely-believed that Initial Coin Offerings are chosen as a fundraising strategy only by blockchain startups, Gregory S Mathew, blockchain expert and professional tech researcher, shares how other sectors explore opportunities presented by ICOs.
Initial Coin Offerings took the world by storm by early 2017 or now more commonly known as the ICO boom period. ICOs enabled entrepreneurs to directly raise funds from interested investors instead of resorting to traditional fundraising mechanisms.
Two years later, ICOs have raised over $24 billion according to InWara's database – an incredible amount considering the short time frame. Most of these ICO projects were restricted to sectors such as Blockchain or Financial Services.
But this rhetoric may not be true in the future as entrepreneurs start to explore business opportunities in novel sectors.
Funds raised via ICOs by Industry Sector (April 2019)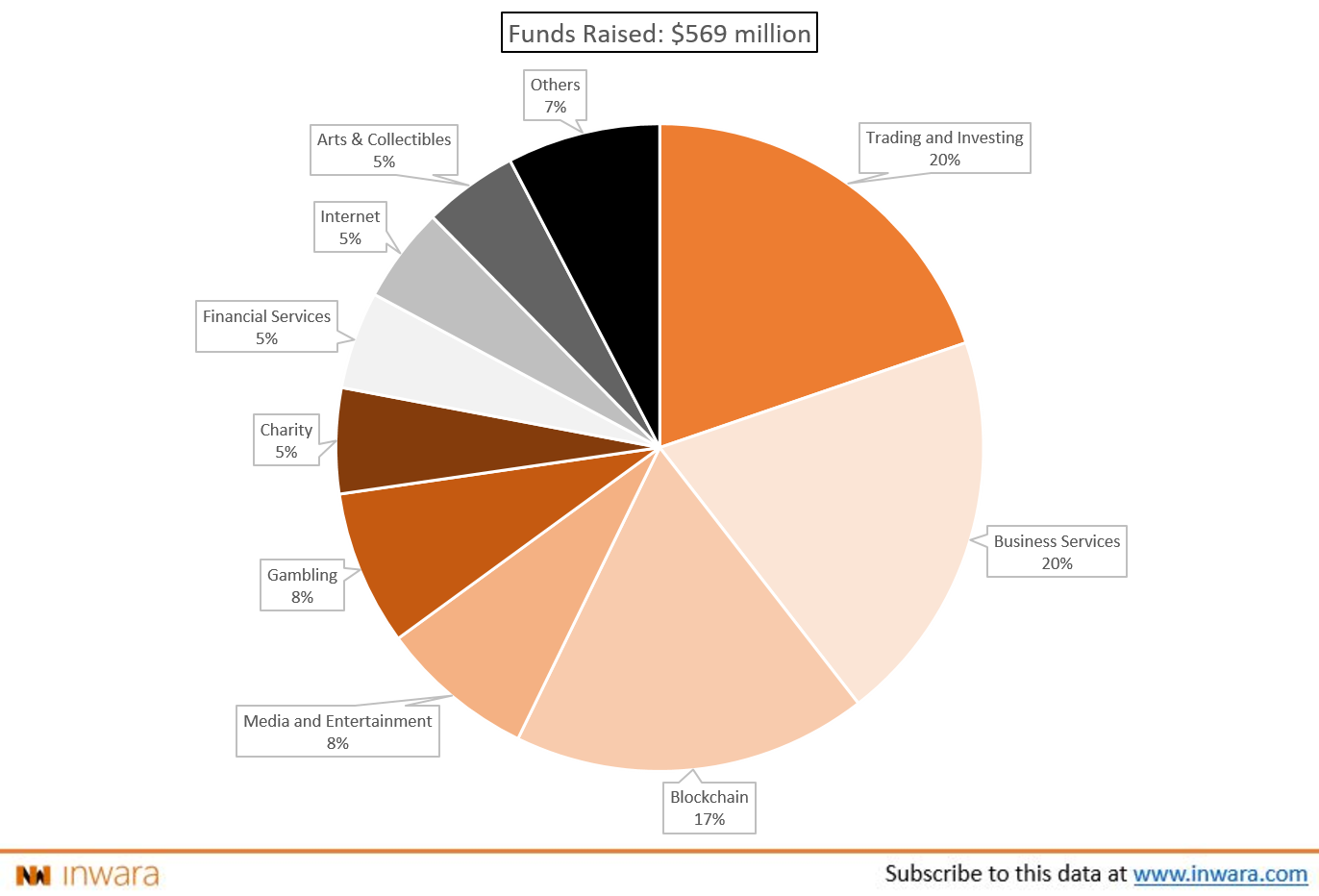 Source – inwara.comICO projects launched during the month of April managed to raise a whopping $569 million, as impressive as that is, it's not the most interesting part. It's that ICO projects from relatively new industry sectors such as Charity are taking the stage – as they've often been overshadowed by more eye-candy sectors like Financial services.
Don't' get us wrong, a majority of the funds raised was by three sectors alone-three sectors we're familiar with- Trading and Investing, Business Services and Blockchain. These sectors alone raised ~$325 million between them.
But interestingly sectors such as Media and Entertainment, Real Estate, Gambling, Charity, Internet, Arts and Collectibles among others have raised significant funds – as much as $190 million between them.
All-time funds raised by industry sector
An analysis of the all-time funds raised by various industry sectors reveals- the single largest contributor to global ICO token sales were Blockchain industry sector projects at a whopping $9 billion, followed by Financial Services at ~$3billion.
What you can notice here is that sectors such as Charity, Internet, Real Estate and Art & Collectibles aren't even in the top ten sectors by funds raised. But we may be witnessing a reversal of this rhetoric as ICO projects explore business opportunities in other sectors.

Author:

Gregory S Mathew
As an engineer, Gregory has always been passionate about technology and is well versed in its applications. His current passion? Blockchain technology and its use cases. When not researching about technology, Gregory loves taking a swim, reading fictional pieces and is an avid melophile.
Subscribe to our telegram channel.
Join